Gardaí have said over 5,000 people attended events in Cork city to mark the firing of the first shots of the 1916 Rising.
The Cork State event was one of nine synchronised wreath-laying ceremonies which took place across the country today.
The State ceremonial event on the Grand Parade began before midday. It was preceded by the unveiling of commemorative plaques at County Hall, and at St Francis Hall on Sheares Street in the city centre.
On Easter Sunday 1916, over 1,000 Irish volunteers mobilised in the county under the command of Brigade Commandant Tomás Mac Curtain, and his second, Terence MacSwiney, to collect guns from the German ship, Aud, which was to land the weapons in Tralee Bay.
But the Cork mobilisation would, in the words of MacSwiney, be marked by "order, counter-order and disorder", and doomed to failure.
Cork volunteers also occupied St Francis Hall on Easter Monday 1916 where a major stand-off developed with the British forces in the city.  
It lasted a week before a peace deal was brokered by the then-Lord Mayor of Cork, Thomas Butterfield, and the Catholic Bishop of Cork, Daniel Coholan.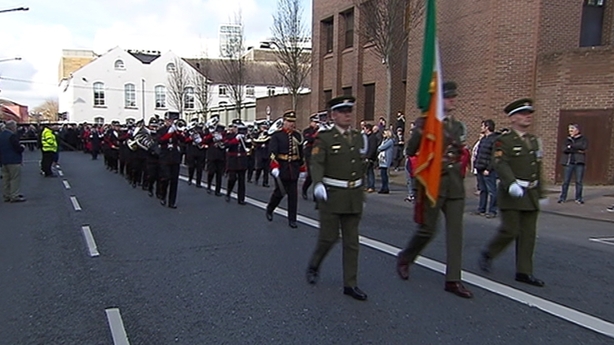 Live: Reflecting the Rising | Gallery: Reflecting the Rising
Thousands taking part in Rising events
The wreaths were laid by acting Mnisiter for Defence Simon Coveney, the Lord Mayor of Cork Cllr Chris O'Leary and the Mayor of Cork County, Cllr Paul O'Shea.
Lord Mayor O'Leary said he believed the principal legacy of the "so-called failure" of the volunteers in Cork to engage in armed conflict during 1916 Easter Week, led to the county becoming the centre of opposition to British rule in Ireland during the War of Independence.
Laying of wreaths and minutes silence at National Monument #Cork @rtenews pic.twitter.com/IBXrNuGZuc

— Jennie O'Sullivan (@OSullivanJennie) March 28, 2016
Following the wreath laying ceremony, there was a reading of the Proclamation and the tri-coloured flag was raised by members of the Defence Forces.  
There were music performances by Peadar Ó'Riada, and Cór Cóil Aodha, as well as harpist Eimear Coughlan and the Defence Forces Army Band. 
A flyover by the Irish Air Force concluded the ceremony. 
Flyover by Air Corp #Cork pic.twitter.com/3by6jKDca7

— Jennie O'Sullivan (@OSullivanJennie) March 28, 2016
Events also took place to mark the centenary in Dromina, Kinsale, Togher and at Mallow Racecourse.