When Mary Dolan contacted TUSLA, the Child and Family Agency, in 2018 to check what information they had regarding her illegal adoption, she could never have foreseen the impact the decision would have on her life. 
Mary, who grew up in Belfast City, was in her mid-30s when she first learned from her mother that she had been adopted.
She was devastated by the news, calling it a "huge, huge thing" to try to deal with. 
Unsure whether she should find out more about her background, Mary did not immediately begin her search. 
Nonetheless, personal questions about her origins and where she came from constantly gnawed at the back of her mind. Years later, following the death of her adoptive mother, Mary decided to track down the woman who had given birth to her. 
However, armed with little other than a birth certificate that illegally named her adoptive mother and father as her biological parents, Mary made little progress.
Then, in 2018, came her meeting with TUSLA. The agency had begun contacting people following the transfer of files from the former St Patrick's Guild Adoption Society, which was run by the Religious Sisters of Charity and the subsequent discovery of documentation confirming the illegal adoption of dozens of Irish newborn babies. 
---
Read more:
Who am I? The story of Ireland's illegal adoptions
Eamonn De Valera Jr repeatedly arranged illegal adoptions
---
The meeting led to a breakthrough: TUSLA did in fact have a St Patrick's Guild file on Mary.
"I turned up to the meeting, and in the lobby of a hotel, a lady got up and introduced herself as a social worker from TUSLA – and then she proceeded to open a file in front of me," Mary said.
The social worker took out three or four pieces of paper.
"I was basically able to see the name of my biological mother, I was able to see my name which had been assigned to myself at birth, I was able to see the day I was born – which was actually different to the day I'd been celebrating my birthday all those years, which, funnily enough, had probably quite an impact on me and when I was handed over to my adopted parents," Mary said.
It was at that same meeting that Mary was told that she had a biological brother.
"The social worker pointed out that, my biological mother… I was actually her second pregnancy and I can remember it very clearly: she basically said to me, at best, this brother could be a full sibling or, at worst, a half sibling and I remember just feeling elated," Mary said.
"This is the sort of thing I was hoping would happen, that there would be somebody alive who was related to me by blood."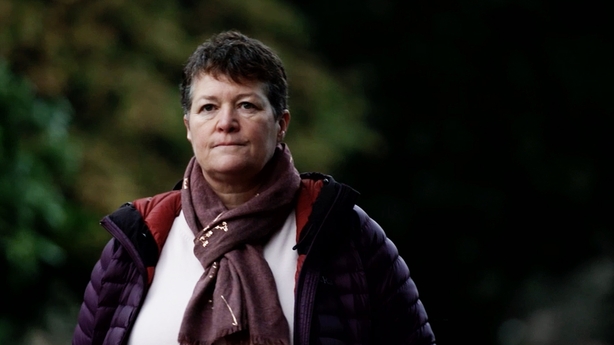 Two months later and TUSLA had managed to reach Mary's brother, who was living in the US. In November 2018, they had their first contact.
"I was really, really happy," Mary explained. "I probably couldn't believe that I actually had got that far, because it wasn't that long before that I thought I was a no hoper and I was never going to find any family."
"I'd say the video call, in particular the first time that he saw my face and that I saw his face – and you were looking to see did he look like you, and he was probably thinking the same about me as well… it was just amazing, it was like something you'd see in a film and I actually couldn't really believe that this was happening to me."
TUSLA suggested Mary and her brother do a DNA test to establish whether they were full or half siblings. In January 2019, a social worker called with the results. 
"He pointed out that the result was negative, in that it was 97% sure that we were not related. And I couldn't believe it. I didn't know what to do, I could have screamed," Mary told RTÉ Investigates.
"My head couldn't even start to process how that had come about from a situation where we were half siblings, full siblings to not related. I was absolutely devastated and it was really, really hard to accept. To get an identity for four or five months, and then to have that literally ripped from you, it was gut wrenching."
---
Read more:
'Adopted persons deserve birth records without delay' - Special Rapporteur
---
In a statement to RTÉ Investigates, TUSLA said "the historical and limited nature" of the records in its possession meant that the accuracy could be questionable.
It acknowledged that "the unintended consequences" of acting on incomplete information could be "further distressing and traumatic for the people affected."
Those are consequences which Mary Dolan has been left to try and come to terms with. Now back at square one, she is left wondering if she will ever know who she is.
"My experience was quite frankly a really distasteful one, a very hurtful one, a very emotional one," Mary said. 
"I don't think the State has done enough and I don't think there was enough support put in for people like myself who basically have been tossed around and hurt emotionally and psychologically."
Watch the RTÉ Investigates documentary Who Am I: Ireland's Illegal Adoptions on RTÉ Player.