Mondays are typically the busiest day of the week in every emergency department across the world.
In Tallaght University Hospital's emergency department, the staff have another reason to be concerned, as they face into one of the peak days of the surge in hospital admissions from the pandemic.
"We're six doctors short today," says the lead consultant on duty, Aileen McCabe. That equates to almost a third of her senior medics. All of them are out because of Covid-19.
Outside in the waiting room, a queue of patients is building up. Inside, Dr McCabe and her staff are battling to save a woman's life. The patient is unconscious.
It may or may not be a Covid case, but it has to be treated as one for infection control reasons. On an operating table, cordoned off by just a curtain, a tube is fed down the woman's mouth to keep her breathing, an aerosol-generating procedure known as intubation that can pose a risk to the staff.
"We minimise the amount of people in the area when an intubation is being done," says McCabe. "And all of the procedures are taken that pose the least risk to the staff when the intubation is done in terms of infectivity from Covid."
Dr McCabe, gowned up, head-to-toe in the stifling plastic PPE, has just performed the procedure that may or may not save the life of this patient who will be brought shortly to ICU.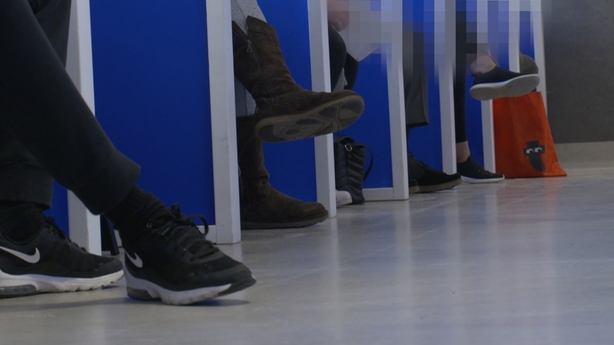 The next 48 hours will be crucial for this woman, she says. Like most of her colleagues, she's been working extra shifts and, right now she looks tired and weary about what lies around the corner. She knows from experience there will soon be patients calling to ED with symptoms of Covid and there might be nowhere to put them.
"We already have pressure on our Covid area. There's a finite number of cubicles," she explains.
There are just 11 cubicles available. A makeshift room can be added but that requires more staff, which are in short supply. But the real problem is at the back of house, where the hospital beds are provided for the sickest Covid patients.
"We need to get the patients who need admission to a hospital bed. When the hospital itself is full as it is now, that affects us and impacts on flow, so all the basic requirements of a medical assessment in an ED have been impacted. I think this will transfer into long waiting times in the afternoon," Dr McCabe says.
"You try to leave it at the door but sometimes you can't"
By early afternoon, a queue is forming outside the ED. Their initial symptoms are screened by triage nurse Fiona Rogan. Patients who report possible symptoms of Covid should all be triaged within 15 minutes of their arrival in ED.
"Some of these people are waiting over an hour to be triaged because there's only two of us on triage," she says. Outside, a patient is in an ambulance waiting to be admitted.
A serious Category 2 Covid patient – meaning they are very ill – will soon get the last available Covid cubicle. Fiona is more worried about other patients denoted by a red triangle on her triage computer screen. "As you can see there's 2 of these people in the waiting room. One of them is a definite Covid positive, and the other is a very high suspicion of being Covid positive, and they're in the waiting room because there's no space for them inside.
That day, 143 patients were seen in ED in Tallaght. But they have seen busier days during the third wave of the pandemic.
"Certainly, there have been stages where, from a nurse manager point of view, that it feels like we're at a tipping point," says Clinical Nurse Manager Nigel Kyle.
---
Read more:
The third wave that pushed Irish hospitals to the brink
---
"The tough calls are when you know you don't have any more space, we're full now … you'll be giving a very unwell patient to a staff member who is already overwhelmed ... That puts a great deal of strain on everybody and you can feel that in the ED."
Many of the staff in Tallaght ED are in their 20s and 30s and have already gained frontline experience from dealing with the first wave of the pandemic. But they have also seen colleagues struck down by the virus and seen at first-hand what it can do to young patients who have ended up in ICU.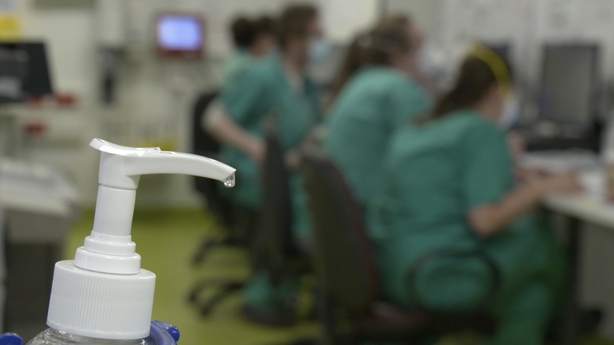 "Every time a patient comes in with Covid, particularly one who is young, staff do look at that patient and wonder if that's going to be them if they get Covid," says the head of ED, Dr Jean O'Sullivan.
"This is the first time staff are really risking their own lives."
Staff here are also seeing a lot more people with Covid who are not making it past ED into the main hospital. Family members may not be allowed in for infection control reasons, so it's left to staff to provide palliative support to patients who are unable to spend their dying moments with loved ones.
"I have done that quite a few times where I was the last person that was with a dying patient," says Emma Byrne, a clinical nurse facilitator.
"And it must have been very strange for that person having a nurse in a mask and a gown and gloves sitting next to them when they're taking their last breath."
She feels it is a privilege rather than a burden to perform this role.
"I try not to think about it really. I just move onto the next patient … You try to leave it at the door but sometimes you can't."
Watch the RTÉ Investigates documentary Covid-19 – The Third Wave on RTÉ Player.