The Health Service Executive has ordered an external review into aspects of orthopaedic surgery at Temple Street Children's Hospital in Dublin.
The executive said that it will be led by a UK expert "following a number of serious spinal surgical incidents there".
The HSE has emphasised that the doctor is not currently conducting surgeries and a referral has been made to the Irish Medical Council.
The executive said that the primary focus of the review will be the clinical care provided by an individual consultant based at Children's Health Ireland (CHI) at Temple Street.
The HSE said that the review arises from very serious concerns identified by CHI since last year relating to poor surgical outcomes in spinal surgery at Temple Street, plus the use of a certain spinal technique and the use of unauthorised implantable devices.
The executive said that late last year, senior management at CHI were made aware of patient safety concerns in relation to the treatment of a small number of patients with spina bifida who had spinal surgery at Temple Street.
These concerns related to poor clinical outcomes of some complex spinal surgery, including a high incidence of post-operative complications and infections and two particularly serious surgical incidents, which occurred in July and September last year.
The HSE said that following this, CHI commissioned two reviews, one internally and one external to CHI.
Minister for Health Stephen Donnelly has asked the executive to ensure the external review is completed as quickly as possible.
Speaking on RTÉ's News at One, HSE Chief Operations Officer Damien McCallion said that the review period stretches back to 2018.
"I think it's important from the HSE's perspective to apologise also to those children and families."
"Children's Health Ireland initiated an internal review that was subsequently supported by external expertise from overseas, and following that we felt that in order to give parents the assurance that we needed to initiate this external review," he said.
We need your consent to load this rte-player contentWe use rte-player to manage extra content that can set cookies on your device and collect data about your activity. Please review their details and accept them to load the content.Manage Preferences
These reviews examined the care provided by one consultant to 17 children who had complex spinal surgery at Temple Street.
Of the 17 children, one child died since and a number of other children suffered significant post-operative complications.
CHI said it regrets the failings in care provided to the children and that it is engaged with the families on an ongoing basis and will continue to provide support needed.
Separately, CHI said it became aware that unauthorised devices were used in a small number of spinal surgery procedures.
In addition to the 17 patients in the reviews, CHI has met two further families affected by the issue, bringing to 19 the total number of families it has met recently.
CHI said it has met with each of the families to explain the review process and it said each of the patients have been assigned a new clinical team who will take over their care.
Dr Allan Goldman, Chief Medical Officer, Children's Health Ireland, told RTÉ's Six One News he "profoundly apologised" to the children impacted and to their families.
He said that concerns were first raised in the second half of 2022, regarding the high complication rates following surgery for Spina Bifida patients.
Dr Goldman said that surgery was paused in November 2022 for the most complex group of patients, and that the surgeon concerned ceased carrying out spinal surgery after the CHI received the review.
He also said that the alleged use of unapproved implants on three of the patients was "a major concern".
"We immediately triggered an investigation into this," he said.
"We have commissioned a review using external people to bring complete independence and expertise.
"We need to look at this in the most serious manner possible."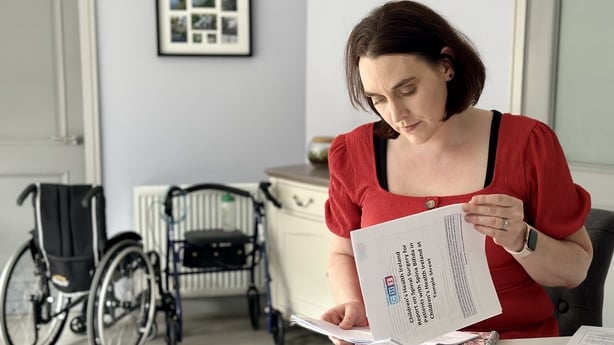 Úna Keightley, Co-lead of the Spina Bifida Hydrocephalus Paediatric Advocacy Group, said the developments would generate fear among parents.
She said that that the clinical review that was carried out did not involve interviews with the parents of the children affected.
She added that the recommendations from that review have not been published.
Gerry Maguire, CEO of Spina Bifida Hydrocephalus Ireland, said he was extremely disturbed by some of the information which he said had been drip-fed to both SBHI and to the families concerned.
He urged Minister Donnelly to be aware of the "absolute horror" that the issue had visited upon parents and their advocates.