New figures, seen by RTÉ News, show for the first time the level of weekday patient discharges from public hospitals, compared with weekends and public holidays.
It reveals that among the biggest hospitals, just over 600 patients in total on average are discharged on weekdays, compared with just over 200 patients on average discharged at weekends and public holidays.
The Health Service Executive report examined hospital discharges from the start of February to the end of April last and looked at weekdays, versus weekends and Bank Holidays, for different types of hospitals.
The national average discharge during the week is 43 patients by each hospital; just under 14 patients by each hospital on average discharged at weekends and 28 patients on average discharged by each hospital on public holidays.
The report was presented to the recent meeting of the Emergency Department Task Force.
It breaks down the data by the type of hospital.
The highest performing hospitals for weekend discharges were St James's and Beaumont in Dublin and Cork University Hospital.
The lowest performing hospitals for weekend discharges were Our Lady's in Navan, Wexford General and Portiuncula.
The best performing hospital for public holiday discharges was Beaumont and the lowest was Mayo University Hospital.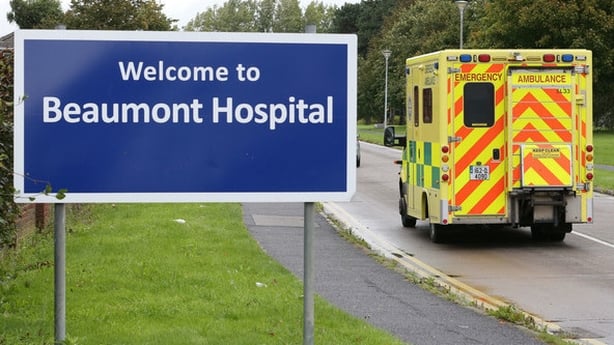 The biggest type of hospital, a Model 4, provides regular acute and planned inpatient ambulatory care, managing high acuity.
A Model 3 hospital provides 24/7 acute surgery and medicine and critical care.
The data shows that the average total weekday discharges for Model 4 hospitals was 606 patients and 518 patients in total for Model 3 hospitals.
At weekends and public holidays, the average total discharges for Model 4 hospitals were 202 patients and 181 patients for Model 3 hospitals.
When overall discharges, covering both weekdays and weekends and public holidays were examined, the highest performing Model 3 hospital was Letterkenny University Hospital, and the lowest was Navan.
For overall discharges the highest performing Model 4 hospital was Beaumont, and the lowest was University Hospital Galway.
Hospitals have different catchment areas, deal with different population profiles, have different resources, specialties and staffing, as well as different access to nursing home and community beds.
These and other factors would also have an influence on performance and need to be taken into account in relation to discharge data comparisons.
Recently, HSE Chief Executive Bernard Gloster said he wanted to see talks with unions on moving to a seven-day working roster for the health system, allowing for more discharges at weekends.
He also said he would like to see staff volunteer to work extra shifts for this Bank Holiday weekend, to help reduce overcrowding levels next week.
The new public only consultant contract provides for consultants who sign up to it to be rostered on Saturdays for the first time.
The HSE has said it will have a good sense of the overall picture after the coming weekend, to the response to the request for some staff to vary their agreed work rosters varies from place to place.
It said that local management are continuing to work, with the additional support arising from the request, to ensure the health service runs well over the bank holiday weekend.
The HSE said that additional measures to transfer patients from acute hospitals to appropriate care have been implemented in advance of the weekend to maximise patient flow through the healthcare system.
Govt accused of stumbling from crisis to crisis on health
Sinn Féin TD Pearse Doherty told the Dáil that the fact that almost 12,000 people were on trolleys in hospitals around the country last month is both unprecedented and a national crisis.
He accused the Government of stumbling from crisis to crisis when it came to health, and claimed the problem would get worse every day the Government continued in office.
The Donegal TD said the May trolley figures from the INMO were higher than January - a month which broke records for the highest ever level of hospital overcrowding.
He cited an example of a 78-year-old woman from Waterford who suffers from a cardiac condition and was obliged to wait for more than 24 hours in a chair.
In reply, Minister for Housing Darragh O'Brien said the Government was investing record funding in health - €23.6 billion net for this year which was €5.6bn more than 2020.
He said the Government has overseen the greatest increase in HSE staffing in its history - more doctors, nurses and healthcare staff and as of mid-March, there were an additional 970 new acute beds.
Deputy Doherty said it was a disgrace and a scandal that the average waiting time in hospitals is 13 hours, and this increase was now being normalised by the Government - just as it did with homelessness.
Minister O'Brien responded that €443m had been allocated to tackle hospital waiting lists, and the numbers went down in 2022 for the first time since 2015.
He added that health outcomes - in areas like cardiac and oncology - had also much improved.
Additional reporting Paul Cunningham