The EU's drug regulator has today advised a new technique for monkeypox injections that will allow more people to be inoculated against the disease as supplies of the vaccine run short.
Countries can now administer the Imvanex jab just below the top layer of skin, instead of fully below the skin as they currently do.
This means using just one fifth the amount of vaccine, the European Medicines Agency (EMA) said in a statement.
The agency's advice is in line with the approach endorsed by US regulators who have backed using one vial of the vaccine to administer up to five separate doses - instead of a single dose - by injecting a smaller amount in between layers of the skin (intradermal injection).
The vaccine - called Jynneos, Imvanex and Imvamune, depending on geography - was designed to be injected into a layer of fat beneath the skin (subcutaneous injection).
National authorities may decide to use the vaccine as an intradermal injection at a lower dose to protect at-risk individuals during the current monkeypox outbreak while vaccines remain limited, the EMA said.
More than 40,000 confirmed cases of monkeypox, including a handful of deaths, in over 80 countries where the virus is not endemic have been reported since early May.
There are 113 cases of monkeypox in Ireland at present. Just four people have been admitted to hospital with the virus. There are a further 27 cases in Northern Ireland.
A present, limited supplies of monkeypox vaccine will mean only around 10% of people at heightened risk will receive a shot when the vaccination programme begins in the coming weeks.
The Interim Chief Medical Officer yesterday said that she expects Ireland to receive additional monkeypox vaccines by December.
Professor Breda Smyth will chair the Department of Health's new strategic advisory group on monkeypox.
---
Read more
At a glance: What is monkeypox and who is at risk?
Monkeypox is like 'something busting out of your skin'
---
Speaking on RTÉ's Morning Ireland today, Professor Cliona O'Farrelly, Chair in Comparative Immunology at Trinity College Dublin, said Ireland is at least three months behind countries such as France and the UK in the vaccination roll-out against monkeypox.
While welcoming the new advisory group and vaccination plan, she was critical of the time it has taken for these to be put in place.
Professor O'Farrelly said the Covid pandemic showed there is a lot of relevant expertise in Ireland and "all that expertise was already there when monkeypox happened".
She said while the HSE is "really stretched" she thinks having a small group constantly in place and updated from experts with different diverse backgrounds would really help in a situation like this.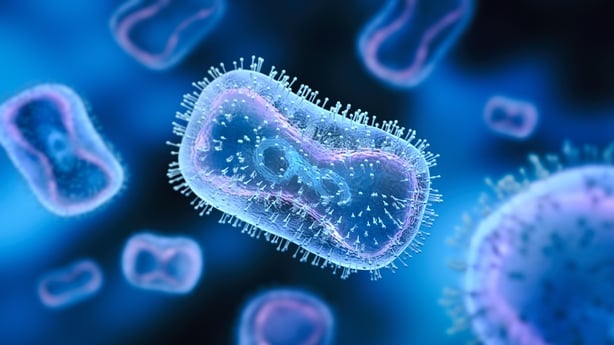 Also today, Dr Margaret Harris from the World Health Organization said preventative behaviours are more important than a vaccine for containing the spread of monkeypox.
Speaking on RTÉ's News at One, she said vaccination is "not the end answer".
It is "critical" to understand the risk if the virus and how the virus is spread, she said.
"We know it's spread by close contact. You're most infectious where you actually have the little blisters - that's why [it has] the name 'pox'.
"And knowing those blisters or scabs contain the most virus, but also understanding that ... you won't necessarily know whether another person is infected.
"So it's very important that everybody who's possibly at high risk, or everybody who's possibly infected, go and seek care, get tested, and take precautions.
"That's what's really going to stop this."
Dr Harris said monkeypox was declared a Public Health Emergency of International Concern by the WHO because it satisfied three criteria of being an unusual event, with significant international spread, which requires countries to work together to try and contain infection.
She warned: "Simply because you're seeing spread in one particular group of people does not mean it stays there."