Professor Tom Keane, who has stepped down as Chairperson of the Sláintecare Implementation Advisory Council, has said he decided to quit having "come to conclude that the requirements for implementing this unprecedented programme for change are seriously lacking".
In an email to council members, seen by RTÉ News, Prof Keane said it was with "deep regret" that he was writing to tell them of his decision to resign.
He also acknowledged the "selfless leadership, commitment and incredibly hard work" of Laura Magahy, who has also resigned from her role as Executive Director for the Sláintecare reform programme office.
Ms Magahy was appointed to her role in July 2018 by the Government while Prof Keane became chairperson of the council in June 2019.
In a separate communication with members of the Sláintecare Implementation Advisory Council, sent today and also seen by RTÉ News, Ms Magahy thanked members for their contribution and said there would be a half-yearly progress report issued.
In an email to council members tonight, Minister for Health Stephen Donnelly expressed his disappointment at the departure of Ms Magahy and Prof Keane.
He said they would be "a huge loss".
Minister Donnelly said he had recently received a copy of the first progress report, to be published under the 2021-2023 Strategy and Action Plan, which had a total of 112 deliverables for the first six months of the year and that 109 are "either on track or are being progressed".
He said that waiting lists was one of the areas identified as requiring faster progress.
The minister said he would appreciate an opportunity to meet with the Sláintecare Implementation Advisory Council in the next week.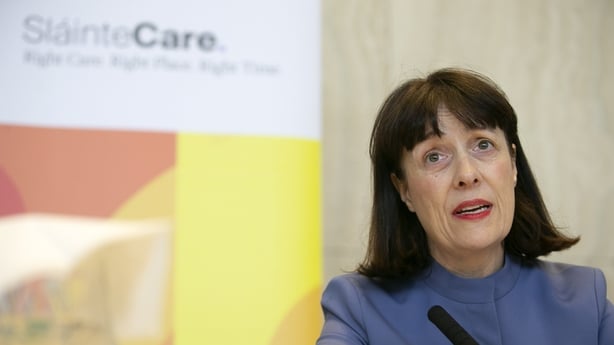 The Sláintecare Reform Office has been based at the Department of Health.
The all-party Sláintecare Report was published in May 2017.
The ten-year plan adopted by the Government promised universal healthcare and an end to private practice in public hospitals.
It also promised free GP and hospital care.
There was also to be a shift away from hospital care to primary care.
The plan was expected to cost over €2.8 billion plus a once-off capital investment of €3 billion.
A new Government implementation plan for the programme was published in May 2021 covering the period 2021-2023.
It promised to cut waiting lists, build new elective hospitals in Cork, Dublin and Galway, hire more health staff and build more primary care centres.
While some of the Sláintecare changes are being implemented, others have been affected by the Covid-19 pandemic.
The aim of having a public only new Sláintecare consultant contract must also now await the outcome of a complex process of fresh talks being chaired by senior barrister, Marguerite Bolger.
The Department of Health, in a statement, thanked Ms Magahy and Prof Keane for their contribution.
It said that over the past three years, significant progress has been made in delivering the Sláintecare vision, including the introduction of a new GP contract and the establishment of the HSE Board.
Labour leader Alan Kelly said he was "deeply concerned" about the future of Sláintecare following today's resignations.
He added: "We need to know if Minister Donnelly's department was putting up roadblocks to stop the work of Ms Magahy or Prof Keane.
"At the same time, we need to recruit the necessary staff to make SláinteCare a reality, by recruiting nurses, home help workers, physiotherapists, occupational therapists and counsellors, as well as GPs."
Social Democrats Health Spokesperson Róisín Shortall called for Mr Donnelly to "explain the background to this worrying [resignations] development".
She said "Sláintecare was first published in 2017 as a ten year programme and very little, other than the occasional publication of glossy plans, has been achieved in the interim".
Ms Shortall urged that the plan be moved into the Department of the Taoiseach to "ensure co-operation from across Government, and other State bodies, for its critically important reform agenda".