A new report from Safefood shows more people are turning to gluten-free products, mistakenly believing this to be a healthier choice.
A survey by Safefood of over 2,000 people across Ireland found that 23% of people buy gluten-free foods, and 92% of those people did not have a gluten-related disorder, or had not been medically diagnosed with Coeliac disease.
Director of Human Health and Nutrition at Safefood Dr Catherine Conlon said there has been an increasing interest in "elimination diets" which have been supported by celebrities, which has led to the perception that these diets are healthier.
Speaking on RTÉ's Morning Ireland, Dr Conlon said there is a "health-halo effect" with gluten-free products because they are low in gluten, and so are thought by people to be low in fat.
"The message here is that the literature shows no consistent evidence that these products lead to loss of weight or improved wellbeing," she added.
Dr Conlon said such products were originally developed for people with Coeliac disease or a gluten-sensitive disorder, and now we see aisles of such products in every shop, gym and café.
The research also found that 75% of gluten-free snack foods were high in fat, and 69% were high in sugar.
Nearly 20% of people consider a gluten-free diet to be a healthy way to lose weight, the report also found.
Dr Conlon said the market for gluten is huge, and the message was that gluten-free products were a big business.
She said there is an audience ready to buy them and there was a profit-driven industry fuelling the sale of them, and reiterated that such products were highly processed, high in sugar and fat.
While Safefood is warning that gluten free foods offer no benefits for people who are not suffering from Coeliac disease or a gluten sensitive disorder, some of those selling the products argue they can be beneficial.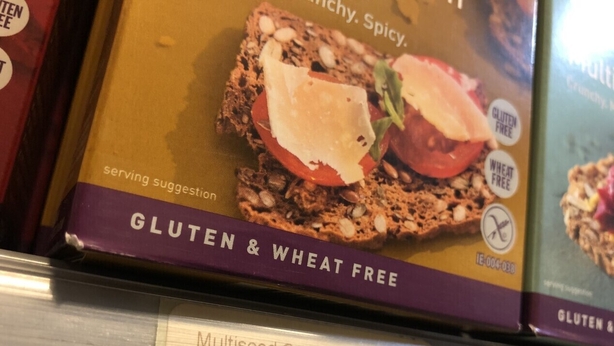 Finn Murray, who runs The Hopsack health food store in Rathmines, Dublin, with his sister Kate, says there is a big demand for gluten free goods in their store and most of it is driven by ill health.
"We find in a lot of cases when people are trying to eliminate potential allergens from their diet, that are causing them digestive distress or immune system issues cutting out gluten, quite often tends to lead to solving a problem."
One issue on which the two tend to agree is the increasing number of gluten free snacks.
Dr Conlon said a Safefood snapshot survey in 2018 looked at 67 gluten free snack products for sale in Ireland. It found three quarters of these products were either high in fat, high in sugar or had a high kilocalorie content, "particularly the baked goods had a calorie content which was equivalent to a standard chocolate bar".
Mr Murray says "a gluten free food is not by default a health food, that's the truth, there are a lot of things that are labelled gluten free that have umpteen varied manufactured ingredients in them and they are suitable for Coeliacs but they're not going to make people any healthier".
Dr Conlon added that foods containing gluten are often a good source of dietary fibre and as the Irish population does not, on the whole, get enough fibre people who eliminate gluten from their diet are cutting a source of fibre and of energy.
Mr Murray argues that looking at top flight athletes and their nutritionists "a large proportion of the time, those guys are being recommended to go gluten free, because they see a difference in performance in their athletes when they go gluten free".
One of those shopping at The Hopsack was Leila, a nutritionist. She is on a gluten-free diet because she has Coeliac disease. She says there are also people who have a gluten intolerance but advises against cutting gluten from the diet "out of the blue".
She says as a French woman she misses "croissants, fresh bread and pain au chocolat, but you get used to it".