Extra beds are to be opened to help alleviate pressures on emergency departments, the Minister for Health has promised.
Simon Harris told the Oireachtas Committee on Health that up to 190 beds will be opened over the coming weeks.
As of today, Mr Harris said 83 beds have been approved for opening, providing extra capacity at Letterkenny University Hospital, the Midland Regional Hospital Tullamore, Waterford University Hospital, Cork University Hospital, University Hospital Limerick and the Children's hospitals in Dublin.
He said the National Treatment Purchase Fund is engaging with the hospital groups to finalise details of the additional capacity.
Mr Harris also said that the number of patients waiting for an inpatient or day case procedure fell to 66,594 in November compared with a peak of 86,100 in July 2017.
Head of the Health Service Executive Paul Reid told the committee that at the end of September, its budget overrun was €319m.
He said the comparable figure for the same period last year was almost 100% higher, at €636m.
Mr Reid said the current overspend was mainly due to pension and demand-led areas, which are not generally amenable to normal in year financial management.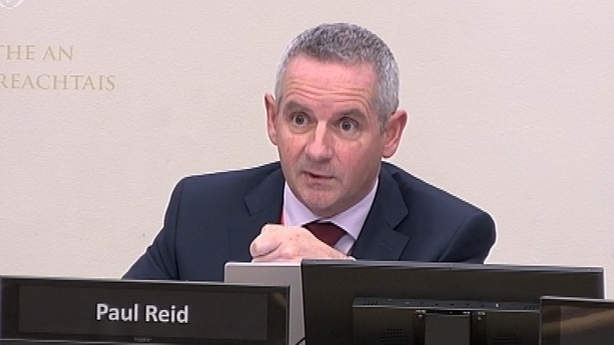 He said that the HSE Service Plan for 2020 was adopted by the board and submitted to the minister for consideration and is expected to be published within the next week.
Mr Reid said that overall HSE employment levels stand at 138,080 personnel, equating to 119,473 whole-time equivalents.
This represented an extra 2,562 staff or 1.4% more.
He said that the largest increase in the workforce was in the medical and dental areas.
Labour's health spokesperson Alan Kelly described the situation at University Hospital Limerick as catastrophic.
He said that patients would potentially die due to the situation there.
We need your consent to load this rte-player contentWe use rte-player to manage extra content that can set cookies on your device and collect data about your activity. Please review their details and accept them to load the content.Manage Preferences

Mr Harris said that emergency department attendances at Limerick were down, more beds were being provided and it was also provided with an extra MRI scanner to assist with reducing admissions.
He outlined a range of measures to alleviate pressure on emergency departments over the winter months.
The minister told the committee that this would include additional funding for social care supports and a reduction in cost from €100 to €75 for those attending minor injuries units.
Sinn Féin's health spokesperson Louise O'Reilly raised the issue of hospitals using debt collection agencies and asked that the practice cease.
Ms O'Reilly raised the case of a woman, with a medical card, who was a public patient but was placed in a private wing and is now facing a bill of €4,000 and is being chased by a debt collection agency.
Mr Reid said that the agencies used by the HSE were highly professional and well-respected.
Anne O'Connor, HSE Chief Operations Officer, told the Committee that there were 111 beds closed across the hospital system yesterday, mainly due to infection control.