The Psychiatric Nurses Association has warned that further ambulance strikes are possible if the Health Service Executive does not agree to allow it to represent its members in the National Ambulance Service (NAS).
PNA General Secretary Peter Hughes issued the warning as the 500 members it claims to have in the NAS mounted their third 12-hour strike in pursuit of union recognition - with a fourth day scheduled for tomorrow.
The HSE says that it already recognises SIPTU and FORSA in the NAS, and that recognising more unions would lead to fragmentation, destabilisation, and impair industrial relations.
However, speaking on the picket line at the Davitt Road ambulance centre in Dublin, Mr Hughes rejected claims that recognising the PNA would destabilise industrial relations in the ambulance service.
He noted that the PNA had a 49-year history of representing members in the health service, and no one could say they were a new or breakaway union.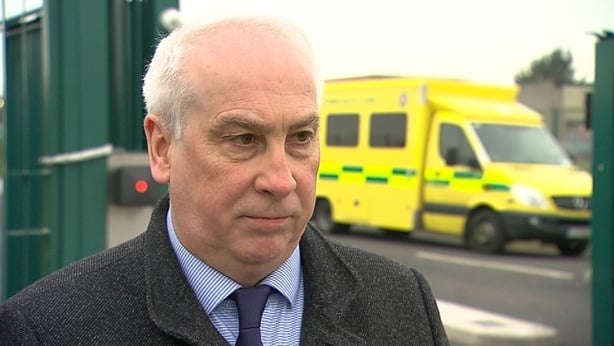 He said that at a time when there were a myriad of issues in the health service, it was inconceivable that the HSE was resisting recognising the PNA, and expending so much time on the issue.
Asked about the potential for escalation, he said the PNA would be meeting again on Tuesday to devise a plan and depending on the outcome of that meeting, they would announce their next step which could involve more strikes.
Mr Hughes confirmed that strikers are not receiving strike pay from the union, but are being paid if they come off the picket line to handle an emergency call.
The 12-hour stoppages, from 7am to 5pm today and tomorrow, have marked an escalation in the dispute.
Up to 2010, the majority of the 1,800 National Ambulance Service personnel were represented by SIPTU, with fewer than 100 represented by Fórsa.
In that year, a breakaway group left SIPTU to set up the National Ambulance Service Representative Association which then affiliated with the Psychiatric Nurses Association.
However, the HSE has refused to accord the PNA/NASRA negotiating rights on behalf of the ambulance staff, and will not deduct their union subscriptions through the payroll system, as it does for other unions.
There has already been two single days of strike action, during which Defence Forces ambulances had to be deployed to plug gaps in the service.
The HSE has confirmed that Defence Forces ambulances have been deployed for six calls today due to the strike by members of the Psychiatric Nurses Association.
In a statement, the HSE said that it would advise the public that in an emergency situation, they should call 112/999 as normal, and the NAS will respond.