Dr Catherine O'Donoghue, a single-handed rural GP based in Adamstown, Co Wexford, has said general practitioners are "at their wits' end".
Her comments come as family doctors are due to stage a national protest in Dublin today calling for better investment in the GP care system.
"Many GPs also feel disenfranchised, because their representative union, the National Association of General Practitioners, is not in on negotiations," said Dr O'Donoghue.
The GP said that those in attendance today will be going "for various reasons".
Some will be young doctors who are making up their mind on whether they should stay in general practice, change path, or emigrate.
Dr O'Donoghue added that others will be older GPs who are nearing the end of their careers, but who want to take a stand on the "damage" that has been done and be assured of what they will leave behind them when they retire.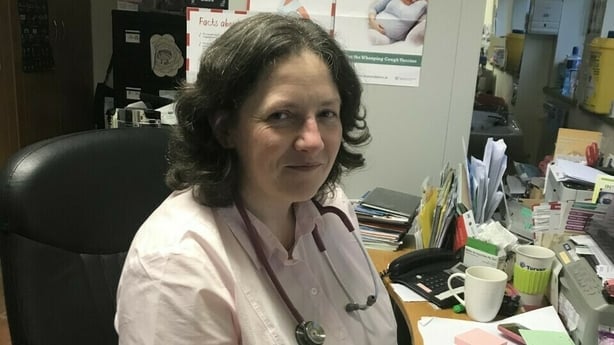 "Others will be like me who will have made up their mind: we're staying here, but we haven't been told yet it's not getting worse. And we're not too sure how much longer we can keep going if damage is not going to be reversed," said the GP.
"A lot of the general public, I think, understand that. When you see headlines [about people] who can't register with a GP, or GPs regularly treating patients travelling 90 or 100 km to register with a practice because they can't get another GP elsewhere... The public understand that.
"I'm not sure what else as GPs we can do at the moment. Would it be running for general election? We shouldn't have to ask that - what a waste of general practitioners if we end up feeling we have to run for election."
The doctor said that she took over the practice in which she currently works in 2013.
"I realised within 12 months we're in trouble here, and serious trouble, financially. You can't run a business that way. This practice is lucky to have its door open," she said.
Dr O'Donoghue pointed out that she is not "planning massive financial projects" with any funding that is received, but rather just keeping the doors open.
"Any extra bills put strain on the system. Upgrade of computer systems, an unexpected tax bill, if I was unwell and had to take two weeks off, that's a massive, massive bill - if I get local cover, that is, in the first place, and that all puts strain on the system.
"That affects the bottom lines at the end of the day. I'm a small practice here, and I'm lucky in so many respects, I absolutely love my work.
"But when I look at bigger practices, I have the greatest admiration for colleagues in bigger practices who are up and down the country. I haven't heard of many layoffs in general practice unless doctors have resigned or retired.
"So despite all the cuts, the show is on the road, but the show is on the road because of the hard work, because of the effort, because of those working on very extended hours, hours they shouldn't be asked to work, and that puts a lot of strain on the safety checks in the system as well. It all comes at a personal cost and also a cost to their families," said Dr O'Donoghue.
Like many doctor's clinics, the Adamstown practice will be operating a reduced service today.
---
Read More:
GP protest another headache for Government
---