The Minister for Public Expenditure and Reform has warned nursing unions that their threatened strike action in pursuit of what he called an unsustainable pay rise, would compromise public pay and budgetary policy.
As the Irish Nurses and Midwives Organisation (INMO) commences a ballot for strike action over pay, Paschal Donohoe expressed his disappointment and cautioned that any such action by front line staff in support of a payclaim would impact negatively on health services and those who depend on them.
Defending the Government's refusal to concede an across the board pay rise of up to 12%, he said the nurses' pay claim would cost around €300m, and that conceding such a claim would compromise public pay and budgetary policy.
He also said that it would generate follow-on claims from the rest of the public service workforce.
Mr Donohoe also stressed that cost increasing claims and engagement in industrial action are specifically prohibited under the terms of the current Public Service Stability Agreement (PSSA), to which the INMO and its members have signed up.
He noted that the PSSA is delivering wage increases ranging between 6.4% and 7.2% between 2018 to 2020 at a total cost of €1.1bn, with benefits weighted towards the lowest paid.
He also added that increases for post-2013 members who were enrolled in the new Single Pension Scheme are worth over 10%.
The minister also pointed to recent proposals aimed at addressing the two-tier pay structure under which so-called new entrants from 2011 were recruited on pay scales 10% lower than their pre-2011 colleagues.
Those measures would boost pay for over 60,000 post-2011 recruits - including 10,000 nurses, by an average of €3,000 per year from March 2019 - at a cost of €200m over a number of years.
Mr Donohoe also cited the Public Service Pay Commission proposals aimed at addressing staff shortages, which include accelerated promotions and a €20m package of allowances targeted at health sectors experiencing the most acute recruitment and retention issues.
If accepted, those measures would be implemented from March 2019.
The minister concluded by saying that pursuing an additional cost increasing pay claim, supported by potential strike action not only conflicts with the terms of the PSSA, but also seeks to deliver unsustainable wage demands which can only compromise public pay and budgetary policy.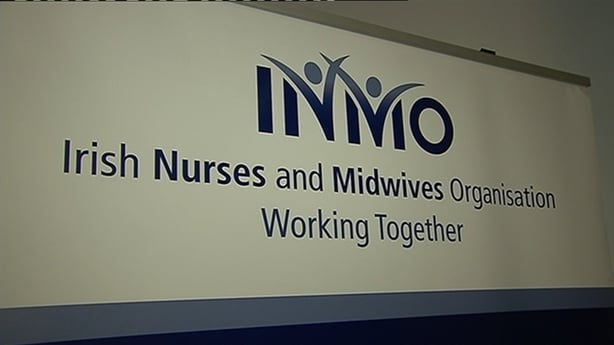 The INMO leadership is recommending that its 40,000 members should back a series of 24-hour strikes, which would have a serious impact on health services - even where emergency cover is provided.
However, with the ballot only concluding on 13 December, and a notice period of up to three weeks, it is thought unlikely that industrial action would take place over the Christmas holidays.
The INMO argues that only a 12% across the board pay rise (to bring nurses into line with other health professionals like physiotherapists) will incentivise them to join and stay in the health service.
The union insists that the current staff shortages in nursing and midwifery are risking patient safety, limiting hospital capacity and contributing to overcrowding.
It says nurses currently earn around €7,000 a year less and work longer hours than other health professional grades.
The Public Service Pay Commission rejected the INMO submission, opting instead for a €20m package of allowances targeted at the sectors experiencing the worst staff shortages.
However 94% of INMO members rejected the PSPC proposals, and are now balloting on whether to strike.
The largest public service union Fórsa has warned that if nurses are granted special treatment on pay, it will trigger knock-on claims by other grades across the public service.
INMO General Secretary Phil Ni Sheaghdha said that going on strike was not a decision nurses would take lightly, but that understaffing meant they could no longer do their job and provide adequate care for patients. 
She accused the Government of "ignoring voices from the frontline", adding that without a pay rise, the HSE would never be able to recruit enough staff to deliver a safe health service.
The Psychiatric Nurses Association is also recommending that its 5,000 members back strike action in their ballot which commences on Wednesday, and concludes on 12 December.
PNA General Secretary Peter Hughes said the Public Service Pay Commission had completely failed to understand the scale of the recruitment and retention crisis in mental health services, adding that members were frustrated at the continued lack of what he called realistic proposals to address recruitment and retention difficulties.