The Minister for Health has ruled out a general pay increase for nurses and midwives, despite acknowledging that recruitment and retention problems in the health service are very challenging.
Simon Harris told the Oireachtas Health Committee that unions who are parties to the current Public Service Stability Agreement (PSSA) have undertaken not to submit new pay claims before the deal expires at the end of 2020. 
He said the Public Service Pay Commission proposals overwhelmingly rejected by nursing unions, including enhanced allowances, the new entrants pay restoration process and the shorter timeframe to qualify as a senior staff nurse, would all put money in the pockets of nurses.
He pledged that these proposals accepted by Government would be implemented in 2019, and that he was prepared to have conversations about other issues that could assist nurses in doing their jobs.
Mr Harris said it was not for him to assess the validity of the nurses' proposed pay claim, but said he hoped the parties would use processes and mechanisms available to them to resolve the dispute.
He urged both sides to use the State's industrial relations mechanisms resolve what he called a brewing dispute.
The minister acknowledged that there is now a global labour market for hospital consultants and nurses, but defended the HSE's record on boosting staffing figures.
Responding to questions from Fianna Fáil's health spokesperson Stephen Donnelly, Mr Harris said there were 115 more consultants working in the health system in September last than there were a year previously, and that there were 523 more than five years ago.
He said he believed the issue of new entrant pay needs to be examined across the public service.
However, he stressed that pay issues were not a matter for him exclusively, but for colleagues across Government.
Mr Harris said that apart from pay, investment in infrastructure like hospital beds and theatres also had a role to play in incentivising medical staff to stay in the health service.
Highlighting pressures on the health service, Mr Donnelly noted that the Irish Nurses and Midwives Organisation had said it was short of around 175 midwives, and that five of the 16 operating theatres at Galway University College Hospital are now permanently closed due to staff shortages.
He also noted that health management were paying almost 50% more to hire agency nurses than directly employed nurse, and queried whether there was a de facto moratorium on hiring staff due to budget overruns.
HSE 'not in position' to grant nurses' pay demand
The Health Service Executive has told the INMO and the Psychiatric Nurses Association that it is not in a position to grant their demands for an across-the-board pay rise as they fell outside the scope of the PSSA.
The INMO is due to commence a ballot on Monday for a series of 24-hour strikes.
The PNA will decide tomorrow whether to mount a similar ballot.
It is understood that the HSE wishes to refer the dispute to the Lansdowne Road Agreement Oversight Body for clarification of the issues involved.
The Department of Public Expenditure and Reform has confirmed that granting the nurses' demands would cost at least €300m.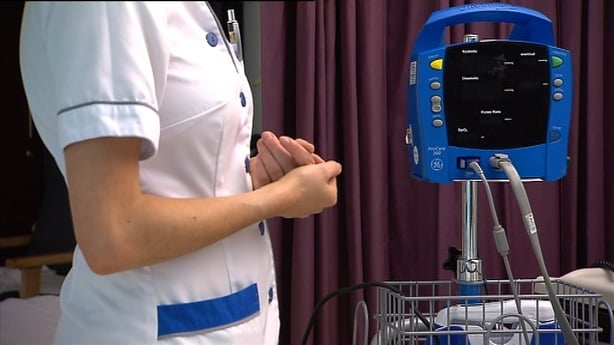 Speaking after a meeting between health service management and the INMO today, General Secretary Phil Ní Sheaghdha said they had been told that restrictions on recruitment are "more severe than we had anticipated".
She said the HSE had indicated that only a further 300 staff can be recruited across all grades in the health service - not just nurses and midwives.
She described this as disappointing and "very, very worrying" as overcrowding was reaching 500 people per day and accused the HSE of effectively abandoning the health service.
Ms Ní Sheaghdha cited last year's agreement that the service needed to grow by 1,224 a year, including 200 midwives.
However, she said the HSE had struggled to do that due to recruitment and retention difficulties.
She claimed that this month, the health service is operating with 250 fewer staff nurses that at the same time last year.
She said the INMO's focus was on getting to the root of the problem which was that pay was not sufficient to keep nurses and midwives in the system, or to recruit them.
Ms Ní Sheaghdha said that effectively the HSE's position was to tell nurses that they have to keep going as they are despite knowing it is a serivce that is now under severe pressure and "potentially very unsafe".
She said the INMO remained available for talks, and that it was time for the employer to get serious.
The HSE's National Human Resources Director Rosarii Mannion said there was no provision for the HSE to grant an across-the-board pay rise for nurses under the terms of the current Public Service Stability Agreement.
She said that if such a pay rise was granted, there would clearly be knock-on effects across the public sector.
Ms Mannion said that the HSE was very concerned at any prospect of industrial action and would do everything possible to ensure that does not happen.
Asked about INMO allegations that the HSE had breached previous agreements on staffing, she said that they had grown the workforce by almost 1,000 nurses.
But she acknowledged that they had fallen short of the target of 1,224 per year set last year.
Ms Mannion said that by last September, there had been a year-on-year increase of 1,050 and that the HSE remains committed to growing the workforce.
She said the HSE was proposing referring the matter to the LRA Oversight Group to seek clarification on matters where there is a "difference of interpretation", and expressed the hope that might yield some progress.
The PNA had sought what it called a "fairly substantial down-payment" coupled with a three-month review to address other outstanding pay issues.
Fórsa issues pay warning
The largest public service union Fórsa has warned the government that there will be pressure for further pay claims if any group of government employees is granted pay increases beyond those permitted within the current Public Service Stability Agreement. 
In an apparent reference to the nursing unions' claim for a 12% across the board pay rise to address staff shortages, Fórsa Health Division leader Eamonn Donnelly warned that no union or profession had a monopoly on the issue of recruitment and retention.
He added that Fórsa would not accept a situation where any profession or grade was treated more favourably than others in the Government's response to the findings of the Public Service Pay Commission.
He noted that the PSPC had already found that retention problems in physiotherapy, occupational therapy, social care and elsewhere were more acute than in nursing - and urged the Commission to move on to examining recruitment and retention problems in other health professions beyond doctors, nurses and midwives.
He said therapists and other health professions have the highest level of churn in the health service, with the sole exception of consultants.
Mr. Donnelly cited the 2017 PSPC report, which identified turnover rates of 8% for health service therapy grades, and 8.8% for other health professions. This compared with 8.8% for consultants, 3.3% for public health nurses, 3.4% for nurse specialists, 5.7% for nurse managers, and 7.7% for staff nurses.
The PSPC recently rejected the nursing unions' claim that only an across the board increase would make nursing sufficiently attractive to incentivise staff to join and stay in the health service. 
Instead it opted for a €20 million package of allowances targeted at the health sectors experiencing the worst shortages. 
After overwhelmingly rejecting those proposals, the INMO is now due to commence a ballot for strike action on Monday, and the Psychiatric Nurses Association will decide by tomorrow whether to follow suit.