The Health Service Executive has said the total number of emergency department attendances has increased each year, while bed capacity has remained largely unchanged.
National Director of Acute Hospital Services Liam Woods told the Joint Oireachtas Committee on Health that the number of patients waiting on trolleys at 8am today fell by 3% last year, compared with 2016.
He said that the first four months of this year saw the number of patients on trolleys rise, due to increased attendances and the age and acuity of patients presenting.
But he said this had stabilised from April onwards, with May showing a decrease on the same period last year.
He said that a key challenge for most hospitals is the lack of sufficient isolation facilities, or single rooms, required to ensure that infection control issues are managed appropriately.
Mr Woods said that as a result, patients can wait for significant periods for suitable accommodation.
He also said that due to pressures on emergency activity, planned procedures were being "crowded out".
He said that waiting lists at the end of June showed there were 511,415 patients on waiting lists for an outpatient appointment and 78,014 waiting for a surgical procedure.
Mr Woods said that last year, more than 477,000 outpatients did not attend their appointment, so validation of waiting lists was an important part of an Outpatient Action Plan being finalised.
He said progress was being made in reducing the number of patients waiting for inpatient or day case treatment.
The hospital worst affected by overcrowding today is Limerick University Hospital with 37 patients waiting.
Figures from the Irish Nurses & Midwives Organisation show that nationally there were 304 patients waiting in emergency departments, or onwards, for admission to a bed this morning.
Overall, it represents a 12% decrease on the same day last year.
Other hospitals with some high levels of overcrowding are Tallaght in Dublin with 29 patients waiting; Letterkenny General and Galway University Hospital, each with 24 patients waiting.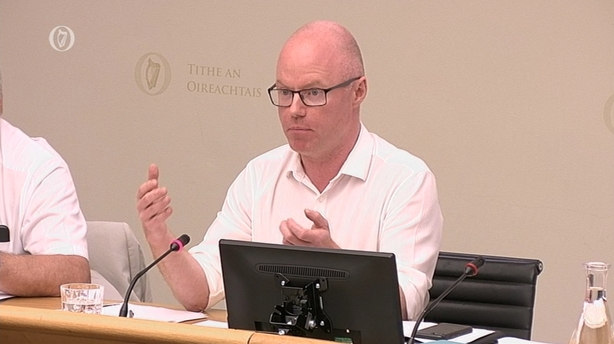 Fianna Fáil's health spokesperson Stephen Donnelly asked the HSE what the capacity problem was in the health system.
He said that if Ireland spends more than some other countries, has a younger population, needs less and has the same assets as others, then what was the problem.
He asked what other countries are doing right, that Ireland is not, is including things that do not cost a lot.
Mr Woods said the number of doctors and beds here are considerably lower than elsewhere and also serious capital investment was needed.
Committee chairman Dr Michael Harty said that he has calculated that on average each day this year there were 500 patients on trolleys.
He said that the numbers were rising year on year and the figures were at odds with what the HSE figures suggested.