The contract agreed in 2012 between the Health Service Executive National Cancer Screening Programme and US laboratory Quest Diagnostics required it to indemnify the State against all costs and claims arising out of any error.
The minimum total insurance cover for each claim was set at €22.6m.
It is understood that similar HSE contracts would be in place with other laboratories providing the same service.
The 89-page, partially-redacted contract said that Quest had to take out insurance of at least €12.7m in employer liability cover for each and every claim, plus €6.4m public liability cover for each claim and €3.5m cover for professional indemnity cover for each claim.
The company was required to notify the National Cancer Screening Service of any complaints, claims, or legal correspondence relating to services, or any adverse incidents.
The contract specifically required Quest to indemnify the NCSS against any claims relating to a false negative, or false positive test.
Section 6 of the contract gave the NCSS the power to send in auditors to laboratory contractors to check quality assurance.
Copies of the 2008 and 2012 contracts were supplied to the Joint Committee on Finance, Public Expenditure and Reform and the Taoiseach late last month by the State Claims Agency.
Committee member Michael McGrath said he was surprised to learn last week from the Oireachtas Public Accounts Committee that the HSE had yet to forward the contracts to the Scally Review.
He said that as a result, he had personally provided the Quest contracts to the Scally Review.
Last week, John Connaghan, Acting Director General of the Health Service Executive, said that in some cases, the documents needed legal clearance first but he hoped to get them to Dr Scally very shortly.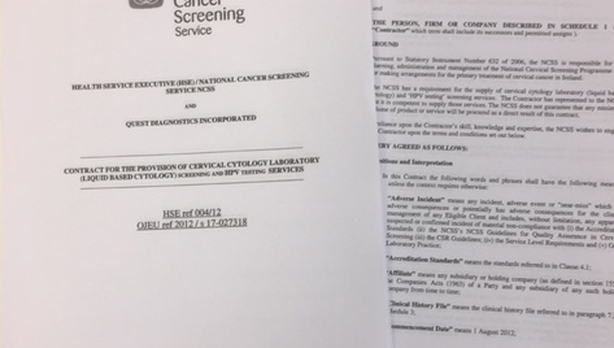 The redacted Quest contracts do not reveal commercial terms.
Quest was awarded the original contract for providing screening in 2008.
Currently, the HSE sends tests to three laboratories: MedLab Pathology in Dublin, the Coombe Women & Infant's Hospital in Dublin and Quest Diagnostics in New Jersey, US.
It says the three laboratories are certified by the relevant national authorities and all three meet the HSE's quality assurance standards.
Data from the three laboratories are published on the HSE website.
The State Claims Agency has said there are currently 28 CervicalCheck screening legal proceedings or letters of claim, plus two potential claims.
The High Court settlement in April in the Vicky Phelan case, was for €2.5m, with US firm, Clinial Pathology Laboratories Inc, Austin, Texas.