The daughter of a 94-year-old man, who spent more than ten hours on a trolley in the emergency department of University Hospital Galway, has said she was shocked and horrified at the conditions there.
John Corbett has double pneumonia and is currently in a ward in the hospital.
It comes as INMO figures today showed there were 575 patients on trolleys in emergency departments or on wards waiting for admission to a bed.
Mr Corbett's daughter, Mary Corbett-Joyce from Connemara, said that the hospital was completely understaffed to deal with the number of patients
She said it was "heart-wrenching" to see the work pressure facing nurses.
Mr Corbett was admitted to the hospital on Friday 29 December.
Ms Corbett-Joyce said that after her father was moved to a ward, she was "completely shocked and horrified" to see the same situation of overcrowding there.
"There are insufficient nurses to deal with very ill patients like my father," she said.
She said her father was improving but it would take time, given his age.
In a statement, the Saolta University Health Care Group - a HSE hospital group containing UHG - said it could not comment on individual cases due to patient confidentiality.
Hundreds of people remain on hospital trolleys around the country, with figures today putting the number waiting for a bed at 575 people. In Galway the family of a 94-year-old man has spoken about the conditions he has experienced pic.twitter.com/mZeaW71pod

— RTÉ News (@rtenews) January 9, 2018
It said the hospital continues to experience high volumes of patients attending the emergency department and makes every effort to minimise the length of time they wait to be admitted, particularly elderly patients.
It has apologised for any distress or inconvenience caused to patients, or their families, who wait extended periods for admission.
"We acknowledge this is a particularly difficult situation and wish to reassure patients and their families that we are working to alleviate the situation," it said.
The hospital added that it had recently opened extra beds and all efforts continue to be made to identify patients who are appropriate for discharge.
It said it was working closely with colleagues in community services to put the necessary community supports in place for discharged patients.
Today's INMO figures show the worst affected hospitals are Cork University Hospital with 46 waiting, Letterkenny General Hospital (44), University Hospital Limerick (40), St Vincent's University Hospital (37) and St Luke's Hospital Kilkenny (29) and Midland Regional Hospital in Mullingar (29)
According to HSE TrolleyGar figures there were 437 patients on trolleys this afternoon, down from 441 this morning, but these figures only include patients in emergency departments.
It said the worst affected hospitals are the Mater with 32 patients waiting, Letterkenny General Hospital (31), St Vincent's University Hospital (28), and Cork University Hospital (27). Eight children are waiting in the Dublin children's hospitals.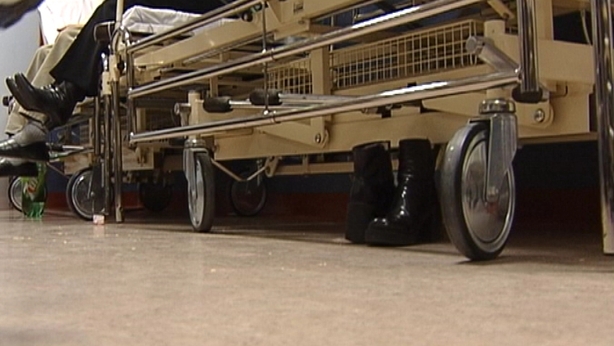 Yesterday, the INMO said there were 555 patients on trolleys in emergency departments or on wards waiting admission to a hospital bed.
Meanwhile, Tallaght Hospital is in discussion with the HSE to have a new 72-bed unit built at the facility under a bed capacity review.
It said it has seen a 12% increase in emergency department attendances this year, compared to the same period last year.
It said the patients presenting are of a higher medical acuity and this is reflected in a 44% increase in the triage of category 1 and category 2 patients.
The hospital said this is also reflected in a 25% increase in the number of patients requiring admission in recent days, compared to the same time last year.
It has apologised for any delays in waiting times for patients in the emergency department as people are prioritised.
There are 19 patients on trolleys at Tallaght Hospital, according to figures from the HSE and INMO this morning.
IMO highlights issue with retention of doctors
The Vice-President of the Irish Medical Organisation has said there is an issue with recruitment and retention of doctors at all levels, saying 60% of current interns say their intention is to leave the country to take further training abroad.
Speaking on RTÉ's Drivetime, Dr Peadar Gilligan said the finding is contained in a survey carried out by the IMO.
He said: "It means we are going to be challenged, yet again, in the recruitment of senior house officers and, indeed, registrars and consultants into the future.
Dr Gilligan said it is very concerning and compounded by intern rights not being observed by the HSE.
He said, just yesterday, it was necessary for the IMO to convene a meeting with the HSE and Connolly Hospital representatives to have the issue of intern rights addressed, saying they were asked to work overtime, but told they would not be paid for the work.