The Royal College of Surgeons in Ireland has opened its new high-tech €80 million building in Dublin, which will be used for educating and training medical professionals.
RCSI says the new building on York Street is the largest and most modern facility of its kind in Europe.
Spread across ten storeys, the building houses teaching rooms, a library, auditorium, study rooms, a cafe, gym and other student spaces.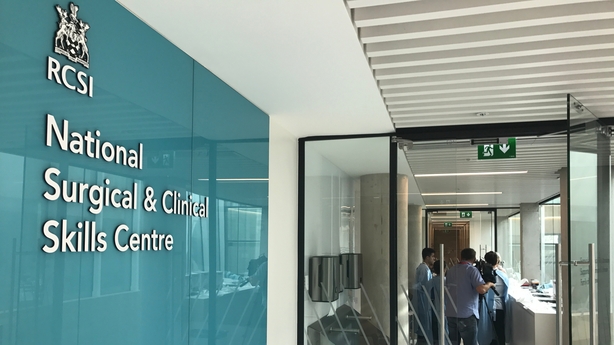 But the centrepiece is a Surgical Simulation Centre with a whole range of advanced devices for teaching surgical skills spread over three floors.
In its Dry Lab, students can simulate surgical procedures including colonoscopy, endoscopy, laparoscopy and ultrasound on a number of high-tech virtual reality devices.
The Wet Lab next door is used for practising surgical techniques on biological tissue, including animal organs and human cadavers.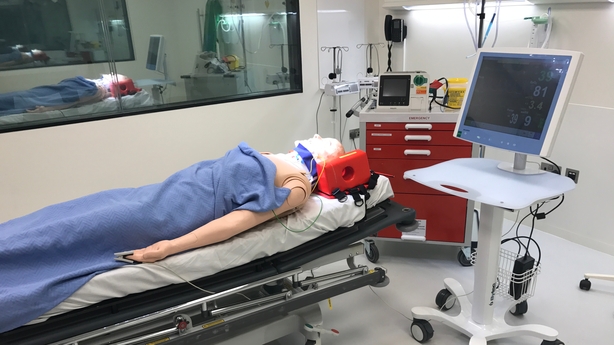 There is also a full operating theatre where teams of doctors and surgeons can simulate full procedures and scenarios.
It includes a high fidelity mannequin, which can be programmed to simulate particular illnesses and conditions.
The theatre can also be adapted to replicate an intensive care unit and an emergency department.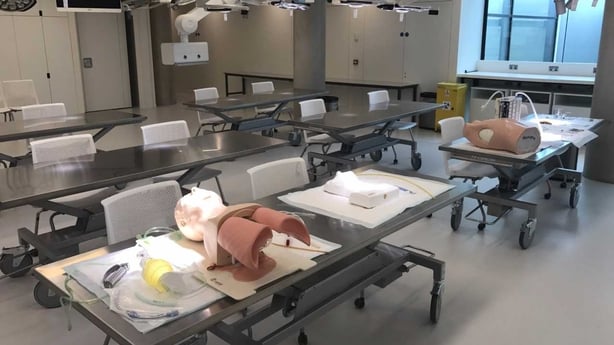 "Using these high fidelity mannequins we can deal with common medical emergencies that occur," said Professor James Murray, Director of Simulation at RCSI.
"But increasingly we can use very rare medical emergencies, something you don't come across every day but you have to deal with when it happens."
For those involved in obstetrics training, the centre includes a suite with a high fidelity mannequin that simulates child birth.
It is used to enable students to experience the birthing process before seeing it for real, in order to build understanding and confidence.
"They can see the complications that can arise, the interventions that might happen and then they can get their hands on and deliver a baby by themselves under guidance in a safe environment like this," said Dr Karen Flood, Consultant Obstetrician at the Rotunda Hospital and Senior Lecturer at RCSI.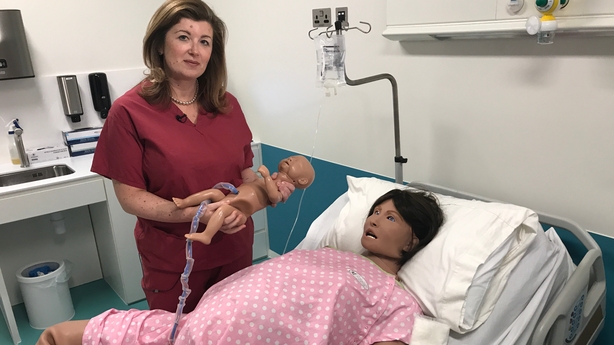 "This new building represents a move away from the apprenticeship model, where undergraduate teaching of skills for medical, physiotherapy, pharmacy and physician associate students were learned on the job," said Professor Hannah McGee, Dean of the Faculty of Medicine and Health Sciences in RCSI.
"Many of these skills will now be learned through the simulation of real situations, enabling essential skills to be learned and mastered before patients are operated on."
The building also has mock outpatient rooms, where volunteer members of the public help trainees to hone their interpersonal skills as part of the Human Factors training course integrated into the surgical curriculum.
But it will not just be undergraduates and postgraduate students who will use the facilities.
Qualified surgeons will also have access to the equipment and expertise of staff.
"In a world where continuous professional development and re-accreditation is essential, these new facilities provide a national capacity for surgeons to refresh their skills and to avail of innovative techniques and international advancements," said Professor Cathal Kelly, Chief Executive of RCSI.
"No 26 York Street represents a world class clinical learning environment, enabling a truly transformative clinical learning experience," he said.
The building took two and a half years to complete and involved digging four stories underground.
"It is certainly the largest and most advanced simulation facility in Europe and one of the top five in the world," said Professor Oscar Traynor, Director of the National Surgical Training Centre.
"So it is a fantastic opportunity for us here in Ireland to train surgeons for the future, but also to train international surgeons."