European Commission President Ursula von der Leyen has said that the EU's support for Ukraine is "unshakable" and predicted that "Putin will fail."
In her annual State of the Union address to MEPs in Strasbourg, she said sanctions on Russia are "here to stay", adding: "This is the price for Putin's trail of death and destruction."
Energy prices and inflation have surged across the 27-nation European Union as Moscow slashed gas supplies in response to sanctions, prompting some, in particular on the far-right, to argue that the sanctions were hitting the EU more and should be softened.
With Ukraine's First Lady Olena Zelenska in the chamber, Ms von der Leyen announced she was travelling to Kyiv later today.
She said: "Our single market is one of Europe's greatest success stories. Now it's time to make it a success story for our Ukrainian friends, too."
In a wide ranging speech, which lasted an hour, Ms von der Leyen announced a €100m package to help rebuild Ukrainian schools.
She repeated that the EU wants to introduce a cap on the revenues of companies that produce electricity at a low cost, saying: "It is wrong to receive extraordinary record profits benefitting from war and on the back of consumers."
She also signalled plans to help small and medium sized businesses.
"We will put forward an SME Relief Package. It will include a proposal for a single set of tax rules for doing business in Europe."
Referencing the need for diversification from Russian fossil fuels, she asserted that hydrogen could be a game changer for Europe.
She told MEPs: "We will create a new European Hydrogen Bank.
"It will help guarantee the purchase of hydrogen, notably by using resources from the Innovation Fund.
"It will be able to invest €3 billion to help building the future market for hydrogen."
The Commission President also signalled a desire for treaty change.
She said: "Some might say this is not the right time. But if we are serious about preparing for the world of tomorrow we must be able to act on the things that matter the most to people.
"And as we are serious about a larger union, we also have to be serious about reform. So as this parliament has called for, I believe the moment has arrived for a European Convention."
The largest applause from MEPs came when she pointed to two young Polish women, Magdalena and Agnieszka, in the chamber.
She said: "Two selfless young women from Poland. As soon as they heard about trains full of refugees, they rushed to the Warsaw Central Station."
Ms von der Leyen said: "As Russian troops crossed the border into Ukraine, our response was united, determined and immediate. We can be proud of that."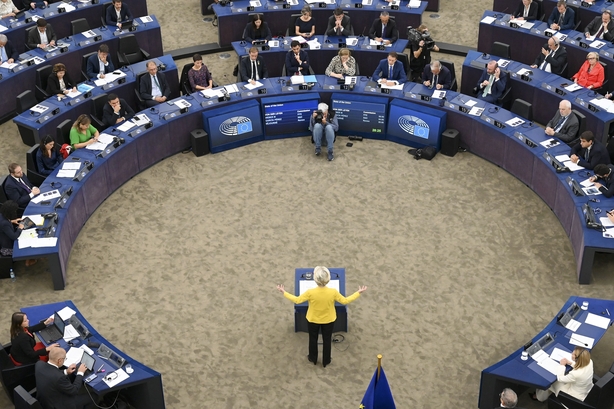 Ms von der Leyen, whose proposals to help European households and companies include imposing cuts in electricity usage across the bloc, said the bloc was working to protect households and businesses.
"Making ends meet is becoming a source of anxiety for millions of businesses and households," she said, proposing measures to cap revenues from low-cost electricity generators and force fossil fuel firms to share the profits they make from soaring energy prices.
The European Commission has unveiled a series of proposals to curb the energy price spike that has hit Europe.

European Commission President Ursula von der Leyen said profits must be channeled to those who need it most | Read more: https://t.co/E2NPsCc38Q pic.twitter.com/gjZQqhm0Yi

— RTÉ News (@rtenews) September 14, 2022
At a time when Ukraine is working on securing territory it has reclaimed from occupying Russian forces in a swift counter-offensive, Ms von der Leyen said this was not the time for the bloc to soften its stance.
"Russia's financial sector is on life-support", she said, adding that nearly 1,000 international companies have left the country.
"The Russian military is taking chips from dishwashers and refrigerators to fix their military hardware, because they ran out of semiconductors. Russia's industry is in tatters."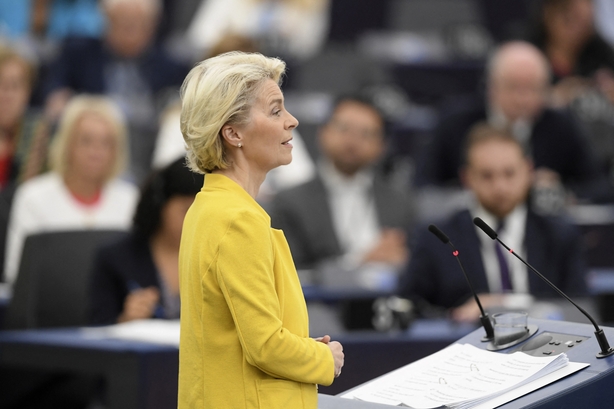 She said Europe had diversified away from Russian energy, but Moscow was still "actively manipulating" the market and gas prices have risen by more than 10 times compared to before the Covid-19 pandemic.
Looking beyond the war in Ukraine, Ms von der Leyen said Moldova, Georgia and Western Balkan countries were also part of "our family" and the future of the EU.
Paying tribute to Britain's Queen Elizabeth, who died last week aged 96, Ms von der Leyen said the current crises reminded her of words the queen once said: "We will succeed - and that success will belong to every one of us."
WATCH: European Commission President Ursula von der Leyen delivers annual State of the Union speech | https://t.co/552BPKdqpL https://t.co/tE4rJn6YWb

— RTÉ News (@rtenews) September 14, 2022
The EU will double its firefighting capacity to help countries cope with increasingly devastating climate change impacts, the European Commission President said.
"These events are becoming more and more frequent and more and more intense ... The EU will buy ten light aircraft and three additional helicopters to complete its fleet," Ms von der Leyen said.
She also said the European Union will freeze funding for member states flouting democratic tenets and will step up its fight against corruption.
"We will keep insisting on judicial independence. And we will also protect our budget through the conditionality mechanism," referring to the EU's "cash for democracy" budget sanction that allows it to stop funding to countries undercutting core tenets of liberal democracies.
Additional reporting Reuters