Dutch Prime Minister Mark Rutte has said that Hungary should not be part of the European Union because of its new law banning LGBT content in schools.
"For me, Hungary has no place in the EU any more," Mr Rutte told journalists just before attending an EU summit in Brussels alongside his Hungarian counterpart.
"But I'm not the only one to decide this: there are 26 other (EU countries). This has to be done step by step," he said.
It follows an announcement from leaders of 17 EU member states earlier today, including Ireland, France, Germany and Italy, which declared their support for defending the rights of LGBTQ people after a controversial law passed in Hungary.
Without directly mentioning Hungary, a letter signed by the heads of state ahead of an EU summit deplored the "threats against fundamental rights, and in particular the principle of non-discrimination on grounds of sexual orientation", in a cloaked reference to the law, which bans LGBTQ educational content for children.
The letter said that Pride Day, which takes place on 28 June, will be a day to remember "that we are diverse and tolerant societies" committed to the development of citizens, including their sexual orientation and gender identity.
"It will also be a moment to celebrate that, over the last few years, we have walked a long way in favour of these principles, which we believe to be the bedrock of the European Union.
"We must continue fighting against discrimination towards the LGBTI community, reaffirming our defence of their fundamental rights."
The signatories are the leaders of the following countries: Belgium, Denmark, Germany, Estonia, Ireland, Greece, Spain, France, Italy, Cyprus, Latvia, Luxembourg, Malta, the Netherlands, Finland and Sweden.
Austrian Chancellor Sebastian Kurz, who sometime aligns with Hungary's right-wing Prime Minister Viktor Orban on social issues, was missing, but his Luxembourg counterpart Xavier Bettel said on Twitter that Mr Kurz "also joined us this morning with his signature".
Hate, intolerance and discrimination have no place in our Union. That's why, today and every day, we stand for diversity and LGBTI equality so that our future generations can grow up in a Europe of equality and respect. #EUCO pic.twitter.com/reAum03Vgn

— Micheál Martin (@MichealMartinTD) June 24, 2021
The debate about the law has divided EU countries largely along an east-west line with more socially conservative governments in eastern Europe so far unwilling to come out against Mr Orban.
The issue pushed to the forefront of EU politics this week when UEFA, Europe's football governing body, rejected a plan by Munich to light up its stadium in LGBTQ rainbow colours for a Germany-Hungary match yesterday.
The city reacted by instead decorating many of its monuments - including those next to the stadium - in rainbow tints while Berlin's Olympic Stadium was one of many German stadiums lit up in the rainbow colours.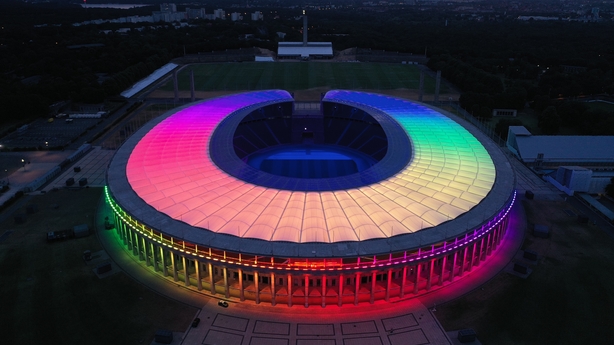 Mr Orban rebuffed growing controversy over the new law as he arrived at an EU summit in Brussels.
"This is not against homosexuality, any sexual interference. It's not about homosexuals.
"It's about the right of the kids and the parents," he said, adding that he would not withdraw the legislation, despite fierce public criticism of it by most of his EU counterparts.