EU membership talks for North Macedonia and Albania are now hanging in the balance after France hit out at what it called the "endless soap opera" of admitting new members to the bloc.
French President Emmanuel Macron's hardline position sets up a showdown between France and other member states at this Thursday's two-day summit in Brussels.
The Balkan hopefuls are making their third attempt since June 2018 to get their membership approved and already have broad support across the European Union.
But Amelie de Montchalin, France's European Affairs minister, says there can be no way forward without a "deep reform" of the EU membership rules that Mr Macron called for in July.
"The first thing we need to talk about is how Europe must reform the way it does enlargement and negotiations," Ms de Montchalin said, calling the process "an endless soap opera".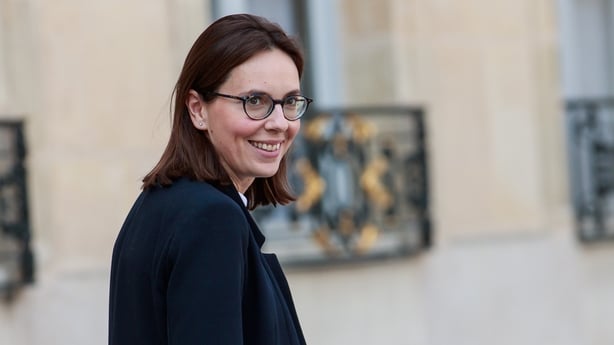 "Is the process efficient? From our point of view, no."
A French presidency official also commented saying that President Macron's government would not agree to open talks now, even if France did support eventual membership for North Macedonia and Albania.
"These countries will be part of the European Union one day...but it is too early to open the legal process towards enlargement," the presidential official said.
What is France's problem?
"France has always been the main problem when it comes to discussions about European enlargement," says Professor John O'Brennan, the Jean Monnet Professor of European Integration and a senior lecturer at NUI Maynooth.
But he doesn't agree with the France's arguments about the EU's "absorbtion capacity" and the need for deep reform.
"What I think France's objections are really based on is fear that if you add in another two, another three or another six small member states, that French power within the EU and in the Council of Ministers in particular will be eroded somewhat."
He says the EU has made promises to the western Balkans about accession and some serious problems could be caused if these promises are not adhered to.
"The most important I think is the signal that is sent to all of the states of the western Balkans about their prospects of becoming members, because if the EU made this promise as long ago as sixteen years ago and now is not even prepared to open negotiations with countries that have actually taken real risks in converging towards the EU, then what's the point in engaging in any reform?"
He adds: "There is a real material link between the promise made by the EU and its credibility with accession states or candidate states and the degree to which those states are prepared to engage in reform."
The European Commission reviews the state of preparedness of candidate states annually. Earlier this year, it was unequivocal in stating that both Albania and North Macedonia were ready to open accession talks: https://t.co/SdVrSqP3jl

— John O'Brennan (@JohnOBrennan2) October 15, 2019
What is the view from Brussels?
Earlier this month Donald Tusk, President of the European Council, said he believed now was the time for the accession talks with both North Macedonia and Albania to begin:
We believe that now is the time to open accession talks with both North Macedonia and Albania.
Read my joint letter with @EP_President Sassoli @JunckerEU @vonderleyen: https://t.co/YQooypO8Yc

— Donald Tusk (@eucopresident) October 3, 2019
In a letter published on Twitter he said North Macedonia and Albania had done what was asked of them: "Achieving that required a significant effort from their citizens, for whom the European perspective has been a great source of motivation and determination," he said.
Brussels fears any further delays could deepen the Balkans' growing ties with Russia and China.
The six Balkan countries of Albania, Bosnia, Kosovo, Macedonia, Montenegro and Serbia, all of which apart from Albania emerged from the breakup of Yugoslavia, are considered future EU members.
Overall, France argues the EU currently faces too many challenges - including Brexit, China, seen as a "strategic rival"; security threats posed by Russia; and migration - to let in two more states from the Balkans, a region still scarred by the legacy of 1990s wars and struggling with crime and corruption.
But Prof O'Brennan says the EU has a responsibility for what happens next: "In the 1990s after the Berlin Wall came down and Yugoslavia collapsed into fratricidal war, the European Union essentially stood by and did nothing."
The European Commission has said it would be wrong to add more conditions for accession because North Macedonia and Albania have already met a series of targets set by the EU governments.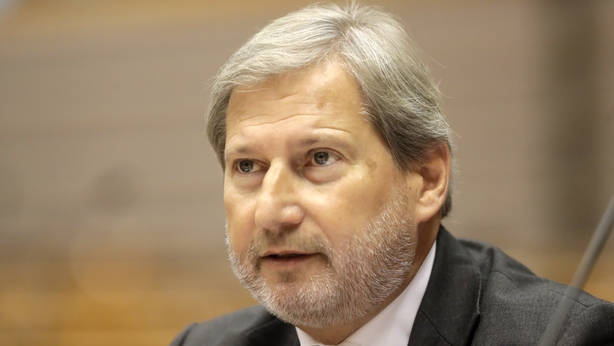 "It's becoming harder and harder to provide a proper explanation (for the delay)," European Commissioner Johannes Hahn, who oversees EU membership bids, told Reuters.
"If we agreed with our partners on steps to take and our partners are delivering, it is then our time to deliver."
Commissioner Hahn has also pointed to Albanian reforms to root out bribery among judges, which many in the EU say are the most significant assault on judicial graft since the state of three million people emerged from communist isolation in the early 1990s.
North Macedonia, meanwhile, has resolved a long dispute with Greece over the country's name - changing from Former Yugoslav Republic of Macedonia to Republic of North Macedonia - and has cleared the way for NATO membership, probably in December.
Old stereotypes
Prof O'Brennan says that a lot of concerns about Albania joining the EU are based on stereotypes and are being used to justify a policy that really serves to preserve French power.
"There aren't many areas of Europe that suffer more from this prejudicial stereotyping than the Balkans in general- and there are issues, there's no doubt about that with transnational or cross-border crime and certainly Albanian gangs have been very prominent, but so have Irish drug gangs basing themselves in southern Spain or in the Netherlands," he said.
"These are what I would call collective action problems. These are issues that actually impact on the entire European Union and that's why in my view, it would be much, much better with these countries inside of the EU structures and co-operating very intensively with Europol and with other agencies as a way of tackling these things."
What is the view from the rest of Europe?
While the Netherlands supports French wariness of membership talks for Albania, which is already a member of the US-led NATO alliance, many other countries, led by Italy, are deeply frustrated by the French position.
Germany has proposed a compromise by starting EU membership talks with North Macedonia before the end of this year and agreeing in principle to launch the process for Albania, but without setting a date before Tirana meets more conditions.
Speaking at the General Affairs Council in Luxembourg, Germany's Minister of State for Europe Michael Roth said it is important for the EU to keep its promises.
"The 🇩🇪 position is crystal clear: We support accession talks with #NorthMacedonia and #Albania, on the basis of the vote of the German Bundestag" says State Secretary for Europe @MiRo_SPD ahead of today's #GAC in Luxembourg. pic.twitter.com/XFYP0Cpkdi

— Germany in the EU (@GermanyintheEU) October 15, 2019
As he arrived at the Luxembourg meeting,  George Ciamba, Romania's EU minister said:"It's very important to give a political signal that enlargement is not dead."
The EU's Foreign Policy chief-designate Josep Borrell has also said its important that the European Union learns to speak with one voice on the international stage, or he warned it could slide into irrelevance, eclipsed by the US and China.
Speaking earlier this month, he said helping the six Balkan states to join the bloc one day was among his priorities.
But Prof O'Brennan warns patience in the western Balkans could run out and that French opposition would make it more difficult for "reform-minded" people in North Macedonia and Albania to continue with their agenda, particularly if it costs money and loses electoral votes.
"The real dangers is that the western Balkans, if its continually kind of kept in a deep freeze or kept adrift of the EU with no prospect of making no progress in accession talks, then all of the old problems that have beset that region, come back into focus."
He said inter-ethnic relations remain fragile and fractious. "You run the real risk I think of re-opening some of the terrible wounds in the region - and we all know that that could bring very serious violence in the near future."