The death toll from a gas explosion in central Paris has risen to four after rescue workers found the body of a missing woman in the rubble, investigators said.
Two firefighters and a Spanish tourist were also killed in the massive blast that gutted part of a building yesterday, injured dozens more people and badly damaged nearby apartments.
Rescue workers with sniffer dogs had earlier been searching for a missing woman who lived above the point of the explosion and who was believed to be in the rubble.
A source close to the investigation said it was still to be confirmed if the body was of the missing woman.
As well as the four dead, 47 people were injured in the blast, ten of them seriously, the Paris prosecutor's office said.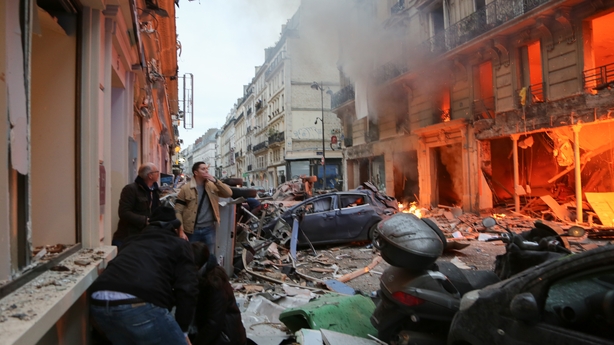 The two firefighters who died were aged 27 and 28, it added.
A source in the Spanish foreign ministry said a woman who was holidaying with her husband in Paris died in hospital after the blast while another Spanish national was also injured.
President Emmanuel Macron tweeted his condolences to the "families, loved ones and comrades of the two hero firefighters", adding that his thoughts were with all the victims.
Firefighters had been responding to an alert of a gas leak at the site when the explosion occurred, Paris prosector Remy Heitz said at the scene.
"First there was a gas leak and the firefighters arrived, then there was an explosion that caused the fire," he said.
Around 150 were evacuated from the area and housed in temporary accommodation because of damage to nearby buildings.
A fire service spokesman said the building hit by the blast needed to be reinforced as clearing operations in the area could continue for about a week.