French President Emmanuel Macron has said he would not allow another makeshift migrant camp to mushroom in the northern port city of Calais and pressed the UK to provide answers to French demands on the matter of unaccompanied children.
Mr Macron also said he would get tough on police if they use excessive force against migrants and refugees.
However, he defended the security forces against allegations of brutality levelled by certain charities, dismissing some as lies.
"There will be no return of 'the jungle'," Mr Macron said in a speech in Calais, referring to the nickname given to a squalid camp the previous government dismantled.
France wants Britain to share a greater burden of the security costs on their joint border and take in more asylum seekers.
---
Read more:
French charities try to stop Calais Jungle demolition
Zappone: 40 teenage boys to be relocated from Calais 'jungle' camp
Police braced for further clashes at Calais 'Jungle' camp
---
Médecins Sans Frontières has warned that the 500 or so migrants and refugees who remain in the French port town are in a "perpetual limbo" that needs to be addressed.
Speaking on RTÉ's Morning Ireland, MSF Operations Adviser Michaël Neuman said the situation of the migrants is as a result of the "impossible discussions between the UK and France in relation to the status of these migrants, the overwhelming majority of whom don't want to stay in France but want to move to the UK".
The port town is just 33km from the British coastal port of Dover and has borne the brunt of the migration crisis in France. 
At its peak up to 10,000 migrants squatted in a sprawling camp dubbed "The Jungle", before former president Francois Hollande sent in bulldozers.
Hundreds of migrants tried to cross to Britain by stowing away on vehicles at ferry and Eurotunnel terminals.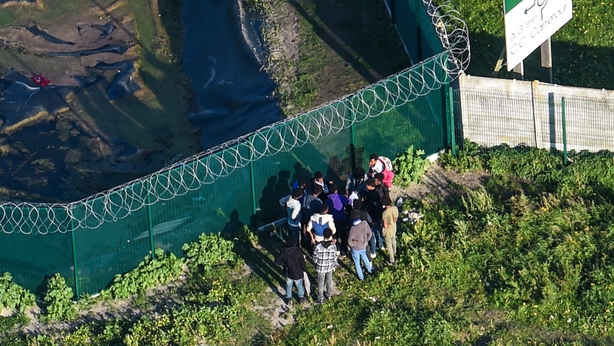 Last year, Britain's Border Force said it foiled an average of 153 attempts by migrants trying to get to the UK from France every day in 2016. 
Explaining why the migrants want to get to Britain, Mr Neuman said they may have family there, or believe their integration would be easier in England.
He said the situation is tragic in that "France doesn't want them there, but doesn't want them to leave and the UK doesn't want to accept them".
He said this situation is the source of the "gigantic suffering" he is witnessing.
He said French authorities have a legal responsibility to provide the remaining migrants with minimal living conditions as long as they are in France.
However, he said these groups of migrants are constantly being harassed by police and local groups who are providing food, water and shelter are also being harassed by police.