Spanish police carried out controlled explosions at a house in Alcanar, 200 miles south of Barcelona, where police believe the militants that carried out the attack in the Catalan capital and Cambrils had hatched their plan.
At least 13 people were killed and more than 120 injured after a van driver drove into crowds along a pedestrianised section of Las Ramblas on Thursday.
Hours after the van rampage, police shot dead five people in the Catalan resort of Cambrils, 120kms down the coast from Barcelona, after they drove their car at pedestrians and police officers.
The five assailants had an axe and knives in their car and wore fake explosive belts, police said.
A Spanish woman was killed in the Cambrils incident, while several other civilians and a police officer were injured.
---
Read more:
---
The house in Alcanar was destroyed by an explosion on Wednesday 16 August and police said the apparently accidental explosion forced the conspirators to scale down their plans and to hurriedly carry out more "rudimentary" attacks.
Police said they have identified two people from the remains found in the house.
Police believe the house was used to plan one or more large-scale attacks in Barcelona, possibly using a stock of more than 100 gas canisters that were stored there.
Meanwhile, police in Catalonia do not know if the man suspected of driving the van used in an attack in Barcelona that killed 13 people is still in Spain.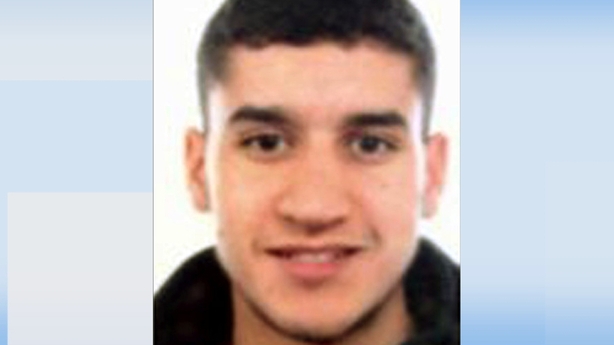 Police are searching for 22-year-old Younes Abouyaaqoub (above), who is believed to have driven the van in the attack.
Regional police chief Josep Lluis Trapero said: "if we knew that he was in Spain and where, we would go after him. We don't know where he is."
He added that while there was no specific information to suggest Abouyaaqoub had crossed into France, it could not be ruled out.
Border checks were reinforced in the immediate aftermath of the attacks.
The Spanish government said yesterday that the terror cell has been neutralised.
Car used in Cambrils caught speeding near Paris last week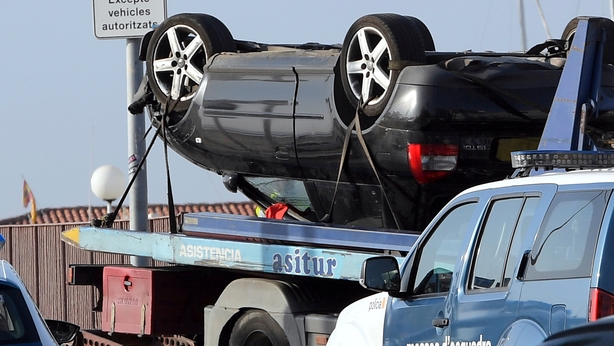 The car used to run over pedestrians in Cambrils, killing one woman, was caught speeding on camera about a week earlier in Paris, Le Parisien reported today.
It said that at this stage French investigators had not found a direct operational link between the Spanish cell and France and that the car could have just been transiting through the country.
The French prosecutor's office declined to comment on the report.
Spanish media said the Audi belonged to Mohammed Aalla, who turned himself in to police after the Barcelona attack.
One of Mr Aalla's brothers was killed in Cambrils and another brother, also suspected of belonging to the group, is missing.