A man deliberately rammed a car carrying weapons and explosives into a police van as it drove in a convoy down Paris's Champs Elysees avenue, officials said.
The man, who was known to French security services, died in the incident and the Paris prosecutor's counter-terrorism unit said it had opened an investigation.
It was unclear how the man, who was not named, had died. Nobody else was hurt.
Interior Minister Gerard Collomb said the car had been carrying weapons and explosives.
"This once again shows that the threat level in France is extremely high," Mr Collomb told journalists near the scene.
France has been on high security alert following a series of militant Islamist attacks, including the shooting of a policeman in an attack on a police bus on the Champs Elysees, one of the world's most famous thoroughfares, in April.
86 people died in a truck attack on a crowd in Nice last year and similar incidents have occurred in other European cities.
The incident in Paris came hours after a van ploughed into Muslim worshippers near a mosque in London.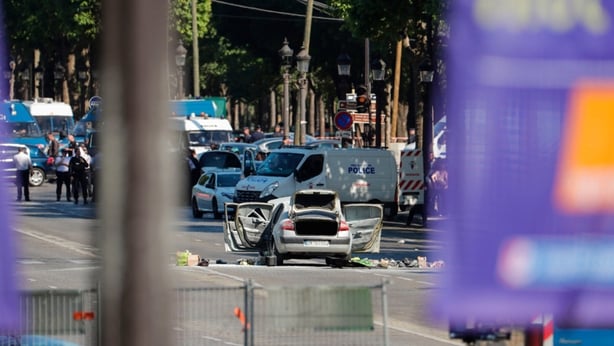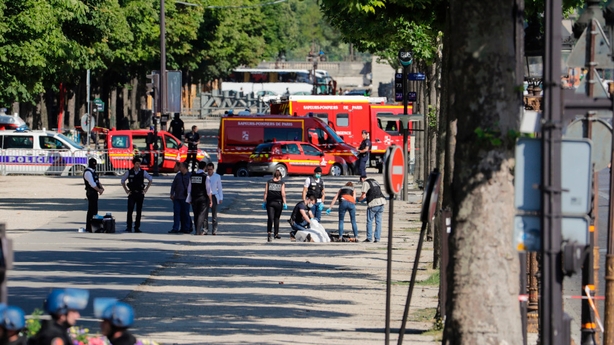 Eyewitnesses in Paris saw the man being pulled from the car as it burned.
The car struck the front of the van as it overtook a convoy of police vehicles, a police spokeswoman said.
Footage recorded shortly afterwards at the site, a short walk from the Elysee presidential palace and the US embassy, showed yellow smoke billowing from the car.
"We saw big flames coming out of the front windows of the car," an eyewitness told Reuters.
"Then suddenly we saw four policemen arrive, they knocked on the window, they said 'Sir, are you alright? Can you hear us?'
He said police broke the window and pulled the man from the car while other police used fire extinguishers to put out the blaze.
French President Emmanuel Macron said last month his government would ask parliament to extend wider search and arrest powers granted under a state of emergency called after Islamist gunmen and suicide bombers killed 130 people in and around Paris in November 2015.
Some magistrates and human rights groups have protested against the proposal that would enshrine in ordinary law measures currently in place under the state of emergency.