The man held by British police over the terror attack near the Finsbury Park Mosque in north London has been identified as 47-year-old father of four Darren Osborne.
Osborne, from Cardiff, was arrested after pedestrians were targeted by a man driving a van near the mosque early on Monday.
Witnesses described hearing the van driver, who was detained by members of the public at the scene, shout: "I'm going to kill Muslims."
The man was initially arrested on suspicion of attempted murder but Scotland Yard said he was later arrested for the commission, preparation or instigation of terrorism including murder and attempted murder.
Residents near Cardiff said said they were "shocked" after seeing photographs of their neighbour being arrested in London.
Police are searching a residential address in Pentwyn, where Osborne is listed as living, in connection with the attack.
British Prime Minister Theresa May condemned the attack as "every bit as sickening" as the recent atrocities in London and Manchester.
One man died in the attack.
Police and community leaders have praised those who restrained Osborne and stopped others from attacking him before police arrived and arrested him on suspicion of attempted murder.
Imam Mohammed Mahmoud was hailed for his efforts to calm the chaotic situation in the aftermath of the attack and was said to have used his body to shield the suspected terrorist from the fury of onlookers.
Witnesses claimed the suspect was smiling and waving as he carried out the attack on Seven Sisters Road.
Officers were in the immediate vicinity as the attack unfolded and responded within one minute.
Police declared it a terrorist incident within eight minutes.
Speaking after she chaired a meeting of the Government's Cobra emergencies committee, the Prime Minister said the attack was "every bit as insidious and destructive to our values and our way of life" as the recent string of terror attacks apparently motivated by Islamist extremism.
"We will stop at nothing to defeat it," she added.
One man has died and several people have been hospitalised after a van drove into worshipers outside a London mosque pic.twitter.com/1NWzdHKmgd

— RTÉ News (@rtenews) June 19, 2017
Mrs May later met faith leaders at the Finsbury Park Mosque.
She then emerged, with the representatives of different religions at her side, to talk to reporters.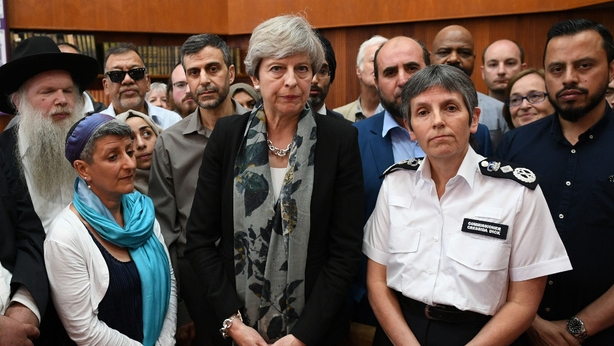 She said: "The terrible terrorist attack which took place last night was an evil borne out of hatred and it has devastated a community.
"I am pleased to have been here today to see the strength of that community coming together, all faiths united in one desire to see extremism and hatred of all sorts driven out of our society.
There is no place for this hatred in our country today and we need to work together as one society, one community, to drive it out, this evil which is affecting so many families
Metropolitan Police Deputy Assistant Commissioner Neil Basu said: "This is being treated as a terrorist attack."
He said eight people are in hospital and two others were treated at the scene.
All of the casualties were Muslims, he added.
The attacker, who is believed to have acted alone, struck as the area was busy with worshippers attending Ramadan night prayers at the mosque.
Mr Basu added: "The attack unfolded whilst a man was receiving first aid from the public at the scene; sadly, he has died.
"Any causative link between his death and the attack will form part of our investigation.
"It is too early to state if his death was as a result of the attack."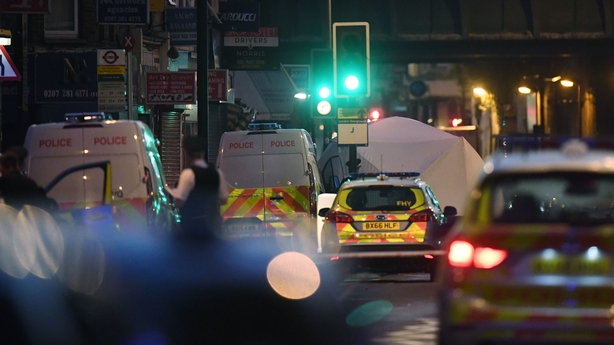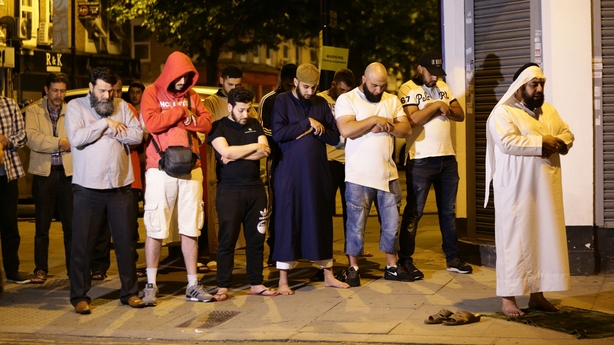 Security minister Ben Wallace said the suspect was not known to the security services.
One witness described being surrounded by bodies in the wake of the attack outside the nearby Muslim Welfare House.
Another witness said: "I managed to get the driver of the van.
"He wanted to run away and was saying: 'I want to kill Muslims.'
"So he came back to the main road and I managed to get him to the ground and me and some other guys managed to hold him until the police arrived."
Eye witness report from London after a man drove a van into a group of people near a mosque. 1 person has died and 8 have been hospitalised pic.twitter.com/FPIKzUMF0m

— RTÉ News (@rtenews) June 19, 2017
Mr Basu thanked members of the public who detained the man, saying "their restraint in the circumstances was commendable".
He added: "Given the methodology and given what was occurring, what's happened, the tragic incidents across the country, this had all the hallmarks of a terrorist incident.
"That is why the counter-terrorism command were called out to investigate."
Video posted online showed a scene of chaos as people tried to help the injured.
One man could been seen giving CPR to a victim in the street, while another man's head injury was treated with a makeshift dressing.
People could be heard shouting and screaming amid the chaos, and bloodstains were visible on the pavement.
In one video, a group of men are seen holding the suspect on the ground as they call for the police.
Images of the van showed it was rented from Pontyclun Van Hire in Pontyclun, near Cardiff.
South Wales Police is working with officers from London on the investigation.
Communities and Local Government Secretary Sajid Javid visited the scene and was seen comforting a woman, who was visibly shaking, outside the police cordon.
Mr Javid condemned what he described as an attack on innocent people.
He said he will seek advice from the local community as to what measures the authorities can take to give Muslims across the country "maximum reassurance" that they are being protected.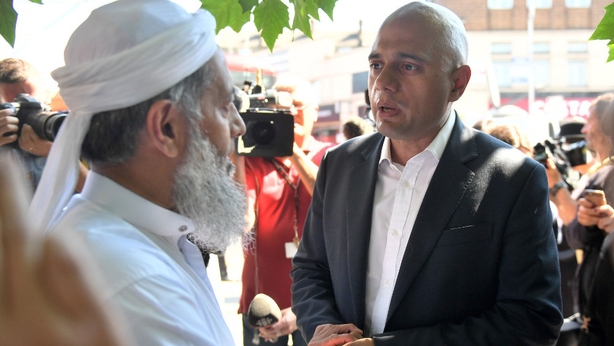 "The perpetrator of this attack - and those terrible attacks that we saw recently in Manchester and London - their intention is to seek to divide society. My message to them is that they will always, always fail," he said.
"This government will always take a zero-tolerance approach to hate crime - including anti-Muslim hate crime - wherever we find it.
"I want to reassure both the local Muslim community but also
Muslims across the United Kingdom that they will always have the support of this Government in fighting anti-Muslim hate crime."
Flowers have been laid near the scene, with one card reading: "This is an attack on all Londoners - and on my community."
Another read: "I was so sorry to hear the news this morning. #NotInMyName".
The mosque was once a notorious hub for radical Islamists but has entirely changed under new management.
London Mayor Sadiq Khan said the incident was an attack on common values.
"Like the terrible attacks in Manchester, Westminster and London Bridge it is also an assault on all our shared values of tolerance, freedom and respect," he said in a statement.
Mr Khan said there would be extra police to reassure communities, especially those observing Ramadan.