The Irish Farmers' Association has said progress on reducing emissions in the sector should be acknowledged, and Ireland's 2030 climate targets were set without proper consideration for the economic and social consequences.
It comes as the latest report by the Environmental Protection Agency (EPA) shows Ireland is on course to miss its 2030 climate targets by a large margin unless all sectors, including agriculture, electricity and transport rapidly deliver further emission reductions and sustain this delivery into the future.
In response, IFA President Tim Cullinan said the vast majority of farmers were trying to play their part.
"We should be more positive about what is being achieved, rather than being overly negative," he said.
"We need to bring people with us and acknowledge the efforts people are making and stop using the language of failure."
He added: "In our sector the EPA data published today shows we are already on track to achieve 19% of our 25% reduction target, even with some of the proposed measures on diversification excluded in the modelled projections."
---
'We want the farm to be sustainable'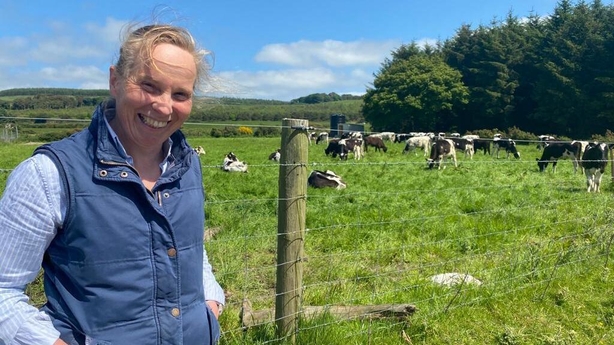 Amanda Mooney has been a dairy farmer in Ashford, Co Wicklow, for more than 25 years, where she keeps close to 300 cattle including 130 milking cows.
She says she has been working to cut back on emissions and make producing food more sustainable, but that this has come at a substantial cost.
She began cutting back on her use of fertilisers, partly over the rising cost of it, but now continues to use less, which she says is better for the environment.
She has also been using nitrate-protected urea and other products which inhibit the nitrates that go into the soil and the atmosphere.
"When you have a target, you'd like to be achieving it," she says, but adds that all of these changes can take time on a family farm.
"We want the farm to be sustainable, we want the farm to be here for future generations. My son and daughter are involved in farming with us, so we're doing everything that technology is advising us to," she explains.
"Everything comes at an initial cost, but the benefit is to our climate and we're not on target to meet the 2030.. but we're very close."
This year she spent €25,000 on solar panels on the roof of her sheds which she hopes will make a return for her in seven or eight years, as they help to run electricity and milking machinery.
She has also employed advanced breeding techniques which she says improve the genetic merit of her cows.
"We have less cows now producing more milk, than in the past and that's due to advances in breeding, so we're embracing everything that's available to us."
She has also planted over a kilometre of hawthorn hedging and more than 50 oak trees on the farm.
"We're doing as much as we can. Our main objective though is that we would produce food. We want to produce food in as sustainable a way as possible."
---
According to the EPA report, road freight is projected to be the biggest source of greenhouse gas emissions from the road transport sector, with heavy goods and commercial vehicles less able to adapt to electrical charging.
However, the Irish Road Haulage Association (IHRA) insists its members are taking measures to cut carbon emissions too.
IRHA President Eugene Drennan said he had been actively engaging on this issue for quite some time, including recent meetings with the Department of Transport and yesterday with the Department of Finance.
He said the Green Party and all parties in Government had to work together.
In terms of fuel for trucks, he said what was needed now were "proper clean additives which could suck the carbon element out of diesel. We have moved to the more efficient model of Euro 6 engines, which emit the least carbon".
He said not everything could be solved at once, but a focus on solving emissions in Ireland could work if it was taken step by step.