This year looks set to be one of the three hottest years on record, according to data released by the World Meteorological Organisation.
The WMO's provisional 'Statement on the State of the Climate' found that over the first nine months of the year, average global temperatures were 1.1°C above the pre-industrial era.
This means 2017 as a whole is likely to be the second or third hottest since records began, with 2016 set to remain the warmest ever, propelled by the powerful El Niño that year.
The report finds that 2013-2017 is set to be the warmest five-year period on record.
The WMO says the year has been laced with many high-impact weather and climate-related events, including catastrophic hurricanes and floods, debilitating heatwaves, and drought.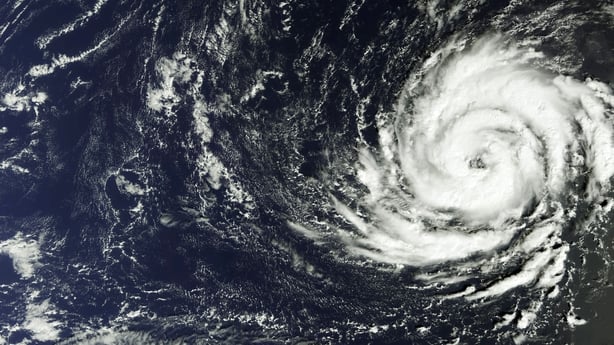 It also points out that long-term indicators of climate change, such as increasing carbon dioxide concentrations, sea level rise and ocean acidification, continue unabated.
Arctic sea-ice coverage remains below average and previously stable Antarctic sea-ice extent was at or near a record low.
"The past three years have all been in the top three years in terms of temperature records. This is part of a long-term warming trend," said the Secretary-General of the WMO, Petteri Taalas said in a statement.
"We have witnessed extraordinary weather, including temperatures topping 50 degrees Celsius in Asia, record-breaking hurricanes in rapid succession in the Caribbean and Atlantic reaching as far as Ireland, devastating monsoon flooding affecting many millions of people and a relentless drought in East Africa.
"Many of these events - and detailed scientific studies will determine exactly how many - bear the tell-tale sign of climate change caused by increased greenhouse gas concentrations from human activities."
The report comes as climate change negotiators from around the world are gathering in Bonn for UN climate change negotiations.
2017 is set to be about 1.1°C warmer than pre-industrial era. Long
term #climatechange trends continue #COP23 pic.twitter.com/SP2jjeH83r

— WMO | OMM (@WMO) November 6, 2017
The UN is hoping the meeting will deliver a plan towards the next stage of reducing global greenhouse gas emissions.
Two years ago, negotiators representing countries from all over the world signed an historic accord in Paris committing to reduce CO2 emissions to help stem the rise in global temperatures.
US President Donald Trump has since signalled his country will not now implement the agreement.
The report outlines how global mean temperature for the period January to September 2017 was 0.47°C±0.08°C warmer than the 1981-2010 average.
In particular, parts of southern Europe, including Italy, North Africa, parts of east and southern Africa and the Asian part of the Russian Federation experienced record warmth.
Southern South America, particularly in Argentina, as well as western China and parts of southeast Asia were wetter than average.
January to September was the wettest on record for the contiguous United States.
The Canadian Prairies, the Mediterranean region, Somalia, Mongolia, Gabon and southwestern South Africa all received lower rainfall than average. Italy had its driest January to September on record.
The data shows that Arctic sea-ice extent was well below average throughout 2017 and was at record low levels for the first four months of the year.
While a strong and persistent low pressure system over the central Arctic helped to inhibit ice loss during the summer months, Arctic sea ice extent minimum in mid-September was 25%- 31% below the 1981-2010 average, and among the eight smallest minimum extents on record.
Antarctic sea ice extent was also well below average.
Following a peak in 2016 caused by El Niño, global mean sea level has been relatively stable so far this year.
But early data indicates a rise may have started to resume from July-August 2017 onwards.
Global sea surface temperatures are on track to be among the three highest on record, while real-time data from a number of specific locations indicate that levels of CO2, methane and nitrous oxide continued to increase.