The next few hours will be among the most difficult in Mary Lou McDonald's political career.
The party she leads will lose dozens of seats across the country and there are no guarantees either that it can hold on to its three MEPs.
The decline at local level is widespread and consistent.
In Dublin city, Sinn Féin's share of the vote is down 12 points while in Cork City there is a nine point decline.
There will be losses too in Galway, Limerick and Offaly and further afield.
This is an across the board decline that can't be explained by the low turnout alone.
There is the added problem for the party with the arrival of Aontú.
The new party was created by the refusal of Sinn Féin to allow a conscience vote on the legislation to give effect to the referendum result on abortion.
Aontú is registering support of around 5% across in several electoral areas and most of this is coming directly from Sinn Féin.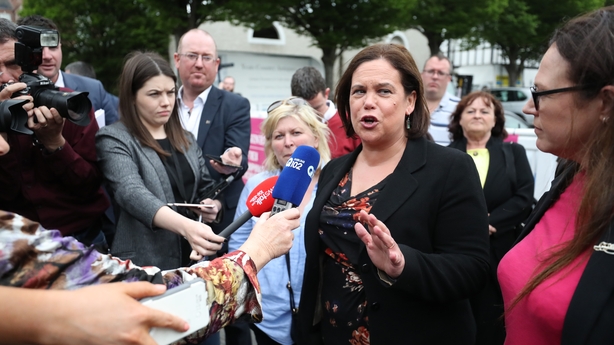 Already the party has had its first councillor elected with Sarah Reilly topping the poll in Bailieborough, Co Cavan. 
Sinn Féin has prided itself on the slow methodical building of the party's support.
This dates all the way back to Caoimhghín Ó Caoláin's election to the Dáil in 1997.
What is likely to play out in the hours ahead marks the most significant blow yet to that effort.
Today's results will worry the party on a number of another fronts too.
Chief among them is the fact that local elections serve as a relatively accurate barometer of what may happen in a general election.
Plus the leadership of Mary Lou McDonald was billed as a something that could broaden the party's appeal.
But in the presidential election its support shrank and the same will happen in two sets of elections today. 
Already one of the people regarded a key party strategist, Dublin Mid-West TD Eoin Ó Broin, has spoken about reflecting on what went wrong.
Expect that work to commence swiftly.
---
Read More:
LIVE: Counting continues in local elections
Referendum on divorce passes
Election results where you are
---