A day is a long time in politics.
Yesterday outgoing Solidarity/People Before Profit TD Gino Kenny said on Twitter that it was not looking good for his re-election.
Not looking good in getting re-elected. We done all we could over the past four weeks/years. Proud to have played a part in the legalisation of medical cannabis which will have a profound difference to many people. For me activism doesn't begin and end at Leinster House.✊🏼

— Gino Kenny TD (@Ginosocialist) February 9, 2020
Fast forward a few hours and late last night he was tweeting that "it looks like I might still be in with a shout, battling with Fianna Fáil's John Curran for the last seat ...The Phoenix is rising again".
The Phoenix did rise from the political ashes in Dublin Mid West and Gino Kenny remarkably held his seat this afternoon.
Looking at the national picture, there are now more than 130 Dáil seats out of 160 filled and the make-up of the 33rd Dáil is becoming clearer.
Fine Gael has had a bad election but the party mood will have been lifted this afternoon after it picked up two seats that had hung in the balance.
First-time TD Emer Higgins has taken a seat in Dublin Mid West and veteran TD Bernard Durkan has held on Kildare North.
Cabinet Ministers Paschal Donohoe and Richard Bruton have also been re-elected.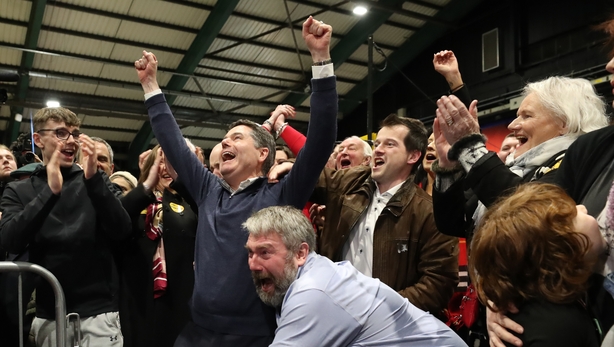 ---
Read More:
Live: Developments as they happen nationwide
Live: Updates from your constituency
---
But party strategists will also be disappointed that the party has failed to win a seat in Tipperary for the second election running.
By this early evening the party had won 19 seats, but it has had some major casualties, including Regina Doherty, Michael D'Arcy, Pat Breen, Pat Deering, Mary Mitchell O'Connor, Tom Neville, Kate O'Connell and Noel Rock.
Other seats are in grave danger.
Fianna Fáil looks on course to become the largest party in the next Dáil.
Among the TDs to secure seats this afternoon were Darragh O'Brien in Dublin Fingal, James Lawless in Kildare North, Jackie Cahill in Tipperary, Cathal Crowe in Clare and James Browne in Wexford.
The party has also had its casualties in an election where it expected to perform better.
So far it has lost Malcolm Byrne, who was only elected in a by-election in Wexford last November.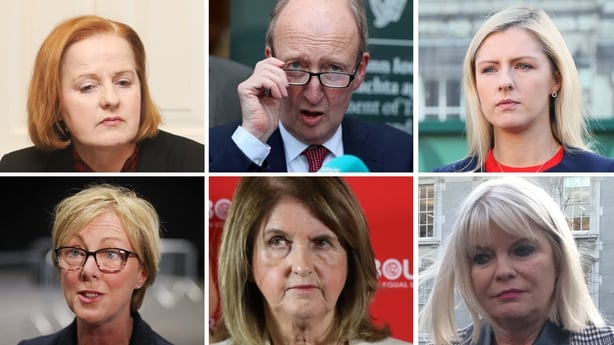 Other surprise seat losses came with Shane Cassells in Meath West, Lisa Chambers in Mayo, John Curran in Dublin Mid-West, Eugene Murphy in Roscommon-Galway, Margaret Murphy O'Mahony in Cork South West, Kevin O'Keeffe in Cork East and Frank O'Rourke in Kildare North, Timmy Dooley in Clare and Declan Breathnach in Louth.
Sinn Féin's historic election performance continues with the party up to 37 Dáil seats by 6.30pm.
Martin Browne in Tipperary, Réada Cronin in Kildare North and Violet Anne Wynne in Clare became the latest to join the Sinn Féin Dáil team.
The Green party has won ten seats so far.
Malcolm Noonan in Carlow-Kilkenny, Patrick Costello in Dublin South-Central and Neasa Hourigan in Dublin Central are among the Green seats won this afternoon.
Former Labour party TD Michael McNamara has won a seat as an Independent in Clare.
The Social Democrats has had four TDs elected. After narrowly missing out in 2016, Gary Gannon has won a seat in Dublin Central. Jennifer Whitmore in Wicklow is also expected to win a seat later.
Outgoing Independents4Change TD Joan Collins has held her seat.
Solidarity/People Before Profit TDs Brid Smith and Richard Boyd Barrett also retained their seats. That grouping has given us one of the stories of this election with Gino Kenny's resurrection.