There has been strong voter turnout at polling stations around the country as Ireland voted to elect the 33rd Dáil.
An exit poll by Ipsos MRBI for RTÉ, The Irish Times TG4 and UCD published as soon as voting ended has given the first indication of the election outcome.
High winds and heavy rain did not deter early voters in the constituencies across Munster and they packed polling stations from early morning.That surge continued for most of the day, slowing for the Ireland-Wales rugby match, and stalling from teatime onwards.
That means turnout is likely to be in the range of 60% to 65%. Figures ranged from 59% in Farranree to 65% in Rochestown and Youghal.
In Kerry, turnout in Tralee and Killarney was 60%, with 61% in Listowel and Killorglin.
Turnout in Dublin was high - especially in the outer suburbs - despite worsening weather.
The final turnout estimate for Dublin county was 64%. The turnout for all of Dublin was 60% in 2016.
The highest in the county area shortly before polls closed was Navan Road with 75%. The lowest was Clondalkin with 54%, with Dun Laoghaire at 56%. Portmarnock registered 70% and Malahide 67.5%.
In Galway West, urban city boxes were recording the highest turnout by late evening with Salthill at 63%. Clifden and Spiddal are at 53%, Moycullen at 59% and Oranmore at 54%. Knocknacarra is at 57%, Renmore is at 52%, Ballybane at 53% and Castlegar on 40%.
In Galway East polling in Gort is at 49%, Loughrea 48%, Tuam 52%, Athenry 55%, Kinvara 58% and Portumna 50%.
In pictures: Ireland votes in Election 2020
There was a queue of people waiting outside the polling station at St Canice's Hall in Kilkenny city when it opened this morning. By this evening, turnout across the county had hit 50% at some polling stations.
Several polling stations in Waterford city are this evening reporting big increases on the last general election. In 2016 a third of voters had turned out at St Martin's Special School by 4.30pm, but it was 45% this time round and has since surpassed 50%.
St Saviour's in Ballybeg has recorded a high poll at approximately 53% by this evening, which is closing in fast on its overall poll of 60% from 2016.
Turnover has also reached 50% in several parts of the county, including Kilmacthomas and Abbeyside, while Lismore and Ballymacarbry are both at around 40%.
Continuing the south-east theme, turnout was reported at 66% in Gorey Co Wexford, with 63% turnout at a rural polling station in Kilmore in the south of the county.
Meanwhile, it is understood the polling station at Kildavin NS in Carlow was relocated to a local pub due to a power outage at the school.
The polling station at Kildavin National School in County Carlow is without electricity since this morning due to a power outage. It's understood the polling station, which has 1 booth, is being relocated to Conway's pub, also in the small rural village @rtenews #GE20 pic.twitter.com/RrgMVbmM9m

— Ciaran Mullooly (@ciaranmullooly) February 8, 2020
The latest turnouts in Louth show that polling stations in Dundalk had turnout of up to 75%. In mid-Louth, turnout were ranging from 54% to 79% in Dillonstown and Stabannon respectively.
In Meath East, turnout this evening was at 45% in Kells and 47% in Ratoath, while in Meath West Enfield stood at 38.7% and Athboy at 45%.
In Kildare, turnout moved above 50% late this evening in the north of the county, reaching 57% in Scoil Bríde in Naas. In the Kildare South constituency the turnout was well above 50%.
In Longford turnout was 62% in urban areas and 61% in rural polling stations by 8.30pm. Most polling stations in Laois were reporting turnover just above 40% this evening. In Westmeath, the average turnout in Mullingar was 45%.
Turnout in Mayo was close to 40% by 5pm, though the figure was as high as 45% at the Seán Duffy Centre in Ballina and 47% at Ballina Boys NS. Castlebar polling stations were averaging just under 40%.
A polling station with a difference.

Voting taking place today in a family home in #Tipperary.

Tea and cake for voters after (or before) casting their #vote
Said to be the only polling station of its kind. #GE2020 pic.twitter.com/eq9seoehq6

— Tomás O Mainnín (@omainnintomas) February 8, 2020
In Co Cavan, voter turnout in Cavan Town's St Clare's NS was just over 41% by late afternoon. In Virginia Town turnout stood at 48%, with 46% in Ballyjamesduff.
In Co Monaghan, St Louis Girls' NS in Monaghan Town has seen a 49% turnout to date while in Castleblayney Boys NS turnout is 44%.
In Roscommon-Galway, Ballinasloe urban booths were averaging 48% late this evening, with Castlerea on 52%. Rural booths ranged from 57% in Rooskey to 70% in Glanduff,
Voting slowed down at many polling stations in south Sligo, Roscommon and Leitrim tonight with severe flooding on many local roads a possible factor. In Tubbercurry turnout ranged from 62% to 57 %, while staff in Boyle had recorded a 62% turnout by 9pm.
In Drumshanbo, Co Leitrim the turnout was much higher, estimated at 72% by 8.30pm. In Carrick-on-Shannon and Ballinamore it was close to 55%.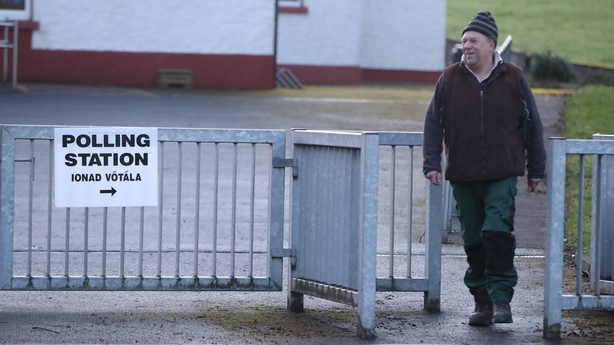 Voting is busy in Limerick city suburbs with many voters out and about on Saturday morning and taking the opportunity to vote early.
Turnout was at 43% in Gaelscoil Monaleen and at 47% in Monaleen NS by 5pm. Milford NS was at 30.6%.
In the county Ballybrown was at 43%, and Castleconnell at 42%. In city polling stations, The Model was at 47%.
In Co Clare, Ennis (CBS) was at over 60% this evening, with Killaloe (NS) on 57%. Clarecastle (NS) was on 59%, Shannon (St. Conaire's) was at 58% and polling in Tulla was at 60%.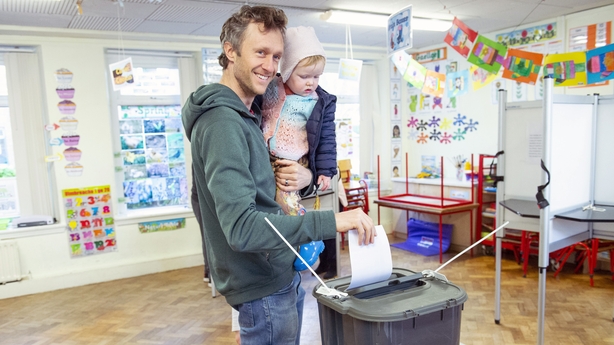 In Tipperary, voting slowed down this evening as the poor weather took hold. An average turnout of 54% was reported at the polling station at Sisters of Charity NS in Clonmel. Turnout in Roscrea was 57% and the figure was 62% at Presentation School in Thurles.
Meanwhile, as Storm Ciara made landfall, ballot boxes from four of the seven west Cork islands arrived safely into Baltimore this afternoon for transport to the Cork South-West count centre in Clonakilty.
Under legislation, the west Cork islands are required to stay open for a minimum of four hours on polling day.
The storm gave rise to fears in recent days that high seas and winds might disrupt ferry services and in turn affect the collection of island ballot boxes. Polling supervisor Teddy Brown said, however, that they "just got away by the skin of our teeth", with ballot boxes landing safely before the worst of the weather hit.
Mr Brown has responsibility for four of the seven islands: Cape Clear, Sherkin, Heir and Long islands. On Sherkin island, 70 out of 100 people on the register cast their vote (70%) with the polling station there having to close just after 2.30pm because of disruption to ferry services.
In Kerry, turnout was approaching 50% in many areas this evening, with stations in Traleee ranging from 47% to 50% and a figure of 52% in Ardfert.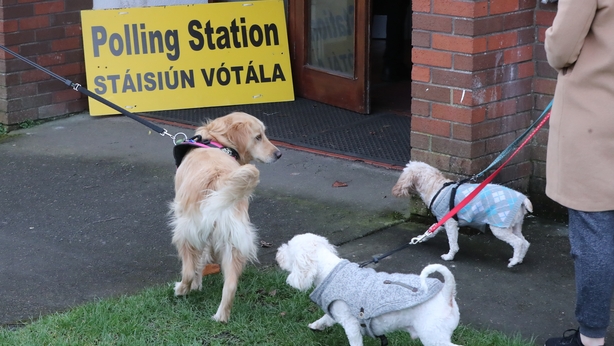 Turnout appears to be higher in Wicklow compared with the 2016 election when the turnout for the county was 70.9%.
Turnout in Arklow in both urban and rural polling stations was averaging at 69 percent at 8:30pm this evening with turnout in urban areas at 67% and more voters going to the polls in rural areas at 73%
In Bray and Greystones turnout is averaging at 69.7%.