At times it all sounded very familiar but this debate was laced with the word "change".
It is the theme of this election and comes in many forms.
There was even a late change to the line-up for this debate with Mary Lou McDonald getting on the team sheet just yesterday afternoon.
In the opening phase of the debate alone we heard about urgent change, real change and transformative change.
Leo Varadkar, who approached the early moments of the discussion with a whirlwind-like quality, warned though that all change is not good - referencing the kind of change offered by Fianna Fáil and Sinn Féin.
It might have been almost imperceptible to many of his opponents but positive change was a constant over the last four years, he said.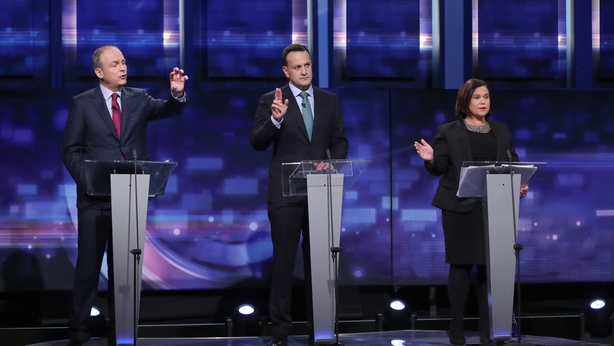 There were stinging blows too. The assertive Micheál Martin claimed that Sinn Féin's policies were full of "gaps and holes".
Mary Lou McDonald described Fianna Fáil and Fine Gael as identical parties.
The Sinn Féin leader also had a neat chorus line.
Many times when Micheál Martin criticised Leo Varadkar she repeated the withering words "on your watch, Micheál ... on your watch, Micheál."
---
Read more:
FG, FF and SF leaders clash on tax, health and housing
As it happened: Main party leaders take part in Prime Time debate
Candidates standing in Election 2020 where you are
Attorney General examining if Tipperary vote can go ahead on Saturday
---
Then the caustic charge from Leo Varadkar that returning Micheál Martin to power would be akin to asking John Delaney to take over the FAI again in nine years' time.
Mary Lou McDonald looked far from sure-footed when asked if she supported the Special Criminal Court amid accusations from Leo Varadkar that her party was soft on crime.
She would only go so far as to say: "I am for the courts."
There was also that awkward moment when she claimed that Micheál Martin would "mansplain" corporation tax to her.
Then the most dramatic moment of this illuminating debate. It was punctuated with many pauses.
This centred on those comments made by Sinn Féin Northern Executive Minister Conor Murphy about the brutal killing of Paul Quinn.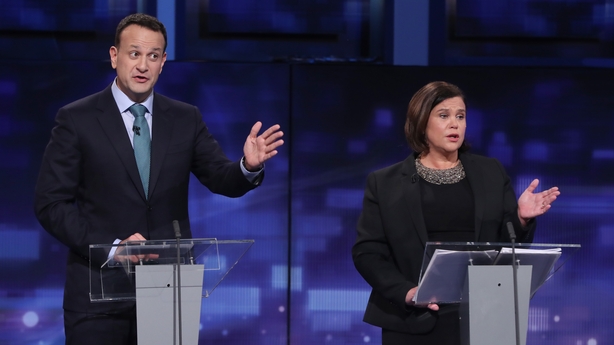 Mary Lou McDonald saying this time that his words were wrong and Conor Murphy would now apologise to Paul Quinn's mother.
This is something she failed to say when interviewed by Bryan Dobson in recent days.
In fact, she said then that she did not believe Conor Murphy had said that Paul Quinn had been involved in criminality.
When the debate moved on to Brexit, Micheál Martin was asked about the experience his perspective team would have on the EU stage if he was Taoiseach.
He struggled briefly before mentioning the wisdom acquired by Éamon Ó Cuiv and Brendan Smith.
Leo Varadkar pointedly and disapprovingly nodded in silence as he listened.
But generally the Fianna Fáil and Fine Gael leaders matched each other punch-for-punch in what was an accomplished performance by both of them.
Mary Lou McDonald did connect with several jabs but she was the one who exited the studio having endured one extremely difficult moment.