Campaigning in the General Election continues with political parties focusing on education, climate action, online safety and mental health.
Fianna Fáil has promised a freeze of third level fees as well as hiring more primary school teachers to bring the number of pupils per class down to 20 by 2025.
At its launch in Midleton, Co Cork, Sinn Féin pledged to recruit 2,000 additional mental health staff and increase the number of Child and Adolescent Mental Health and Community Mental Health teams if in government.
Meanwhile, Sinn Féin leader Mary Lou McDonald has said her party will not enter into a confidence and supply arrangement with Fine Gael or Fianna Fáil. She also denied that Sinn Féin is engaging in auction politics.
Labour will speak about climate action and the Social Democrats will look at quality of life issues for families.
People Before Profit's Richard Boyd Barrett described the problems around disability access on public transport as "shameful".
He was speaking at the launch of the party's policy on disability rights where it set out a plan to spend €211m each year on community services for people with disabilities, which is part of a wider €493m disability rights package.
The first televised debate between Fine Gael Leader Leo Varadkar and Fianna Fáil Leader Micheál Martin took place last night.
---
Read more: 
As it happened: Varadkar and Martin face off in TV debate
New humble approach for Varadkar as Martin fails to land decisive punch
As it happened: Day 8 of General Election 2020
---
Barbie bikes. Butchers. Birds. Some of the things you see on the canvass in Cork with @MaryLouMcDonald @rtenews pic.twitter.com/FH33Z5NMxq

— Samantha Libreri (@SamanthaLibreri) January 23, 2020
The much anticipated debate did not see either leader land a decisive blow.
The Fine Gael Leader cast himself as a humble politician who knows all about his Government's failings.
He expressed sorrow and regret over shortcomings in the provision of housing.
But there was a caveat that things are changing now and plans are working.
The Fianna Fáil Leader repeatedly said the time had come for a new government and asked if Mr Varadkar had any shame at all over what he said were many broken promises.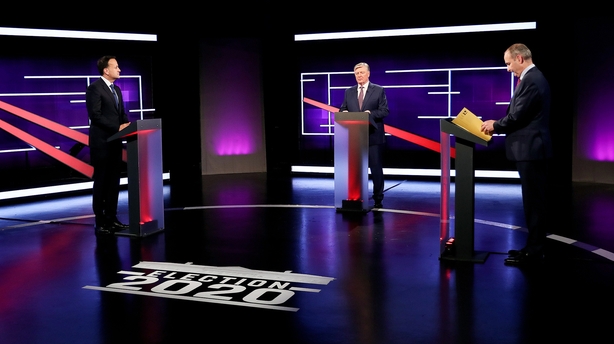 Mr Martin also did not reciprocate an offer from Mr Varadkar to form a coalition government after the election if there was no other option.
The next televised debate is on RTÉ One next Monday night when seven party leaders will discuss their election policies.