Fianna Fáil has asked the Standards in Public Office Commission (SIPO) to investigate what it claims is Fine Gael's "abuse" of state events during the General Election campaign.
The party accused Fine Gael leader Leo Varadkar of using his role as Taoiseach to make a party-political attack at his opponents today.
In the whirl of claim and counter claim, Fine Gael was explaining today how it would pay people who retire at 65 a transition payment until they qualify for the state pension.
It is set to rise to 68 years from 2028.
But it was comments about the National Broadband Plan from Leo Varakdar, in his role as Taoiseach, at an event to mark technology company Apple's 40 years in Ireland, that infuriated some of Fine Gael opponents.
Mr Varadkar said Fine Gael's political opponents "say they will tear up the contract" for the NBP.
He said "First of all, don't believe them. They're not going to do that. Second of all, they're not going to get in anyway, so it's not going to matter..."
However, Fianna Fáil leader Mícheál Martin said it was "inappropriate and wrong" of Mr Varadkar to make what he said were political comments at an IDA-organised event.
The party has requested SIPO to investigate it.
However, this evening Fine Gael accused Mr Martin of using smokescreen tactics in order to distract from his own party's position on the National Broadband Plan.
A government spokesperson said tonight that Mr Varadkar had not breached any protocol in his speech at the IDA event today.
Elsewhere, Sinn Féin President Mary Lou McDonald said her party would implement a rent freeze, introduce a rent tax credit and hold a referendum to enshrine housing rights in the constitution if in government.
Ms McDonald also said Eoghan Murphy has been a "disastrous" Housing Minister and that Sinn Féin's housing spokesman Eoin Ó Broin would drive forward a progressive agenda in the role.
---
Read more:
Pension anomaly stores up pot of trouble for politicians
Michael Healy-Rae fundraiser raffle queried by gardaí
Aontú urges voters to 'think outside political cartel'
---
The Labour Party launched plans to tackle gender inequality in the workplace today.
"Women at Work" focuses on some of the key issues impacting women such as the gender pay gap, childcare crisis and a lack of employment flexibility.
Labour Director of Elections, Senator Ivana Bacik, said the party is committed to delivering gender pay gap law within its first 100 days, if elected to office.
Speaking on RTÉ's Today with Sean O'Rourke, the outgoing Minister for Health, Simon Harris, said he doesn't believe that "chucking more money at healthcare" is the solution because if it was, the problem would have been resolved years ago.
Rósín Shortall, co-leader of the Social Democrats, said that Sláintecare plan is "the only plan in town".
She said that the Irish healthcare services have become a deeply unattractive place to work.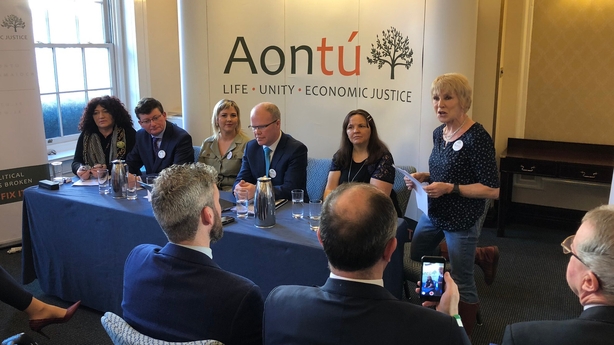 Meanwhile, Aontú launched its General Election manifesto today and called on voters to "think outside the political cartel".
The party is fielding over 25 candidates in its first General Election targeting four constituencies.
Elsewhere, an election fundraising raffle being organised by Independent candidate Michael Healy-Rae has been queried by gardaí.
The raffle is offering a top prize of €1,000 and tickets, priced at €30 for one and €50 for two, were offered to around 150 of the candidate's supporters.
Mr Healy-Rae confirmed that he has been told by gardaí in Killarney that there has been a "query" about the permit required to hold the raffle.
The Green Party will launch their Biodiversity and Pollution Policy Paper at Bull Island tomorrow morning.
The party has chosen the location because the island's "wildlife are under pressure from plastic pollution, sewage outflow, over-fishing, habitat loss as well as sea level rise from climate breakdown".
It says its document will outline practical measures to tackle these these.