With more and more seats filled, the focus is narrowing on the close battles for the final seats of the 32nd Dáil.
Fine Gael is set to be the biggest party despite suffering heavy losses, but its junior coalition party Labour has lost most of its seats.
Party leader Joan Burton was re-elected along with Alan Kelly, Brendan Howlin, Jan O'Sullivan, Seán Sherlock and Brendan Ryan, but most other candidates look set to miss out.
Labour will need at least one more TD to secure speaking rights.
Fianna Fáil and Sinn Féin both made gains, with the latter set to be the third largest party after Election 2016, possibly increasing its Dáil presence by 50%.
Turnout was 65.2%, down on the 69.9% recorded in 2011.
The counting of votes will not be concluded until tomorrow at the earliest.
So far, 35 out of 40 constituencies have completed counting and 148 of the 158 seats have been filled.
Recounts in Dublin Bay North, Wexford and Dublin South West will take place tomorrow. A recount is currently under way in Longford-Westmeath.
In Dublin South Central, proceedings have been adjourned for the night. A full recount is now complete following a request by Fianna Fáil. The party's candidate Catherine Ardagh and Bríd Smith from AAA-PBP are adjudicating on disputed votes. Proceedings are to resume at 1pm.
Taoiseach Enda Kenny earlier conceded that Fine Gael and Labour will not have the numbers to form the next government.
He said it was imperative that the country has a stable administration and the onus was on him as Taoiseach to try to continue to do the work of the current administration.
Mr Kenny said the results have been disappointing, but refused to discuss possible options for the next government.
He said his party would remain a large bloc in the new Dáil despite throwing away the largest majority it had ever secured.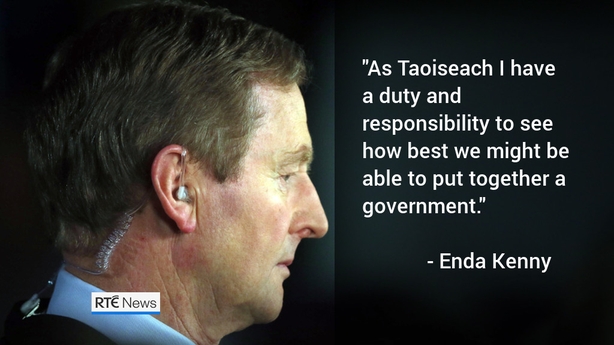 "I'd like to think that it could be possible, given the final results, to be able to put a government together that could work through the many challenges we have," he said.
Among the Coalition's biggest casualties were Alex White, Labour's outgoing minister for communications and Alan Shatter, the former Fine Gael justice minister, who were both defeated in Dublin Rathdown.
Catherine Martin took a seat in the constituency for the Greens, returning the party to the Dáil for their first seat since the collapse of 2011.
In a remarkable comeback after its near wipeout at the last election, Fianna Fáil could almost double its seats and it could return up to seven TDs in Dublin where the party was without a TD going into the election.
Party leader Micheál Martin, who was re-elected in Cork along with Michael McGrath, attributed his party's success to staying grounded.
"I think there were a lot of things which worked in our favour. We had faith going way back. We were consistent and the local elections gave us a great platform. Our message resonated with people.
"I think we kept our feet on the ground; we connected with communities and that will be the strongest challenge - to stay connected with people and their realities on the ground."
Ms Burton said she was very disappointed that so many fine public representatives would not be returned to the Dáil under the Labour banner.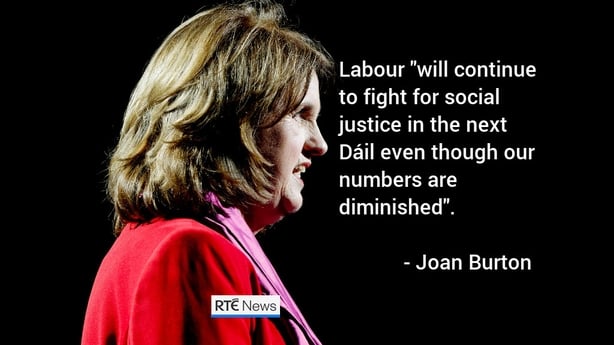 "We will now have a period of reflection in the Labour Party when we establish the final results and the final wishes of the electorate in relation to the next Dáil," she added.
Sinn Féin leader Gerry Adams was elected in Louth this afternoon.
Mr Adams said he had "divided thoughts" on a potential Fine Gael-Fianna Fáil coalition.
"They are natural partners, they are Siamese twins who have been divided for some time - they should get into bed together," he said.
"That's my positive attitude. My negative attitude to it is this would be a most conservative regime if they do come together."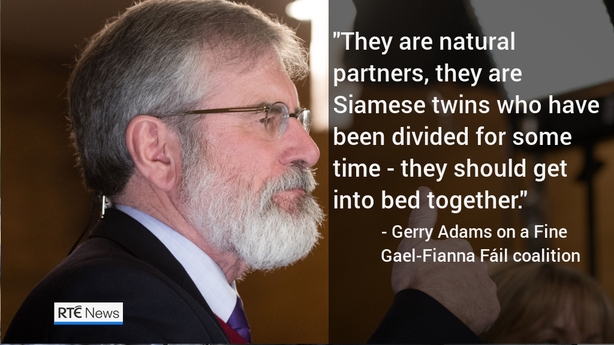 Renua leader Lucinda Creighton also failed to take a seat and none of the Renua candidates have been elected, throwing the future of the party into doubt.
It was a big day for smaller parties and independents.
The Social Democrats returned their three leaders - Róisín Shortall, Stephen Donnelly and Catherine Murphy.
The Anti Austerity Alliance-People Before Profit group have five TDs so far but it too has a good chance of making it to seven.
Candidates Bríd Smith in Dublin South Central and John Lyons in Dublin Bay North are both strongly in contention.
Independents look to be on course to make big gains with that group winning a combined 17% of the vote, when the Independent Alliance is included.
Shane Ross of the Independent Alliance was the first TD elected. Clare Daly won the second seat in Dublin Fingal, while Michael Lowry topped the poll in Tipperary.
In Kerry, Michael Healy-Rae and his brother Danny were elected.