Kenny says stable administration an 'imperative'
Sunday 28 February 2016 18.44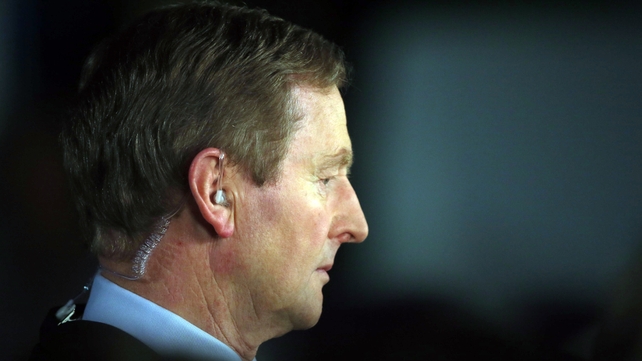 Taoiseach Enda Kenny has refused to discuss possible options for the next government saying he wants to take stock of the situation when counts across the country are completed.
Speaking on his arrival at the count centre in Castlebar yesterday evening, he conceded that Fine Gael and Labour will not have the numbers to form the next government.
He said there was an onus on him as Taoiseach to try to continue to do the work of the current administration.
Kenny on post election options.... no return of FG / Labour #GE16 pic.twitter.com/RzgtB2q9IU

— Pat McGrath (@patmcgrath) February 27, 2016
Mr Kenny said he had a duty to work with the decision the people had made and he intended to do that.
He refused to be drawn on his future as leader of Fine Gael.

He also said quite a lot of people who were ashamed to vote for Fianna Fáil came back to that party yesterday and this was partly the reason why it had improved its performance.

Mr Kenny said the final outcome was not yet clear and refused to discuss whether he would be opening discussions with Fianna Fáil, saying he wanted to wait to see what was possible when all votes were counted.
Taoiseach Enda Kenny talks to RTÉ News. #mayo #ge16https://t.co/5fy1tlHHlb

— RTÉ News (@rtenews) February 27, 2016
He said the imperative was that the country would have a stable administration.

Mr Kenny also said he would not be analysing the manner in which his campaign operated at this point in time, but admitted the election result was disappointing.
"Democracy is always exciting but it is merciless when it clicks in," he said.
Mr Kenny said: "I'd like to think that it would be possible, given the final results, to be able to put a government together that can work through the many difficulties that we have."
Minister for Finance Michael Noonan said it was still too early to say who might form a government, and refused to be drawn on whether a FG/FF coaliton was an option, saying it could be Monday before the full picture on seats and parties was known.
He also said it was a possibility that we could be back at the polling stations in a couple of months.
Mr Noonan was re-elected in Limerick City on the sixth count without reaching the quota.
Minister for Health Leo Varadkar, who has been re-elected in Dublin West, said it is a little too early for analysis but it seems like Fine Gael will still emerge as the largest party after the votes have been counted.
He conceded, however, that it does seem like the party will do worse than feared.
Varadkar: "I think opposition parties ... have an obligation to see if they can come together to form a govt" #GE16https://t.co/DHtjxrPnNP

— RTÉ News (@rtenews) February 27, 2016
The leadership of Fine Gael is more than one person and he is part of that leadership, he said.
He said they would all have to take responsibility for what has happened.
Mr Varadkar said he was "gutted" for those who were losing their seats and people have clearly decided not to re-elect this Government, which has to be accepted.
He said Alan Shatter - who lost his seat in Dublin Rathdown - has made enormous contribution to Irish politics and he was sorry to see him lose his seat.
However, he said he was delighted that Josepha Madigan won a seat in that constituency and it gave him "confidence in the future of Fine Gael."
Mr Varadkar said that in various parts of the country, particularly in Dublin, a number of new younger deputies were being elected to the Dáil.
Earlier, Fine Gael Minister of State Michael Ring said Mr Kenny - who was re-elected on the first count in Mayo - has his full support as party leader.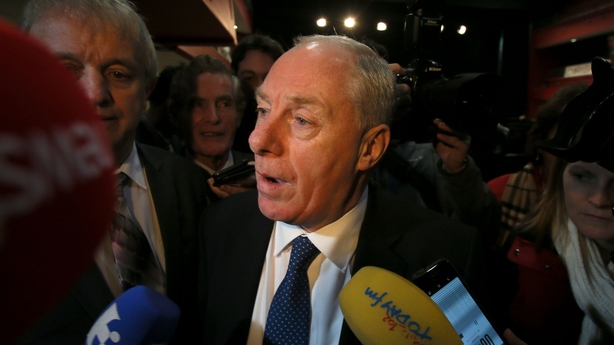 Minister Ring said he was sorry to see so many of his colleagues around the country losing their seats.
He said Fine Gael was not having its best day and while there would be time to assess the campaign, it was not the most perfect the party ever had.
Mr Ring said maybe the views of rural people needed to be taken into account and that "we don't need Dublin 4 people brigade running campaigns".

He said the party's re-election effort had a lot of twists and turns.
He was shocked by the exit polls because he felt the party could have achieved a 35% share of the vote.

He said it would not be easy to form a government but political leaders would now have to reflect on the results.
Mr Ring added that he hoped an administration could be formed and would not like another election.
Eoghan Murphy, who is set be elected in Dublin Bay South, said many aspects of the campaign were flat but he hoped Mr Kenny will be the man leading the largest party when all the votes are counted.
He said he has been "dead against" a Fine Gael - Fianna Fáil coalition for some time because he does not want to see Sinn Féin in opposition.
He also said that Fine Gael's much-talked-about slogan, 'Keep the Recovery Going', was ambitious, not smug.
Derek Keating, who lost his seat in Dublin Mid West, said the party had got its message wrong but he did not foresee problems for the party leader.
But he said leadership issues always arise after election defeats.
Fine Gael insisted tonight it can still win more than 50 seats.
Shatter did not expect to lose seat
Mr Shatter has said he was not expecting to lose his seat in Dublin Rathdown and he thought there had been a reasonable chance of Fine Gael winning two seats there.
He said there had been a vote-management arrangement made that he did not agree with, but he did not want to take away from Ms Madigan's win and he had already congratulated her.
Alan Shatter "didn't agree" with Fine Gael's vote management policy in Dublin Rathdown #dubrd #GE16https://t.co/VRS98GzRHg

— RTÉ News (@rtenews) February 27, 2016
When asked if Fine Gael needed a new leader, he said these were matters for the Fine Gael parliamentary party of which he was no longer a member so it would not be appropriate to comment.
He said the country needed certainty and stability and these matters need to be reflected on in context of the very new arrangements that we will see in the new Dáil.
Mr Shatter added that a lot of extraordinarily good people have lost their seats and he wanted to wish colleagues well.
Paschal Donohoe said he believes Mr Kenny will remain as leader of Fine Gael.
He said he is delighted to have been re-elected in Dublin Central, but it has been a disappointing day for the party.
He said Mr Kenny, as Taoiseach, has played a huge role in bringing the country to where it is now and will continue to play a huge role in helping the country complete that journey.