With just three days to polling a new opinion poll shows Fine Gael holding at 30% support but their coalition partners Labour falling back slightly to 7%.
If repeated on polling day, these results indicate that Fine Gael and Labour would fall a long way short of the seats needed to form a government.
Their combined support at 37% is down 18 points from their joint showing of 55% in the 2011 general election.
Overall, these results, if mirrored on election day, indicate a hung Dáil is the likely outcome.
Details of today's Paddy Power/Red C poll, the final Red C survey of the campaign, were outlined on RTÉ's Today with Sean O'Rourke.
Over 1,000 voters were surveyed between last Thursday and Sunday as parties intensified their campaigns in the final weekend.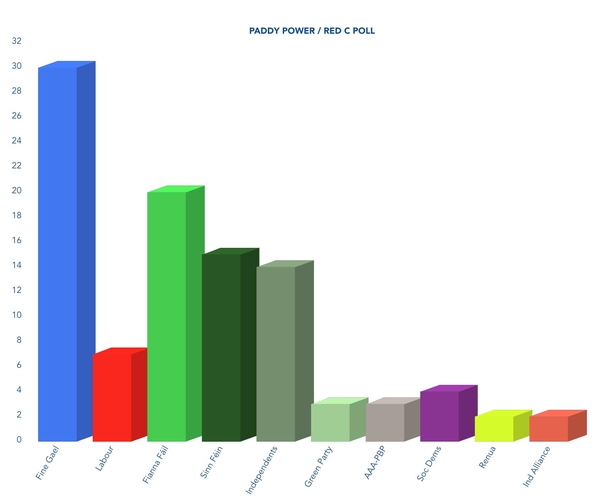 When the Undecided voters at just 7% (down four points in the last few days), are excluded the results are as follows:
Fine Gael: 30% - no change on the Sunday Business Post/Red C poll at the weekend
Labour: 7% - Down one point
Fianna Fáil: 20% - Up 2
Sinn Féin: 15% - Down 1
Independents/Others: 28% - no change.
The findings in today's poll point to Fine Gael and Fianna Fáil being the only two party combination that will be able to form a majority Government - something both parties have repeatedly ruled out.
Any changes in today's poll are within the margin of error of plus/minus 3%.
The breakdown of the Independents/Others block at 28% is as follows:
Independents: 14%
Independent Alliance: 2%
AAA/PBP: 3%
Social Democrats: 4%
Green Party: 3%
Renua: 2%
Since December any movement in the #REDC opinion poll is within or close to margin of error. The campaign has changed very little. #GE2016

— Justin McCarthy (@MrJustinMac) February 23, 2016
RTÉ's Brian Dowling and former CEO of Paddy Power Stuart Kenny discuss the results of the latest Red C poll for Paddy Power on RTÉ's Today With Sean O'Rourke.