Fianna Fáil leader Micheál Martin has said "water charges should be scrapped for the lifetime of the next government" while a new scheme is developed from scratch.
Speaking on RTÉ's Today with Sean O'Rourke, Mr Martin said the current scheme under Irish Water was "appalling" and a "debacle" which the last government "made 13 U-turns" on in setting up the scheme.
Micheál Martin says water charges should be scrapped during the lifetime of the next government on @TodaySORhttps://t.co/OchfzylKHg

— RTÉ News (@rtenews) February 19, 2016
He said: "We need to go back to the drawing board" and not charge for water until the system is fixed.
Mr Martin said this would likely take more than five years.
He also defended his party's plans to reduce the Universal Social Charge, saying "families need a break" and that Fianna Fáil is committed to reducing the cost of living for families.
Mr Martin said Fianna Fáil aimed to introduce "practical, meaningful" policies, such as relief on childcare and reducing the drug payment scheme costs.
Micheál Martin disputes claims FF has "black hole" in its financial projections for the economy on @TodaySORhttps://t.co/gTjd3cwmLK

— RTÉ News (@rtenews) February 19, 2016
He disputed claims the party had a "black hole" in its financial projections for the economy by offering to increase public servants pay post-2018, and said "normal industrial relations" would resume after that date.
Mr Martin refused to commit to reducing the pension levy, adding: "There's only so much any government can do."
He also stated that his party's promise of "eliminating the housing crisis" is achievable.
"We've gone from a surplus of houses to an absolute housing emergency" - Micheál Martin on @TodaySOR Listen Live >>> https://t.co/lnnJbFiFeS

— RTÉ News (@rtenews) February 19, 2016
Deputy Martin said his party is promising 35,000 new homes and that he will work towards housing the most vulnerable.
He also promised to tackle mortgage variable interest rates saying this government gave the banks too much "leeway to rip people off".
Mr Martin admitted there would be limitations to what they could do but denied that their promise was misleading.
He also repeated his stance on a possible link-up with Fine Gael or Sinn Féin. He said: "No deal with Fine Gael, no deal with Sinn Féin."
Listen to Micheál Martin's interview with Sean O'Rourke in full, here...
---
Coveney concedes mistakes were made with Irish Water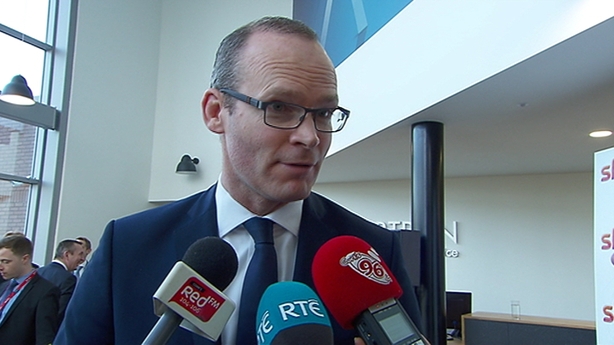 The Minister for Agriculture, Simon Coveney, has said that Irish Water is delivering safe water to people, but that it has had a painful birth.
He told RTÉ's News At One that the company's business model has made savings of 7%, but that it's been a difficult transition.
He said Fine Gael and Labour take responsibility for its introduction and the thinking behind it is progressive, but he said mistakes were made.
Mr Coveney said €5.5 billion will be spent by the company between now and 2021 on fixing pipe infrastructure.
He said the money will be generated through water charges and supplements from the State.
He said the company has the capacity to borrow money at a rate comparable to rates at which the State borrows.
He said there'll be no change to water charges between now and 2018 and thereafter any increase in the cap on charges would be index linked.
He said the annual water conservation charge would still apply.
He said there were 887,000 applications for the water conservation grant last year, costing €100 per application.
---
Fianna Fáil blames Fine Gael for water charges
Fianna Fáil candidates have stood over party leader Mícheál Martin's claim that water charges were Fine Gael's idea, despite Cabinet memos from the 2007-2011 government showing that the Fianna Fáil/Green government had decided to change legislation to pave the way for domestic water charges.
Fianna Fáil's environment spokesperson, Barry Cowen, said that Irish Water was discussed in 2010 as a possibility in order to close the gap between income and expenditure, but that Fine Gael and Labour have created an unmitigated disaster that needs to be stopped.
Mr Cowen told RTÉ's News At One that Fianna Fáil is committed to abolishing Irish Water, costing €235 million.
He said the party would create a slimmed-down national water directorate, costing €16.2 million, with 100 staff, to co-ordinate a €5.5 billion capital investment.
Mr Cowen said every contractual obligation would be fulfilled, costing €9.1 million. He said 100 staff would be retained.
He said Fianna Fáil can only commit to its proposals when in government. He said he has no problem with the concept of water charges that could cost an average family in the region of €50 - €100.
Donegal candidate Charlie McConalogue and Meath East candidate Thomas Byrne also defended Mr Martin, who was at the cabinet table when the decision was taken.
Earlier, Mr McConalogue, the party's education spokesperson and Donegal candidate,attacked the Fine Gael and Labour coalition's record on education.
He said that despite having two Labour ministers at the helm, the government has been regressive in its education policy. He said that the government has brought in a series of 'Tory style' education policies.
#ge16 @fiannafailparty outlines education priorities & attacks 'Tory' style education policies of FG/Lab @rtenews pic.twitter.com/5pxzNWiysi

— Conor McMorrow (@ConorMcMorrow) February 19, 2016
He said: "Fine Gael promise that they will not close any school, this is disingenuous when you look at Fine Gael's record in cutting the numbers of teachers in small schools."
Mr McConalogue added: "Many small rural schools are teetering on the brink" before accusing the government of having "disdain of small schools".
The Donegal candidate said that Ireland cannot afford another Fine Gael led government where "some are getting ahead but many are being left behind."
Dublin Central candidate Mary Fitzpatrick said the "greatest risk to this country" would be to return the Fine Gael-led government as they have "not prioritised the provision of services".
Opinion polls suggest we are heading for a hung Dáil. It was put to Mr McConalogue that Fianna Fáil and other parties entering a coalition would have to tear up their manifestos if a Programme for Government is to be reached.
Mr McConalogue said: "The manifestos do matter a lot" and he is not willing to cede ground on his education demands.
On Fine Gael's proposal to drop the Universal Social Charge, Fianna Fáil's Thomas Byrne said: "The USC tax cut is literally written on the back of a cigarette packet."