The Taoiseach has said Fine Gael's challenge for the remainder of the election campaign is to "clearly explain its plan to voters".
Enda Kenny said he was optimistic about the outcome and that he "did not take notice of opinion polls" that show a downward trend in his party's support.
Speaking on RTÉ's Today with Sean O'Rourke, he said the election was always going to be a dogfight and that nobody thought it would be "a cakewalk".
He said: "I don't take much notice of polls. I'm always an optimist.
"General elections are always about a real fight, a real challenge. I'm up for this.
"Obviously the challenge for me and for the party over the next nine days is to explain what's on offer here."
Mr Kenny said the weakness in his argument to date had been "a failure to translate how economic recovery impacted on the lives of people in all parts of the country".
He said his party would deliver stable government that would bring economic recovery to all parts of the country.
He denied that the party's proposals to abolish the Universal Social Charge would leave a hole in the country's finances.
He said there is a costed plan in place and he is not offering "empty promises".
Mr Kenny said that the Government set out five years ago to create 100,000 jobs and everyone said they would not be able to achieve it, but they did.
He said the next stage, to create 200,000 jobs and abolish USC, was possible and necessary in order to bring people back to work.
"In order to have the 200,000 jobs a central feature is to abolish the USC. You create more jobs and reduce the level of taxation paid in those. That's why you've had the hundred thousand jobs created."
"This was always going to be a dogfight. It was always going to be a challenge in every constituency.
"My proposition is that for the last five years we were given a mandate, handed a pretty tough card. We've moved the country in the right direction.
Kenny: 'In 1997 the country was handed over in very good shape to FF. In ten years they'd blown it' #GE16 #todaysorhttps://t.co/DWE1cqkJIX

— RTÉ News (@rtenews) February 17, 2016
"We still have to complete that job. What I want to say to people all over the country is that there's a proposition on the table here for a clear stable government that will deliver on a costed plan."
Mr Kenny said lower taxes would fuel growth by attracting jobs and, in turn, generate more revenue for the Exchequer.
He refused to be drawn on whether he had directly contacted the President after Michael D Higgins made remarks about the contrast between societal benefit and lower taxes for short term political gain.
Kenny discusses comments from President Higgins on decent society 2 days before Dáil was dissolved @TodaySOR #ge16https://t.co/FvJrmvv3UN

— RTÉ News (@rtenews) February 17, 2016
Mr Kenny said he regularly spoke to President Higgins and that he always had "a pleasant exchange of views" with him.
The Taoiseach said he did not know why Minister for Finance Michael Noonan or his junior minister failed to attend a meeting of the Economical and Financial Affairs Council (Ecofin) ministers last week.
Mr Kenny said he did not like when things like this happened and said he would check with Mr Noonan what the situation was later today.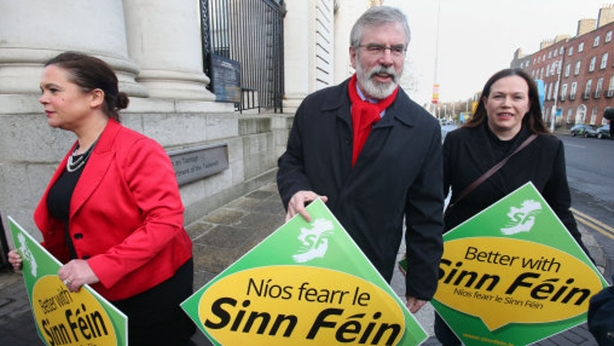 He also claimed that Sinn Féin "is not suitable for government".
Mr Kenny said the party claimed "everything was possible" but that its high tax policies would lead to job losses.
'This is a party that will say anything and do anything... Everything is possible' @EndaKennyTD on Sinn Féin #todaysor

— Today Sean O'Rourke (@TodaySOR) February 17, 2016
He said people were entitled to vote for any candidate they wished for but he "did not subscribe to Sinn Féin's political philosophy", which he said was "anathema" to him.
When asked about how he would form a new government if re-elected, the Taoiseach said he would not "speculate on the outcome of the election".
When pressed on whether or not he would lead his party into government with Fianna Fáil, the Taoiseach said "no vote has been cast yet.
He added that it was his job as Taoiseach and leader of his party to say that they understand that thousands of people do not feel the benefit of the recovery and that "his job is about the 'why'."
What's so bad about Fianna Fáil? @TodaySOR asks Taoiseach Enda Kenny - Here's his answer #ge16https://t.co/DY1lsVcAzx

— RTÉ News (@rtenews) February 17, 2016
Mr Kenny said "the votes of people" will determine the way the country goes for the next five years.
He said he wanted avoid a situation where the progress made in recent years was "rocked back on its heels and set in a different direction".
In respect of the Eighth Amendment, Mr Kenny said: "Nothing can be changed unless a degree of social consensus is reached."
This is why, he said, the issue has to be "discussed comprehensively and sensitively from a legal, social, moral and personal point of view".
He said that, if re-elected, Fine Gael would establish a citizens assembly to look at the issue within six months and that this assembly would involve itself with an expert group and an Oireachtas committee.
Mr Kenny added that, if out of this comes a consensus that a new referendum should be held, then "members can vote with their conscience".
Export strategy can create 'thousands of jobs' - Kenny
Fine Gael has claimed that there is potential to create thousands of new jobs through exports by the year 2020.
The party outlined details of its Regional Export Strategy at an event in Birr, Co Offaly this afternoon.
It said that the extra employment would be generated in "Irish and foreign-owned exporting companies" as well as through tourism.
The podium awaits ... #GE16 FG saying potential for thousands of export jobs with its plan pic.twitter.com/Ric87xCWV4

— Pat McGrath (@patmcgrath) February 17, 2016
The party has previously said 97,000 new jobs could be created in start-up companies during the lifetime of a Fine Gael-led administration. It says many of the export jobs would fall under this heading.
Taoiseach Enda Kenny said "half a billion euro" would be given to Enterprise Ireland the IDA to support Irish companies and "attract more foreign investment".
Mr Kenny also siad he hopes this week's EU Council meeting will "sign off on" issues relating to British referendum on membership of the EU.
He said many Irish companies with an export market in the UK were keenly monitoring developments in this regard.
Listen to Enda Kenny's interview with Sean O'Rourke in full, here...