- Housing, health and the economy took centre stage at debate
- Leaders disagreed on abolition of the USC
- Issue of tackling rural crime highlighted
The seven leaders of the main political parties clashed on several key issues at the Leaders' Debate including rural crime, the housing crisis and the abolition of the USC.
Taking part were: Taoiseach and Fine Gael leader Enda Kenny; Tánaiste and Labour leader Joan Burton; Fianna Fáil leader Micheál Martin; Sinn Féin leader Gerry Adams; Richard Boyd Barrett of the Anti-Austerity Alliance/People Before Profit group; Renua leader Lucinda Creighton and Stephen Donnelly of the Social Democrats.
Fianna Fáil leader Micheál Martin said Enda Kenny and Fine Gael pledged the costliest promise in Irish electoral history through their commitment to abolish the USC.
Mr Martin said that promise meant Fine Gael now represents the biggest threat to the country's economic recovery.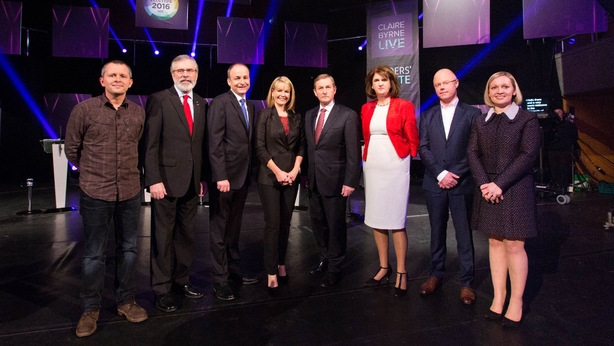 When asked about Fine Gael's plan to abolish the USC, Mr Kenny defended his party's policy and said: "We want to put more people back to work."
Mr Kenny said: "When you reduce taxes you take in more – that is why the abolition of USC means that every worker will be better off."
The AAA-PBP's Richard Boyd Barrett received three rounds of applause during his contribution on jobs.
He said the bloc welcomed any job whereever it was as long as it was properly paid - being paid a small amount on top of the dole was not something he welcomed.
He said while the private sector creates jobs, there is a need for small and medium enterprises to get a break.
He said if the public sector does not create jobs in infrastructure, jobs and housing, young people will not return to Ireland.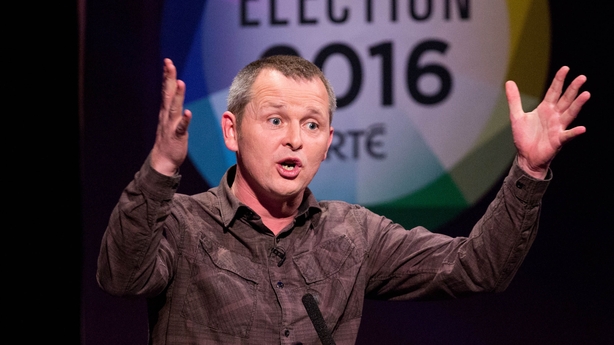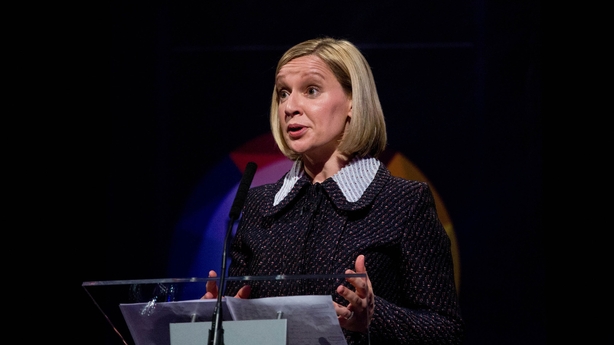 Mr Martin defended Fianna Fáil's record in health while in government. He said that by any metric, more patients were being treated more successfully when Fianna Fáil was in power.
However, Mr Kenny described Mr Martin's claim as "rubbish".
Mr Martin said James Reilly had caused chaos in the health service and what was being promised by Fine Gael now was more chaos.
Mr Martin said Fine Gael had promised a whole load of things on health five years ago which it did not deliver.
The Taoiseach countered that, in 2002 as health minister, Mr Martin promised to abolish waiting lists permanently.
The Social Democrats' Stephen Donnelly and Mr Barrett called for an NHS-style system.
Mr Donnelly said people in the HSE are not proud like the people who work for the NHS in Britain. He said there was a need to start to trust clinicians here.
Richard Boyd Barrett: Economic crash happened because "we turned provision of housing into a casino". #cblive #leadersdebate

— RTÉ News (@rtenews) February 15, 2016
Meanwhile, Joan Burton said: "I will defy anyone here to say our services are entirely bad...A&E is a problem."
Ms Burton said the current Government needs a second term to complete free gp care, more jobs and smaller classrooms.
Mr Donnelly said businesses are buried in red tape, they need broadband and they need the same PAYE protections. The Social Democrats representative said money could be put into business in rural Ireland by reducing the cost of living.
Renua Leader Lucinda Creighton said it was clear that Rural Ireland was not feeling the recovery.
She said her party was the only one suggesting full tax employment and full employment in the State.
When pressed, Ms Creighton said the Government did not create jobs - it was the men and women who put their homes on the line to create business. She said if you set up a business at the moment in Ireland, you are hit at every turn.
On the Social Democrats' plan for a Minister for Housing, Mr Donnelly said it would help create a stable housing market. He said the negative equity generation had been abandoned.
Mr Donnelly said people were trying to buy houses and with rents going up, solutions were needed.
Ms Creighton said Renua was the only party with a credible plan to get finance to invest in housing. She said the party is proposing to take private pension funds, match it with state lands and then build.
She said there had been six announcements by government parties for various housing schemes and no housing was built and Ms Creighton criticised the "scandalous intervention" by the Minister for the Environment to relax the rules in house building.
Meanwhile, Mr Boyd Barrett said social housing could fund itself. He said that in 2011, a labour minister said social housing was being stopped but Ms Burton reduced rent allowance and then said she would reduce rents. Mr Boyd Barrett said they want local authorities and state construction firms to build houses.
Stephen Donnelly: 'Ireland's political system does not understand business.' #leadersdebate #GE16 #cblivehttps://t.co/QlHZJoN7BI

— RTÉ News (@rtenews) February 15, 2016
On rural crime, Gerry Adams said having more local garda stations would engender confidence in rural communities.
Ms Creighton said that Renua's "three strikes" policy would mean that people with a third conviction for certain serious offences would get life sentences. She added that life sentences should be stricter.
"What we've done is we have reopened Templemore to train young gardaí," said Ms Burton in response to Labour's action on rural crime.
"Since we reopened we have trained 1,150 [gardaí] and we are going to train 700 gardaí a year," added Ms Burton.
'The three amigos'
Meanwhile, Mr Adams got a few laughs by referring to Mr Kenny, Ms Burton and Mr Martin as "the three amigos".
Mr Martin said Mr Adams was questioning the credibility of party leaders when he had been denying for 30 years that he was a member of the IRA.
Asked by Mr Adams why he did not make a report to gardaí on the matter, Mr Martin said there was not a garda in the country who did not believe Gerry Adams was not in the IRA.
Mr Adams accused Mr Martin of being part of a government which had caused the worst economic crash in the history of the State. He said Mr Martin's charges about his involvement in the IRA would not help anybody affected by that crash.
Mr Martin responded that Mr Adams had represented West Belfast as an MP, an area, he said, which had the worst child poverty rates in Europe.
Ms Burton criticised Fianna Fáil during the debate. She said Mr Martin was laughable and had left (government) as the place went down in ruins. She said he was like the emperor with no clothes, and if there is anything to be wary of - it is him.
The next government
When asked if she would go into government with Fine Gael, Ms Creighton said: "There is no difference between Fine Gael and Fianna Fáil. What we need is a change of government.
"We will only enter government if we see an entirely different approach...Fianna Fáil and Fine Gael, it is all the same to me," she added.
Asked about ending civil war politics and doing business with Fianna Fáil, Mr Kenny said his proposition was to return the present government. He said Fianna Fáil ruined so many jobs and are not credit worthy.
However, Mr Martin said Fine Gael are different to Fianna Fáil on social policy.
Mr Adams said they should send "the three amigos" away. He said it was time to elect a progressive government.
Mr Donnelly did not rule out the Social Democrats going into coalition.
Mr Boyd Barrett said he will not swap his principles like Labour did when going into Government.
And Ms Burton said they need a second term to go into government to complete free GP care, more jobs and smaller classrooms.