The CEO of Red C has said that the debate between "recovery and fairness" in this election has become a battleground.
Speaking about the consultancy company's latest poll on RTÉ's Morning Ireland, Richard Colwell noted that there there have not been many changes since its last poll was carried out at the beginning of January.
There has been a small downward fall for Fine Gael, Sinn Féin has had a boost while the only party showing any consistency is the Social Democrats with a rise in support from a small base.
Mr Colwell said that, historically, Sinn Féin's support comes from young men but that this poll shows an increase in support from older men (25-to-54 years old) which is relatively important because this group are more likely to "go out and vote".
Mr Colwell said that, in the second half of last year, there was a move in support from independent candidates back to Fine Gael but the steady rise (seen at the end of 2015) has not continued into this year.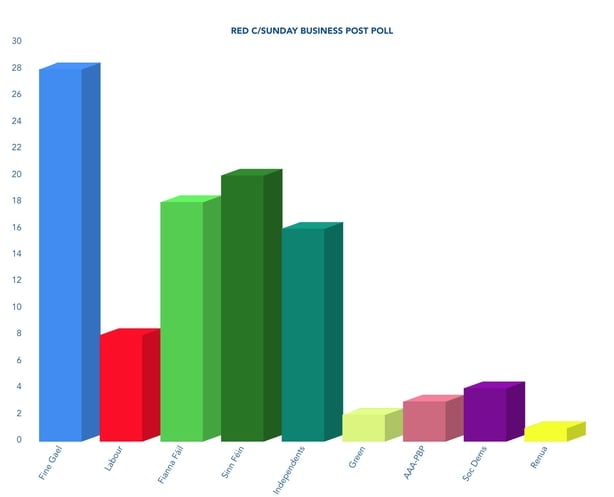 He added that the Social Democrats are beginning to stand out a little more - moving from 1% in January to 4% in this latest poll.
He said that he believed there was a battle ground out there between the ideas of recovery and fairness.
Mr Colwell added that floating voters remain undecided but, if anything, he expected to see a change in support to government parties by polling day.
He said: "I think there is a battleground out there of this idea between recovery and fairness.
"A lot of the underlying information that we're looking at would suggest that the government parties ought to be doing better.
"As yet though, those floating voters have not been persuaded to set their stalls towards the government parties.
"If you again look at the underlying features at what voters are saying outside of how they will vote I would still expect to see a move towards the government parties if anything."
Meanwhile, Michael Marsh, a professor of Comparative Political Behaviour at Trinity College, has said that the profile for all parties is "pretty flat".
Speaking on Morning Ireland, Mr Marsh said he found this surprising because Fine Gael had seen a rise in support over last year.
He also noted that, based on the latest figures, the current coalition is "some way short of returning to power".
Professor Marsh said most people make up their minds on which way they will vote before the campaign starts and only a small number will make up their mind at the end of the election.
Listen to Richard Colwell's interview on Morning Ireland, here...
Listen to Michael Marsh and RTÉ Political Correspondent David Davin-Power discuss the latest poll of polls, here...