The Save the 8th campaign has said graphic posters displayed outside maternity hospitals are wrong and not helpful.
Spokesperson John McGuirk said the people doing this are not affiliated with the Save the 8th campaign. 
He said he believed the group putting up the posters was not Irish and should not be doing so. 
Mr McGuirk said his group was "absolutely not" engaging in "Trump-like" tactics. 
When asked about a fake RTÉ report posted on Facebook, he urged the public to read the contents of the bill and not trust what is on the internet. 
He said: "It is a bit rich for Together for Yes, which has posters around the country saying 'Yes for compassion, Yes for care, Yes for kittens, Yes for puppies', not talking about the real issue, not talking about the real facts about what's in this bill."
Mr McGuirk added that it may have a case to answer because it has not engaged in this debate fully.
In a statement, Together for Yes said the graphic posters were not an "appropriate use of posters in this campaign".
"These are deeply personal and private matters for women and their families, and such tactics only serve to cause further distress to people who might be receiving difficult news about their pregnancies."
---
Read: The General Scheme of a Bill to Regulate Termination of Pregnancy
---
Mr McGuirk also accused Minister of Health Simon Harris of engaging in a campaign of misinformation about the proposed regulation for abortion.
The group said there were several inconsistencies between the bill and what the minister was publicly stating. 
Speaking at a press conference this morning, Mr McGuirk called on Mr Harris to "come out and debate the bill instead of hiding behind your press officer".
Consultant psychiatrist Patricia Casey said the contents of the bill are "astonishing" and "deeply flawed".
Retired GP Dr Maire Neasta NicGearailt challenged Minister Harris to outline what mental health conditions he believed required an abortion.
Unions launch campaign calling for Yes vote in Eighth Amendment referendum
A special edition referendum newspaper has been published by the trade union campaign to repeal the Eighth Amendment.
The 20-page paper was published this morning to coincide with International Workers Day, 1 May.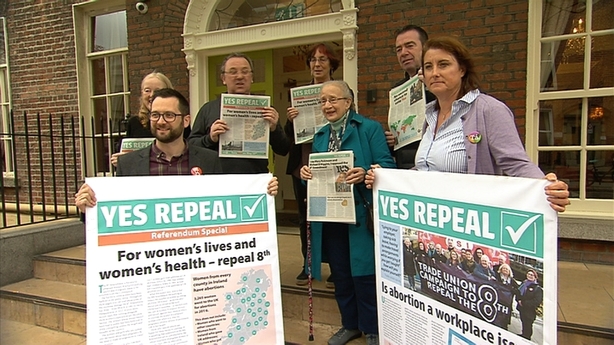 It carries articles by organisations including the Irish Congress of Trade Unions, Unite, Mandate, Communications Workers' Union, Connect and SIPTU along with pieces by Mrs Justice Catherine McGuinness, Parents Together for Yes, Catholics for Choice and a number of Dáil TDs. 
Unite's Taryn Trainor said: "Our members know that a woman's right to make decisions regarding her body is a workplace issue and a trade union issue."
She said this special edition newspaper will be distributed around the country in the run up to the referendum to outline the facts.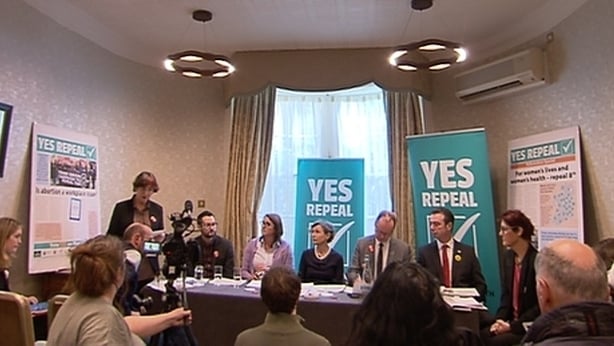 CWU organiser Ruairí Creaney appealed to men in trade unions to vote yes. 
He said: "It's not just a women's issue. 3,000 women left Ireland in 2016 and you're bound to know some of them, although they may not have told you.
"There's never going to be a debate about my reproductive system and no referendum will be held."
General Secretary of Mandate John Douglas said there is a real financial burden placed on lower-paid workers by the current regime, which is forcing many into making decisions to buy online abortion pills without proper medical advice and supervision. 
Professor Veronica O'Keane said: "We all know abortion is a reality. It has been a reality for the past 35 years ... the truth is nine women a day travel to the UK."
Elsewhere, Minister for European Affairs Helen McEntee said regulation surrounding online campaigning has to be looked at for future referendums.
She said when canvassing for repeal or remain it was important to comply with the rules and regulations and anybody who was spreading untruths and misinformation must be called out.
Ms McEntree was speaking at the launch of the Youth for Yes campaign.