Minister for Health Simon Harris has said the Eighth Amendment referendum campaign is not a race about who puts their posters up first.
Speaking at the launch of Amnesty International Ireland's campaign in favour of repealing the amendment, Mr Harris said it was about letting people have their say about the issues.
Amnesty's Executive Director Colm O'Gorman also said the referendum will not be about posters or politicians preaching.
He said it will be about having conversations about the issues. Amnesty's campaign is called 'It's time to talk'.
Mr O'Gorman said questions about posters being erected by one side or the other are always raised during referendum campaigns.
While responding to questions about claims that some women would terminate a pregnancy if they had a cold, Mr O'Gorman said it was important not to respond to ridiculous claims.
Doctor hits out at 'campaign of fear' over Eighth Amendment
Earlier, the former chairman of the Institute of Obstetrics and Gynaecology said the Eighth Amendment has never affected his ability to provide the best healthcare that women and their babies expect and deserve.
Dr Eamon McGuinness said that to his knowledge, no woman in Ireland has lost her life because the Eighth Amendment prevented care.
Speaking at a press launch highlighting how the Eighth Amendment can save lives, Dr McGuinness said no Irish doctor will ever fail to intervene when they know the life of a woman is at risk, even if that risks the life of an unborn child.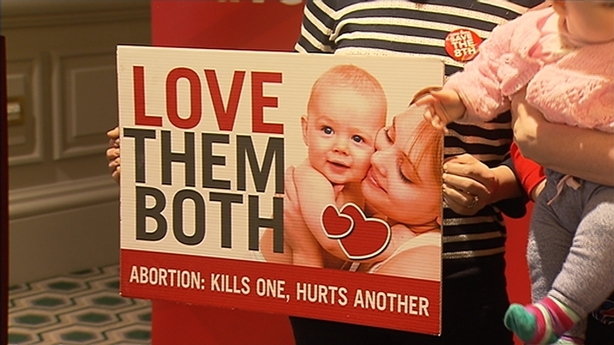 "Where a woman has developed uterine cancer, for example, it has meant that I have had to advise and carry out an early termination of pregnancy," he said.
He also said the misconception under current law that a woman has to be dying before doctors can intervene to end a pregnancy is untrue.
Dr McGuinness described as "very disturbing" what amounts to a campaign of fear and misinformation deployed to tarnish the image of Irish medicine and make Irish women fearful of the treatment they might receive.
Also speaking at the event was Audrey McElligott who said that she was diagnosed with stage 4 cancer while she was pregnant.
Her second baby was born in March 2013 after she underwent three cycles of chemotherapy during her pregnancy.
Ms McElligott said she is living proof that the Eighth Amendment does not prohibit pregnant women from receiving the life saving medical care they need.
The referendum on the Eighth Amendment will be held on 25 May.
Additional reporting: Ailbhe Conneely