One curious shift jumps out from this year's aggregate data on the Leaving Certificate exams. There's been a significant rise in the number of students opting for the Leaving Certificate Applied programme, up by 20% on last year's figures.
For years the LCA programme has languished in the popularity stakes; perceived as the "poor relation", its stigma has not been helped by a lack of modernisation and investment.
Like the established Leaving Certificate programme, the LCA is a two-year course, but its focus is firmly on developing practical life skills and students are assessed as they progress. By now, the start of the written State examinations, LCA students have a full three quarters of their marks already in the bag.
So what could be behind this sudden surge in interest?
Cheryl Keeler is Guidance Counsellor at St Dominic's Secondary School in Ballyfermot.
Her school has always promoted the LCA and has a consistently healthy uptake for the course. This year one third of its Leaving Cert students are LCA.
Cheryl puts the rise down to a number of factors. The pandemic and the fact that Junior Cycle exams were cancelled for two years running has helped change perceptions.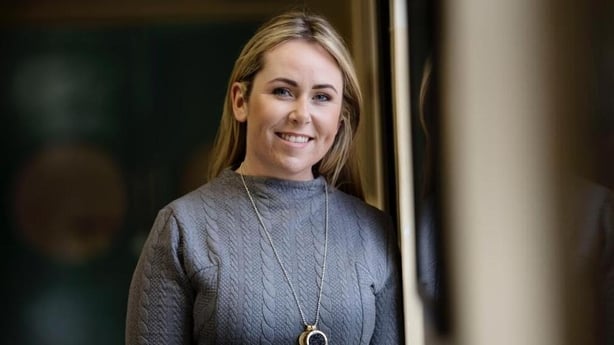 "This is the first cohort who didn't sit Junior Cycle exams. They got a certificate of completion instead," she says.
She feels that Junior Cycle experience meant students were more open to the idea of continuing with a programme with the same kind of continuous assessment. "I would say more opted for the LCA as a result of that."
---
Record numbers to sit Leaving Cert, Junior Cycle exams
---
Michelle O'Kelly, Principal of Mercy Secondary School also in Dublin, feels the new Junior Cycle framework is also a factor.
"The new Junior Cycle lends itself to the LCA," she says, "because you have Classroom Based Assessments and other tasks that you complete during the year."
Mercy Secondary School is also a strong supporter of the LCA progamme, with one third of its Leaving Certificate students also taking that option.
"Students are getting a taste for this [kind of learning] now in Junior Cycle, and parents are becoming more open too," she says.
Both women agree on a second factor they feel explains the shift; the strengthening of the Post Leaving Certificate sector. PCLs are one-year further education courses that now increasingly offer alternative pathways into third level. Entry to a PLC course is not points driven.
"The links between PLCs and the colleges have become much much stronger," Cheryl says, referring to the fact that a growing number of third-level courses are linking up with PLC courses and reserving places for students coming out of them.
And she says all this is being communicated to students. She says apprenticeships are also growing in popularity. "If you take our last year's LCA students, every single one of them has progressed onto a PLC or an apprenticeship," Cheryl says.
"Now kids are being told if you do your LCA, there is a pathway to college. It may be a different route but the destination is the same," Michelle says.
"Parents are hearing this too and they are now more open as a result. We're telling them 'here's the pathway, it still leads to college'."
Lamenting the 'awful stigma' that used to surround the Leaving Certificate Applied programme, Michelle says "now it's seen as a very viable course".
There are many good reasons as to why it should.
"It's the pressure, especially with the pandemic," according to Cheryl. "These kids have been through an awful lot so more are opting for this more accessible programme."
In the LCA programme you gain credits as you go. With 3/4 of their assessment completed now "they feel a sense of accomplishment already" she says.
They have experience doing job interviews for instance, a skill their schoolmates pursuing the traditional route will not have had an opportunity to hone.
Numbers opting for this alternative Leaving Cert programme may have grown, but they are still very small.
Just 3,800 students in the class of '23 are LCA, compared to almost 60,000 who have been pursuing the traditional programme.
But nevertheless, a 20% leap cannot be ignored. Is it a sign of things to come? Very possibly.
The Department of Education has plans for significant Leaving Cert reform. Its plans include a revamping of the Leaving Certificate Applied course to include a freeing up of its boundaries, so that students can opt, for example, for a blend of LCA and traditional Leaving Certificate subjects.
The reform plan includes a shift towards project work, more continuous assessment and less of a focus on final exams.
This increase in interest in the LCA can also be read as a sign - one of several - that today's students are well up for such change.
A role model
There is something in Cheryl's background that gives her an edge over many other teachers working in a school like St Dominic's, based in Ballyfermot - one of Dublin's most deprived areas. Like her students, Cheryl grew up in 'Ballyer'. A past pupil of the school, she is 'one of them'.
Mentors like Cheryl are invaluable. "I wanted to be able to break the cycle in my family and make a difference for Ballyfermot," and she says that with the support of her mother, she did.
"My students look at me and they are able to say 'she has a good job, drives a nice car'. They can say 'if she can do it, I can too."