At a brainstorming session in a school in Co Mayo a number of years ago, parents seated in groups were asked to come up with one word to encapsulate what they believed senior cycle education was all about.
This is an anecdote that was told by a school principal at a gathering of principals last year.
Fionnghuala King told the Joint Managerial Body conference that every single group of parents came up with the exact same word: "Points".
The word was written starkly in capital letters by one group, with an exclamation mark after it.
At no other time of the year does the senior cycle system's biggest millstone become more clear.
In 2019, just 3% of Higher Level English students got a H1. This year it was more than double that, at 7%.
The first thing many students will have done upon receipt of their results on Friday will have been to whip out their phone calculators to translate their grades into CAO points.
The media focus too, this year like every other, was immediately on what the Leaving Cert results might mean for points and college entry, and in particular the impact of Leaving Certificate grade inflation.
For the second year running, the grades students received are significantly higher than in pre-pandemic years. This is due to a number of interventions made this year and last which had the effect of artificially boosting marks.
This year's intervention was done carefully, to prevent inflation over and above that took place in 2021 which led to CAO points rising by an average of 60 per course.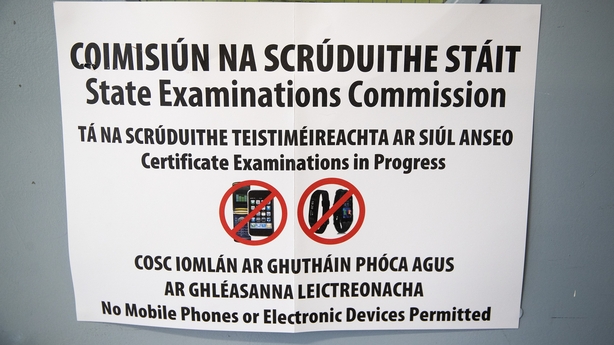 But the picture is still a dramatic one.
To give just two examples; before the pandemic in 2019, only 6.4% of students who sat the Higher Level Maths papers received a H1, this year 18% did.
In 2019, just 3% of Higher Level English students got a H1. This year it was more than double that, at 7%.
This year's adjustments were made because students were concerned they would otherwise be left at a huge disadvantage when competing for college places against those with results from last year.
That was only fair, because the class of 2022's education also suffered inordinately over the course of the pandemic.
Professor Ó Dochartaigh said colleges were already seeing some evidence that progression rates were falling.
The question now is what happens next year? The same arguments could be made by the country's incoming Leaving Certificate students.
Why should they be the ones to suffer if grades are to be allowed to return, abruptly, to pre-pandemic levels?
On Friday, the Minister for Education gave those incoming Leaving Certificate students two important commitments.
Norma Foley said they, too, would benefit from adjustments to the exam papers they will sit next summer.
She was referring to the practice of the past two years, when students were offered more choice in questions and more time because they were required to answer fewer questions.
All this in recognition of the fact that they, too, had experienced "challenges" over the past few years.
The minister also promised there will be no dramatic grade deflation next year, no "cliff-edge" as it has come to be called. She said there was "a body of work" to be done now on how this could be achieved.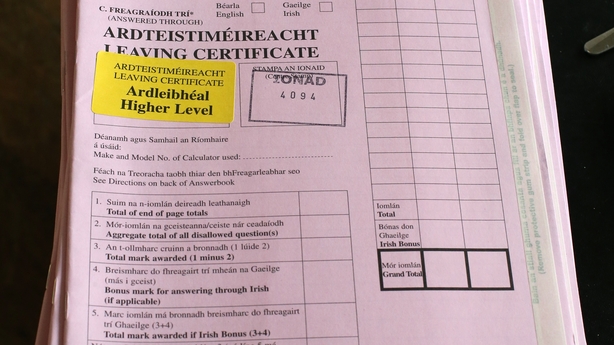 While this year's Leaving Cert students will welcome this assurance, others have concerns.
Professor Pól Ó Dochartaigh, Deputy President of the University of Galway, appeared on RTÉ's Prime Time programme last Thursday.
He warned that drop-out rates at the country's third level colleges may already be rising as a result of the grade inflation of the past few years.
His concern is that some students are landing places on courses they are not academically able for, because their inflated Leaving Cert grades gave them higher points.
He was referring to students achieving points in the 200 to 300 range.
Professor Ó Dochartaigh said colleges were already seeing some evidence that progression rates were falling, and he pointed out that for the young people affected this, too, was "not fair".
However, he did note that the evidence was "provisional" and acknowledged the picture is a complex one and there may be many reasons why young people are doing less well in college exams right now.
Next Thursday there will be students who are disappointed, some bitterly.
Either way, his concerns should at the very least serve as a reminder to those students - about to receive offers from the CAO next Thursday - to think carefully about the courses they accept, listen to their instincts perhaps and not be overly influenced by peer or other pressures.
Pól Ó Dochartaigh also expressed concern at another consequence of grade inflation. This is the "bunching" of many students towards the top end of the points scale.
This has led to the use of random selection to allocate places in some high points courses.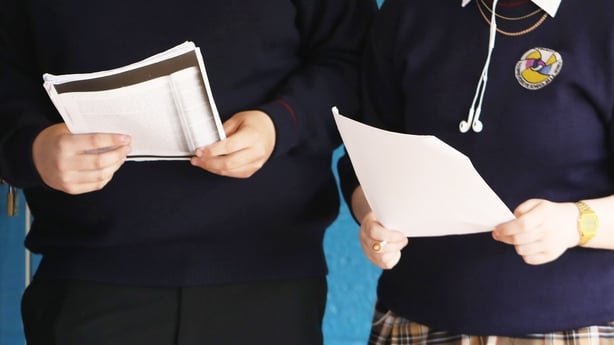 Of course it is unfair if a student with top points still manages to miss out on a college place because of random selection, but that can be solved by the provision of more places. It is a question of supply and demand, after all.
Minister for Higher Education Simon Harris says the creation of 1,000 additional places in medicine, nursing and other high demand areas will help.
It is important to keep things in perspective, too.
Next Thursday there will be students who are disappointed, some bitterly. But most students should be satisfied with the offer they receive.
Going by the pattern of recent years, around 90% of Level 6/7 applicants will be offered a place on the first choice course, around half of all Level 8 applicants will too while 80% of Level 8 applicants should get one of their top three choices.
The past few years have been very hard on this age group.
I met some of those students on Friday, shortly after they had received their Leaving Cert results.
Leila Adelaide is certain of a place at the National College of Art and Design. Sam Keegan is sure of a PLC place in Animation at Ballyfermot College of Further Education. They both received a provisional offer some time ago on the strength of portfolios and an interview.
Leila and Sam were among five friends I interviewed at Coláiste Chilliain in Dublin's Clondalkin.
Sitting in their old Art room – possibly for the last time – almost all of them spoke of intense challenges they had faced during their senior cycle, including mental health difficulties.
Hazel stopped attending school in December as a result. All five said they had "struggled".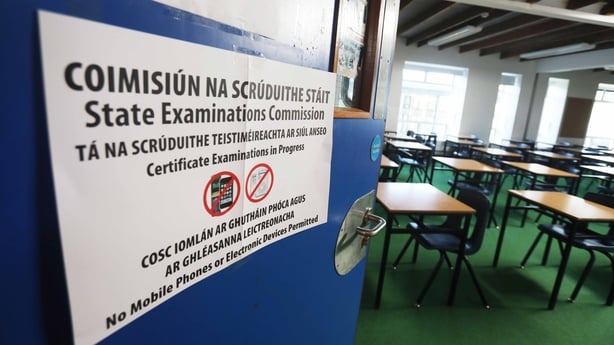 Many of their peers across the country could say the same. The past few years have been very hard on this age group.
But on Friday, these students laughed and joked and spoke intensely and positively about how they see their futures. They want to help people, they want to express themselves, they are looking forward to being surrounded by others who share their particular passions. They are happy and excited.
This is what leaving school should be all about. And amid all the talk of points and grades, "cliff-edges" and inflation, it was good reminder and a joy to see.