Our Education Correspondent has been taking the temperature of one school which is dealing with Covid cases, the stay at home rule, and a shortage of substitute teachers.
The staffing crisis has resulted in one principal running a school from her kitchen table today.
Karen Jordan is the latest staff member at St Catherine's National School in Dublin obliged to stay home, for Covid-19 related reasons.
Her nine-year-old daughter Abbie, a pupil at the school, sits beside her at the table, attempting some school work.
St Catherine's is one of many schools across the country in crisis mode, struggling to find substitute staff to replace teachers who are out, coping with Covid-19 cases as well as the anxiety and worry of pupils and staff.
Out of 200 pupils at St Catherine's, 82 are at home today. Yesterday evening the Health Service Executive advised the school to close two classes and send the children home, as cases grew.
"Positive" meeting between teacher ed colleges & Norma Foley has ended. Dept source says colleges will now look at flexibilities around exams etc. Says students are part of a solution but not 'the' solution. Important that pressure is not heaped on their young shoulders.

— emma o kelly (@emma_okelly) November 23, 2021
"The last three weeks have been horrendous," says Karen, adding that staff are at breaking point.
"On Monday the 15th (November) we had our first positive case. Then all of last week we started getting calls from parents reporting more.
"We had cases across two of our classes, one senior class and one junior. I asked the board of management for permission to tell our parents and it was relentless."
By yesterday morning the school had 14 cases - that it knew of - and Karen phoned the special Covid-19 hotline for principals.
"They were really great. By yesterday evening public health told us to close both classes."
But she reckons that her experience is not the norm.
"With 14 cases we have been classed as an 'outbreak' but I know of schools with a lot more, and they are not being classed as outbreaks. It seems to depend on who you get when you contact the hotline."
Ironically, the fact that two classes have been closed has relieved Karen of some of the pressure of having to find substitute teachers.
She was one of a number of primary school principals who took to social media this week in last ditch attempts to find someone to step in and replace absent teachers.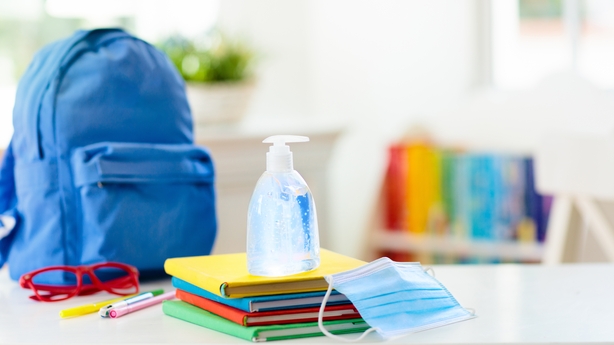 At St Catherine's National School, staff are working hard to ventilate classrooms in an attempt to keep themselves and the children in their charge as safe as possible. The windows and the doors are open. But this means that the classrooms are very cold.
In the schoolyard, Rachel Foyle takes me through the new 'tools of the trade' for teachers these days.
Rachel is wearing a long padded coat and a scarf. But that is not all.
"I have my lovely long hot water bottle that I wear around my waist like a belt," she says. "And I have a microwaveable beanbag that heats up and that's around my neck."
As she wraps the hot water bottle around her waist, she and her colleague Hazel O'Connell joke, saying it is: "The perfect Christmas gift for the teacher in your life!"
But there is little else to joke about these days.
Hazel - a special education teacher - is teaching a mainstream class these days, replacing absent colleagues.
She is worried about the pupils that she is leaving in the lurch, children with autism, or dyslexia, children who have already fallen behind as a result of the school closures earlier this year.
"We're seeing more regression with these children because they are not getting the additional help that they need," she says.
Until she felt listened to by public health yesterday, Karen Jordan shared the sense of abandonment that other schools have complained of.
"I don't know what the solutions are. But what we do need is respect for school staff, we need honesty, we need the rhetoric of 'schools are safe' to stop. Everybody is absolutely sick of it, schools are not safe.
"We need contact tracing to resume, and we need to be backed up by our ministers, by our Government and by our union."
We need your consent to load this rte-player contentWe use rte-player to manage extra content that can set cookies on your device and collect data about your activity. Please review their details and accept them to load the content.Manage Preferences
---
A meeting took place today between Minister for Education Norma Foley and teacher education colleges on a proposal that final-year students training to be teachers play a greater role in supporting schools during the staffing crisis.
The minister's view is that students are part of, but not the solution, and it is important that excess pressure is not put on them.
Five hundred post-graduate primary education students at Hibernia College in Dublin are due to finish for holidays this Friday, regarded as a significant number of students becoming available to provide cover.