Further research, investigation, consultation and trialing is necessary before a framework for a redeveloped senior cycle schools' programme can be developed, the State's curriculum body has told the Minister for Education.
In a report sent to Norma Foley last May, the National Council for Curriculum and Assessment said that due to the scale, scope and importance of this work, ascribing set time parameters is challenging, but it envisaged a three-stage process lasting between three and four-and-a-half years.
The interim report is the product of five years of research and consultation. It did not make fixed proposals but outlined a broad approach that could be taken to develop a new framework.
It said any reform should strike a balance between conservation and change.
The Senior Cycle Review Advisory Report has not yet been published but it has been seen by RTÉ News. A spokesperson for the minister said it would be published "shortly".
On assessment the review stated that there is recognition that State Leaving Certificate examinations, which are seen as enjoying widespread public trust and support, should continue to feature in assessment arrangements.
It also said its consultations found an acceptance, albeit reluctant sometimes, "that the role played by assessments at senior cycle in providing a basis for entry into higher education through the CAO (Central Applications Office) points system may need to continue in some form", but it added that "a revised CAO system might recognise a wider range of learning pathways".
The report pointed out that it is more than 20 years since the last structural changes to senior cycle curricula programmes took place, "and since then, much has shifted in learning, schools, education systems, the wider society and in the national and global environment".
"For a redeveloped senior cycle to assist schools and other educational settings in meeting the kinds of demands and challenges emerging in the modern world, it will need to continue to be much more than a perceived sorting mechanism for who goes to higher education, who proceeds to further education and who joins the workforce", it said.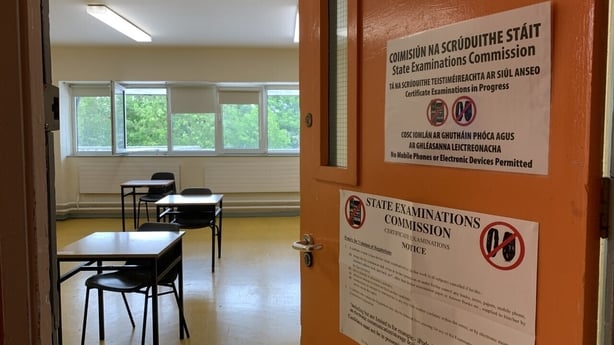 The report suggested that a new senior cycle should reduce the 'ring-fencing' that exists between current Leaving Certificate programmes such as the Leaving Certificate Applied and the Leaving Certificate Vocational Programme. It said that this could be done in the short-term and prior to the introduction of a fully redeveloped programme.
It suggested that the most effective elements of existing programmes such as the LCA could be combined into "a redeveloped senior cycle for all, with multiple pathways and combinations available for students and schools".
It proposed that the provision of further options in the areas of technical, vocational, creative and professional learning be explored.
It also proposed that follow on learning should be provided for a new programme that has been introduced at junior cycle level - called Level Two and geared towards students with intellectual disabilities.
It said the potential of online learning opportunities could be explored and developed.
Assessment
On assessment, the report stated that currently practice "is seen as overly focused on the final weeks of senior cycle, which impacts negatively on many students".
It said that where subjects include additional assessment components, these are seen as appropriate and valuable and their extension to all subjects, as appropriate, should be pursued.
"In a redeveloped senior cycle students would experience a variety of assessments appropriately spaced across the two or three years of senior cycle."
"The assessment changes introduced would aim to reduce the focus on the final examination period in June and the stress experienced by students associated with this time. These changes could also allow for access to second-chance opportunities for assessment in senior cycle.
The report also stated that a broader reporting of student achievement is seen as potentially valuable "as it can provide a wider picture of student learning in a range of areas".
It stated that the research on the implementation of changes at junior cycle, "in particular that aspect looking at changed reporting arrangements for the new Junior Cycle Profile of Achievement (JCPA), should inform future developments in senior cycle".
The Junior Cycle Profile of Achievement is the award that third year students now receive. It includes the results of their State Junior Cert exams, and also results from classroom based assessments as well as information on other areas of learning.
The report proposed a three-stage process involving more consultation, research, and trialing that should now take place.
It envisaged that each stage will take between 12 and 18 months to complete. However, it said that "due to the scale, scope and importance of this work, ascribing set time parameters is challenging".