The reopening of all schools and colleges is "a top priority" for Government, the Minister for Health has said.
Speaking on the week that schools return, Minister Stephen Donnelly has said he fully expects all schools and colleges to reopen as planned.
Speaking at a Covid vaccination and testing centre at Croke Park, he said there has been "absolutely no suggestion that that wouldn't be the case".
Earlier this morning, 140 12 and 13-year-olds began their second level education in Cork at one of the first schools to reopen after the summer break.
Coláiste Éamann Rís in Cork city held entrance exams for incoming first years this morning. This afternoon students participated in games and other activities designed to allow them to get to know each other.
Schools have warned that previous closures mean that many incoming first year students are less prepared for second level compared to pre pandemic years - both academically and socially.
We need your consent to load this rte-player contentWe use rte-player to manage extra content that can set cookies on your device and collect data about your activity. Please review their details and accept them to load the content.Manage Preferences
The Department of Education has said that it is finalising details on funding to help students to catch up. Details of this should be announced shortly.
C02 monitors are being distributed to all schools to help combat the spread of Covid by monitoring air quality. The devices will be distributed to schools in two tranches over the next four weeks.
Primary schools will receive between two and 20 devices each, depending on enrolment.
Second level schools will receive between 20 and 35, again depending on the size of the school.
The Department of Education says that smaller-sized schools will receive their full allocation in one delivery, with medium and larger sized schools receiving two deliveries.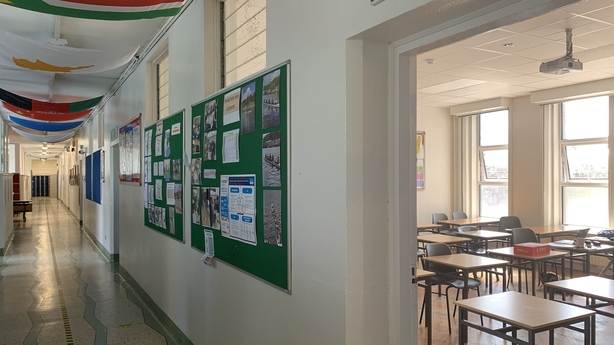 Coláiste Éamann Rís has yet to receive C02 monitors, however principal Aaron Wolfe said the school will keep windows open anyway.
He said the real challenge regarding balancing fresh air requirements with staying warm will come later in the year when the weather is cold.
The school is housed in a building constructed in the 1960s that would have been designed to combat another respiratory illness - TB.
The placement of windows was designed to flush out stale air efficiently and draw in fresh air.
Mr Wolfe said that beginning first year was always daunting for children but that this year it is more so.
They will have to become used to wearing masks all day, and to maintaining social distance.
In primary school, the requirement to socially distance was not so stringent because pupils were placed in 'bubbles'.
Mr Wolfe said health and safety concerns for students and staff were paramount, and that going into its second year of operation under Covid restrictions, he was "feeling confident".
He said that the academic fallout from Covid "is going to be immense", and that it will last for the next 12 years. He said that it would be a challenge for schools to catch up on literacy and numeracy levels.
Additional reporting Fergal O'Brien