As schools around the country prepare for this year's Leaving Certificate oral exams, public health and safety remains a key concern for both students and teachers.
The State Examination Commission has issued guidelines to schools including the use of perspex screens between candidate and interviewer.
Masks will not be worn because they are deemed inappropriate for the orals.
Clarin College in Athenry in Galway is a new build with just over 600 pupils. This week  Leaving Cert language students are brushing up on their French and Spanish and German for the oral exams which are taking place over the Easter break.
They will also be removing the masks they wear daily to school.
The decision was taken by the SEC to ensure clear and proper recordings of interviews which are then sent on the SEC for marking
Daniel Hyland is Principal of Clarin College which is a new build and has almost 600 students. He said perspex screens have been ordered, rooms will be well ventilated and the school will be using its own digital recording equipment 
"We've evaluated the guidelines and put systems in place which will protect both the candidates and the teachers. I understand the anxiety and nervousness out there amongst some of the teaching profession but hopefully that will ease when people see the how the system operates."
He says that teachers will interview their own students in the school and will be available to neighbouring schools if the need arises. "For example, one lad in a nearby school is taking Spanish but the subject isn't taught there. We will be able to assist with our Spanish teacher."
Leaving Cert student, Holly Loftus and her French teacher, Maria Fahy did a dry run today to make sure the recording equipment was operating smoothly. Afterwards both expressed satisfaction that the orals were best conducted without masks.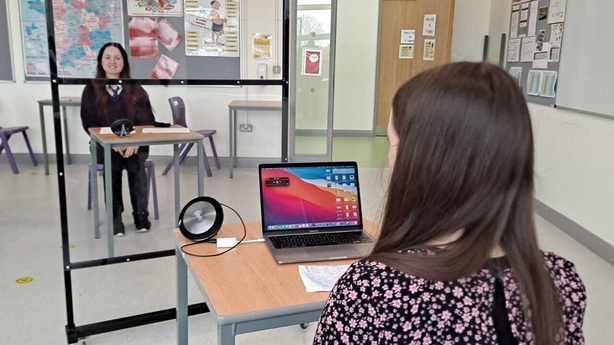 They said it was better overall for clearer pronunciation and being able to interact better by seeing each other's facial expressions.
Music practicals will take place during the second week of Easter and will be overseen by an examiner appointed by the SEC. Pupils will be socially distanced and facing a window.
Students, teachers and parents all agree that this year's orals are challenging on a number of levels but there's broad acceptance of the measures being taken.
However, some teachers have been taking to social media to voice their anger and frustration saying the guidelines go against public health advice.
But for now school management across the country remain focused on keeping students and teachers safe during the orals exams.
We need your consent to load this rte-player contentWe use rte-player to manage extra content that can set cookies on your device and collect data about your activity. Please review their details and accept them to load the content.Manage Preferences