Trinity College Dublin, University College Dubliln, and the Royal College of Surgeons cater to the highest proportions of students from affluent areas, compared to other third-level institutions, and the lowest proportions from disadvantaged areas, according to data published by the Higher Education Authority (HEA).
For the second year running the HEA has used detailed geographical census figures to measure the socio-economic background of students attending all of the country's publicly funded third level institutions.
When it comes to these three Dublin universities it shows that 36% of TCD students come from affluent areas, and 35% in UCD and the RCSI, while just 5% of students across all three institutions come from disadvantaged backgrounds.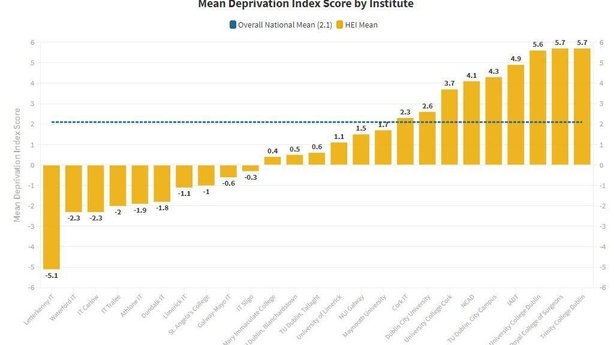 The data is extremely accurate, comprising information related to 94% of all third level students. It finds that overall, 10% of students attending college in the 2018/19 academic year came from disadvantaged areas, while 20% were from affluent areas.
When this is compared to the wider population it shows that those from disadvantaged areas are underrepresented, while people from affluent areas are slightly overrepresented.
The data confirms that the country's institutes of technology are far more likely to cater to greater numbers of students from disadvantaged areas, with Dún Laoghaire's Institute of Art, Design, and Technology (IADT) the one exception. Of all third level colleges Letterkenny Institute of Technology has the highest proportion of students from disadvantaged areas at 25%.
The overall average household income of a student at Letterkenny IT is €35,853. This compares to €56,822 for a student attending IADT.
The HEA says that the location of a college plays a key role in influencing the socio-economic make up of its student body because students tend to favour a facility that is closer to home.
The data confirms some stark divides too when it comes to course choice.
Fields of study such as medicine, finance, banking and insurance have higher numbers of affluent students. Just 4% of medical enrolments are from disadvantaged areas, while 35% come from affluent backgrounds. 34% of those studying courses in Finance, banking or insurance come from affluence.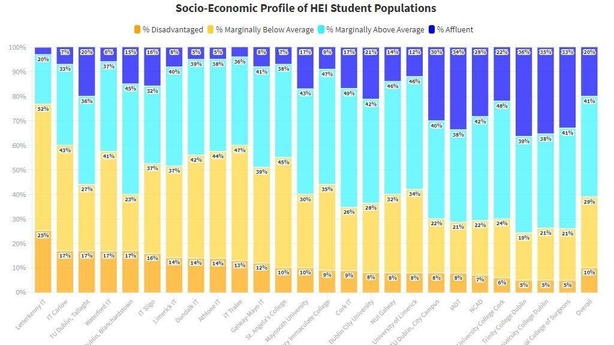 Fields of study such as childcare, social care, and sports courses have comparatively higher concentrations of disadvantaged students and fewer coming from wealthier backgrounds. 19% of those pursuing a childcare qualification are from a disadvantaged background.
In healthcare alone, while medicine attracts a disproportionate number of affluent students, those from disadvantaged backgrounds are more likely to be found on nursing and midwifery courses.
HEA CEO Dr Alan Wall said the data signalled that more work needed to be done. Dr Wall said: "The higher education student population does not yet reflect the diversity found in the rest of the population in Ireland.
"This detailed dataset provides policy makers and institutions with a comprehensive knowledge of patterns of access and disadvantage that will assist them in developing and implementing targeted approaches to advancing equity of access."
Minister for Higher and Further Education, Research, Innovation and Science, Simon Harris TD, said the data would be an excellent resource in preparation for a new national access plan.
HEA's Head of Access Policy Caitríona Ryan cautioned that in drawing conclusions context was very important.
We know that all HEIs have access infrastructures in place that are working at both the pre-entry and post-entry stages with all the national access target groups – students who are socio-economically disadvantaged, students from the Travelling community, students with disabilities and first-time mature students," she said.