Northern Ireland's education minister has been accused of failing A-level students after more than a third received lower than predicted grades.
Appearing before the Stormont Education Committee, Peter Weir said that the system for calculating A-levels "did not work for everyone".
The committee questioned the robustness of the appeals process and is seeking more transparency on the disputed standardised model.
The committee's chairperson called on the education minister to intervene and award pupils grades based on either their AS level grades or their teachers' predicted grades.
Chris Lyttle said Mr Weir was "increasingly isolated" in refusing to use the teacher assessments to allocate the grades in these unprecedented times.
SDLP leader Colum Eastwood said his party will be seeking to recall the Northern Ireland Assembly so it can "urgently address" the crisis over exam grading.
The SDLP wants the Assembly to meet on Tuesday ahead of the GCSE results which are due out on Thursday.
The SDLP leader commented: "Students across the North have been put in an intolerable position. Instead of recognising that he made a mistake and working to fix it, the Minister for Education has doubled down.
"He has chosen blind faith in a deeply flawed algorithm, over trust in our teachers and the educational results children have achieved in previous exams.
"SDLP will not stand for it. That is why we are seeking an immediate recall of the Assembly, to hold the Minister for Education to account. Children and schools across the North deserve answers."
Mr Weir told the committee that no student has been "downgraded" but that some had "incorrect" results, and he understands the impact on individual students
He said some children will be disappointed, adding that there is often a considerable gap between what teachers predicted and students receive.
However, Mr Weir insisted that if teacher assessments were used without standardisation, the results would not have "any level of credibility" now or in the future.
He also said he will not replace the disputed standardised results with teacher estimated grades, like in Scotland, as he believes that was wrong.
---
Read more:
Mixed picture at NI schools as A-level results opened
Scotland to withdraw downgraded exam results
---
Northern Ireland's Deputy First Minister Michelle O'Neill said the professional judgement of teachers must be respected and the Education Minister must resolve this immediately.
The robustness of the appeals process was also challenged by MLAs.
The examination body CCEA has already received 100 appeals from students.
Its chief executive Justin Edwards said a priority system is in place considering third level places and an updated student guide on how to appeal is on the CCEA website.
He said the process is not a basis for challenging the grading model, but rather to consider if the right grade was awarded or needs adjusting.
The exam body explained how the grading model used a combination of centre assessment data, teachers rank order, re-sit data and AS data – which forms 40% of the overall A level result – to allocate marks.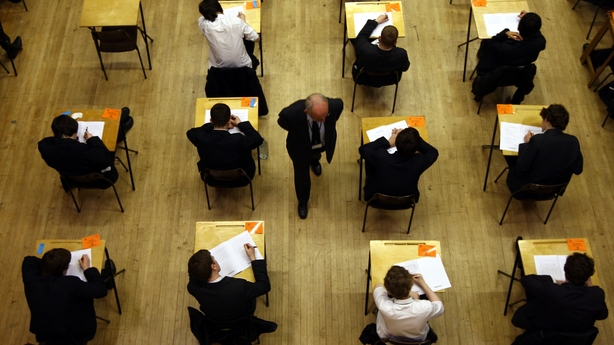 SDLP member Daniel McCrossan demanded Mr Edwards reveal the algorithm used to calculate the grades.
"This algorithm is so unique, no one knows how it has formulated", he said. "No one has seen it, you haven't discussed it with anybody. Any questions that I have asked you prior to this week, you haven't given answers to at all.
"And I want to know, bluntly now, wherever this is produced and do people check it. Because I have no doubt, given what I'm reading here, that there's going to be very serious concerns.
"It will add to the legal challenge that's undoubtedly going to come to the processes that has inflicted so much hurt on quite a lot of people, particularly disadvantaged children across Northern Ireland."
Mr Edwards said it was a unique situation, a unique process, and they had to come up with a solution.
"I believe that the solution we have implemented was the best possible solution available that would meet the directions and requirements of issuing grades and maintaining the standards and value of the qualification over time", he said.